Sign up for the Family Tree Newsletter Plus, you'll receive our 10 Essential Genealogy Research Forms PDF as a special thank you!
Get Your Free Genealogy Forms
"*" indicates required fields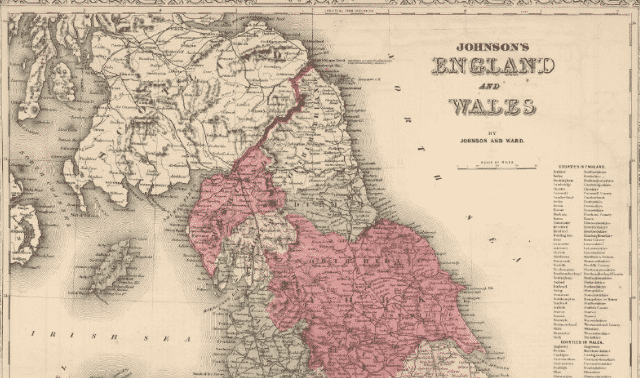 Researching English ancestors? When you're trying to figure out where your ancestor came from, keep in mind that England reorganized its counties in 1974, so you'll need to know the historical English county. (But be familiar with modern jurisdictions, too, so you can contact local records offices.)
Genealogists often refer to these counties with three-letter shorthand called Chapman codes, named after the man who invented the coding system. Here's a list of pre-1974 British counties and their Chapman codes (including the three major subdivisions of Yorkshire):
Bedfordshire: BDF
Berkshire: BRK
Buckinghamshire: BKM
Cambridgeshire: CAM
Cheshire: CHS
Cornwall: CON
Cumberland: CUL
Derbyshire: DBY
Devon: DEV
Dorset: DOR
Durham: DUR
Essex: ESS
Gloucestershire: GLS
Hampshire: HAM
Herefordshire: HEF
Hertfordshire: HRT
Huntingdonshire: HUN
Kent: KEN
Lancashire: LAN
Leicestershire: LEI
Lincolnshire: LIN
London (city): LND

Middlesex: MDX

Norfolk: NFK

Northamptonshire: NTH

Northumberland: NBL

Nottinghamshire: NTT

Oxfordshire: OXF

Rutland: RUT

Shropshire (Salop): SAL

Somerset: SOM

Staffordshire: STS

Suffolk: SFK

Surrey: SRY

Sussex: SSX

Warwickshire: WAR

Westmorland: WES

Wiltshire: WIL

Worcestershire: WOR

Yorkshire: YKS

Yorkshire-East Riding: ERY

Yorkshire-North Riding: NRY

Yorkshire-West Riding: WRY
You can find more on the historical counties of England here.
Look here for Chapman codes for Wales, Scotland, the Channel Islands, the Isle of Man and Ireland.
And once you know your ancestors' county, be sure to join the county's family history society. The Federation of Family History Societies and GENUKI (the UK & Ireland Genealogy website) link to local societies.