Sign up for the Family Tree Newsletter Plus, you'll receive our 10 Essential Genealogy Research Forms PDF as a special thank you!
Get Your Free Genealogy Forms
"*" indicates required fields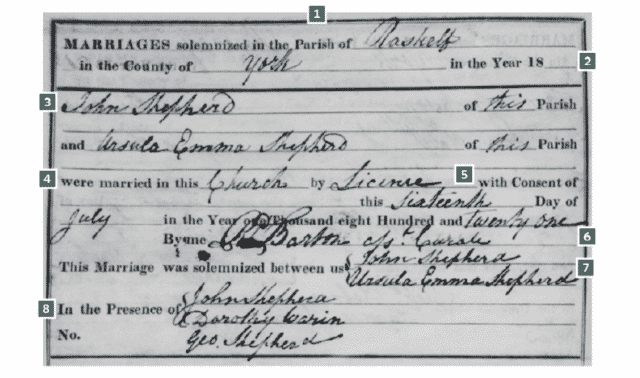 In 1537, a law required Church of England ministers to record all baptisms, marriages and burials in their parishes, beginning no later than Jan. 1, 1538. A parish would record all events together in the same book until 1754, when legislation dictated that marriages be recorded in a separate book. Preprinted registers, introduced in 1812, provided for separately recording baptisms, marriages and burials.
Beginning in 1598, ministers had to copy register entries for an entire year onto parchment pages, which were then sent to an archdeacon or bishop. Before 1812, ministers copied these "bishops transcripts" onto loose sheets; from 1812 forward, they used preprinted forms.
 
This process created two copies of parish records: the original, which (if it survived) may be at the parish or in an archive, and the bishops transcript, which usually still exists at the county record office in that locality. Many have been microfilmed and are searchable at such websites as Ancestry.com, FamilySearch and Findmypast. Remember that transcriptions are prone to errors introduced by the copyist, so you should look for original parish registers whenever possible.
Marriages could be performed either by banns or by license. Banns are a public announcement of the couple's intent to marry in a Christian parish church on three consecutive Sundays. This allowed time for parishioners to raise objections. The church also permitted banns to be waived (avoiding the delay and publicity), in which case, civil authorities could grant a license approving the marriage. Banns are also part of parish records, separate from baptism, marriage and burial records.
 
Parish registers contain gaps between 1553 and 1558 (when Mary I ruled) and 1642 and 1660 (during the English Civil War and its aftermath). They continue even after 1837, when civil registration began. Shown here is the bishops transcript of an 1821 marriage, found in the collection Yorkshire, Bishops Transcripts of Marriages on Findmypast.
1. The heading includes the parish and county.
The county name will be the one used at the time (York, for example, became Yorkshire with the Local Government Act of 1889). Knowing the administrative area in use when the event occurred will help you locate records.
This marriage took place in the parish church of Raskelf, which may hold other records about this family.
2. The year is missing in the document header, but the date the marriage took place is in the detail below.
3. and 4. The groom's and bride's names and parishes of origin can be invaluable in helping tracing their places of birth or residence, and possibly their parents.
5. This marriage occurred by license, rather than by banns.
A parent or guardian would've had to consent if one of the parties was underage.
6. R. Barton, the assistant Curate, officiated at the ceremony.
7. Because this is a bishops transcript, the names are transcribed from the couple's signatures on the original parish register.
8. Witnesses may be relatives of the groom or bride. Research their records for clues to the rest of your family. 
A version of this article appeared in the the May/June 2016 issue of Family Tree Magazine.