Sign up for the Family Tree Newsletter Plus, you'll receive our 10 Essential Genealogy Research Forms PDF as a special thank you!
Get Your Free Genealogy Forms
"*" indicates required fields
Genealogists searching for German ancestors have been handed a game-changing free tool: MeyersGaz.org, a digitized version of the Meyers Gazetteer. This free website, the result of 20-plus years of work by genealogist Marion Rainey and computer programmer Brad Coleman, has searchable data from the leading geographical dictionary of pre-WWI Germany.
The Meyers Orts- und Verkehrs-Lexikon des Deutschen Reichs or Meyers Gazetteer (you may also hear it referred to as "Meyers Orts-") was published in 1912 as a comprehensive list of every place name in the Second German Empire, which was in existence from 1871 to 1918.
The gazetteer is important for genealogists because locating an ancestor's village of origin is the key to finding Germany's many locally based genealogical records. And the FamilySearch catalog places German villages in their Second Empire political jurisdictions for purposes of accessing microfilmed church and other records.
Let's go step by step to show how to search for your family hometowns in the online Meyers Gazetteer:
1. The home screen for MeyersGaz.org is simple.
2. Enter the name of the village and press Enter.
The site presents a search box with instructions on the use of an asterisk wildcard symbol to search partial names. For the purposes of this search, you can ignore diacritical marks including umlauts (the "two dots" over some vowels). However, don't "expand" umlauted vowels (for instance, by typing oe instead of ö) or you're likely to get no results.
If you search for Hochdorf, a common village name in Germany, you'll see more than a dozen possibilities; five are shown here. For each search result, you'll see the type of community it represents (sometimes noble's estates merited separate writeups) and its political jurisdiction at the time (county and state equivalents to which that village belonged). You may filter your results to a specific German region.
3. Choose a search result to view its details, the "meat" of this site.
4. Click Map to explore the place on an interactive map.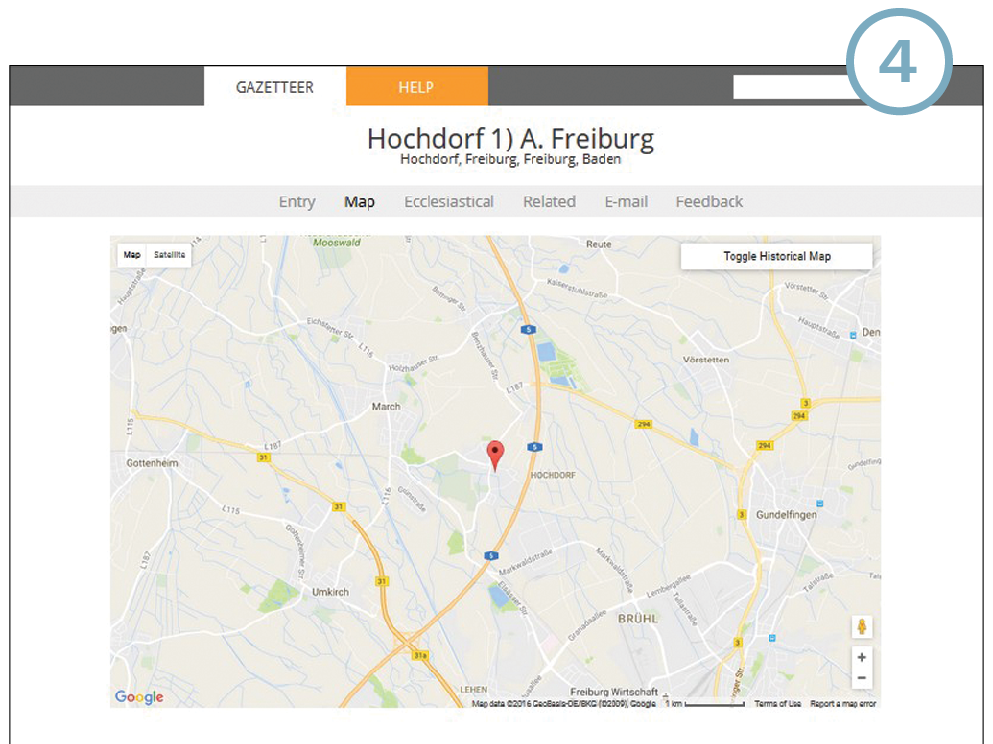 (You'll go straight to details for a single result.) You'll see the German entry from the printed Meyers Gazetteer in the upper left. Immediately below it is an interactive map of the village location. On the right, you'll see a reference to the original Meyers volume and page number, along with a summary of basic information, such as type of entry, to which jurisdictions it belonged and the location of various offices. Below it, a Detail section translates the summary data.
5. Learn more by clicking the other tabs.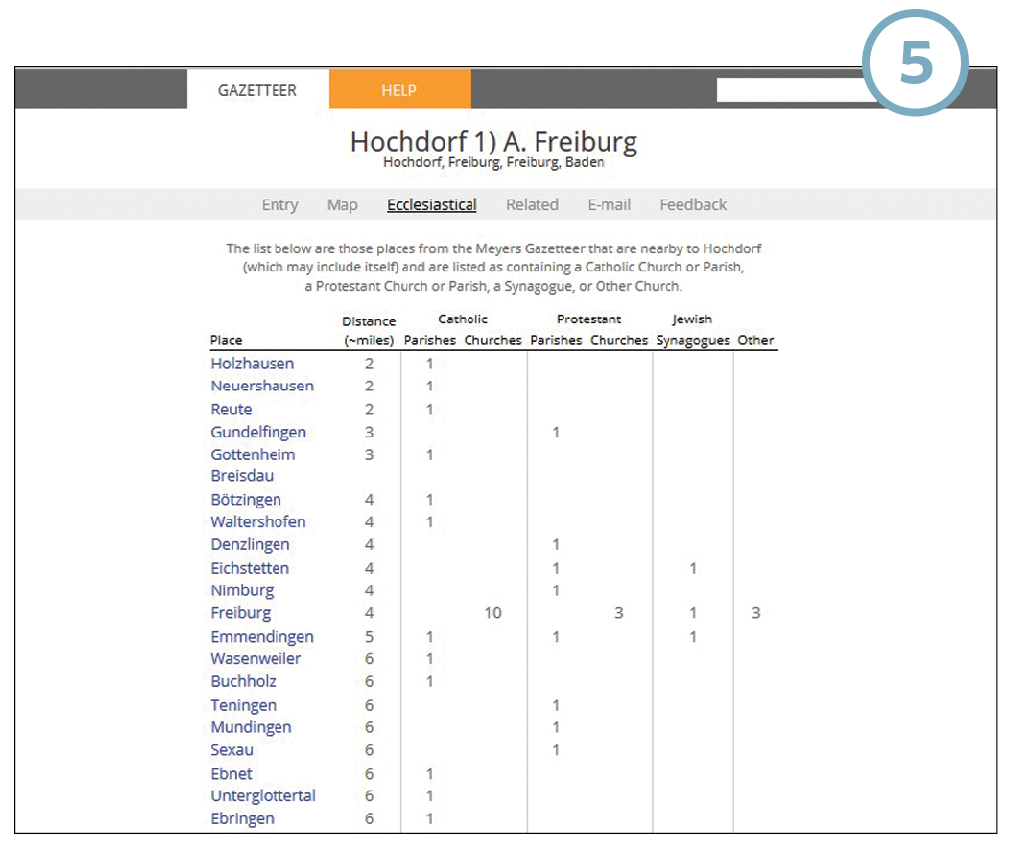 The site displays the village on the historical map Karte des deutschen Reiches, which you can view over Google Maps. Select Toggle Historical Map in the upper right to go between views, comparing past and modern boundaries. You also can check boxes to insert "pins" marking, for example, which nearby villages have parishes or civil registry offices. Zoom in (+) and out (-) at the bottom right or click and drag the map to view other areas.
"Ecclesiastical" displays the distances to towns and cities within 20 miles and information about their churches or parishes. This feature overcomes a deficiency in the original Meyers Gazetteer. When the village served as a parish seat, Meyers noted an "evang." (Protestant) or "kath." (Roman Catholic) church in the town. But if the village was part of a different parish, Meyers was silent. Note that your village may not have been attached to the closest village geographically speaking, but part of one that was further away (partly the reason for the 20-mile radius, no doubt).
The Related tab lets you cross-reference a locale's mention in other Meyers place listings. Click Email to register your interest in a particular village. Share suggestions for the site under Feedback. The producers of MeyersGaz.org hope to add more features, although this free site is already a tremendous step forward for anyone doing German genealogy research.