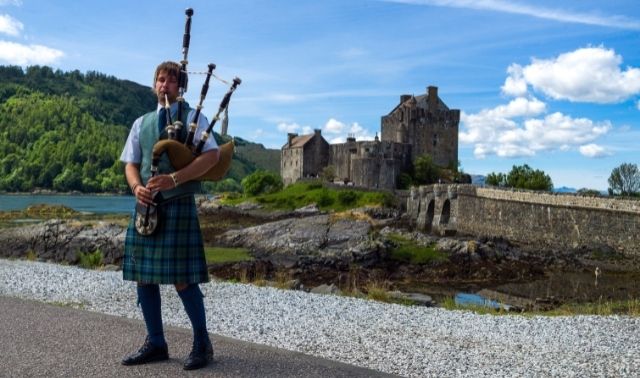 Written by former Family Tree Magazine editorial intern Patrick Phillips
I don't have a drop of Scottish in my blood. I'm primarily Irish, German and Italian. However in my fiancé's house, you can find bagpipes, kilts and plenty of plaid to go around (don't tell her I said that).
Having worked for Family Tree Magazine for only about a month or so, I have already been dubbed the genealogical expert among Julia's extended family, which couldn't be farther from the truth. When I told Julia's grandfather that I would be working for Family Tree Magazine for a while, he told (ordered) me to let him know of any tips or tools for him to expand his own genealogical research.
So in a desperate effort to ensure that I'm in his family's favor, I've been keeping an eye out for useful resources on Scottish ancestry for my future grandfather-in-law, taking notes from what experts have said, so here we go:
Scotland's useful genealogical records can almost all be found entirely online on both subscription sites (Ancestry.com and ScotlandsPeople) and free databases (FreeCen and the FamilySearch Wiki).
Censuses were taken every 10 years since 1841 and are closed to the public for 100 years. The most recent census you can view is the 1911 census. ScotlandsPeople is the only website with images of census records from 1841 to 1911.
The Church of Scotland's historical records are called the Old Parochial Registers or Old Parish Registers for short (OPR). and each local parish kept records.
Scottish parishes rarely kept death or burial records, but you may be able to find some on Extant OPRs and death/burial event years for each parish at OPR Death Years.
Genuki.org is a great resource for information on each county in Scotland, giving you access to county-specific resources to narrow your searches.
Each clan has its own tartan pattern, and is generally identified with a geographical area originally controlled by the chiefs (see map). Today, clan associations are much like family history groups. To learn more about clans and link to a clan search, go to VisitScotland.
Find out as much as you can about your ancestors in the records of the area in which they settled. Don't assume that when you find someone with the same name that it is your ancestor. He or she may have been a member of a different clan.
Determine when exactly your ancestor immigrated to the US. William Filby and Mary K. Meyer's Passenger and Immigration Lists Index: A Guide to Published Arrival Records is a series of books that contain indexes of immigration lists that are in print.
Scottish parents usually named their children following a specific pattern, which may result in names repeated within families. The firstborn son was named after the father's father, and the second-born son was named after the mother's father. Firstborn daughters were named after their mother's mother, and second-born daughters were named after their father's mother. Focus on the middle names to distinguish two or more family members with the same name.
In order to research thoroughly, especially given the likelihood that several relatives will have the same name, you'll want to know the parish where your ancestor resided—as well as the surrounding parishes. That's because your family may have moved into neighboring parishes, but they were less likely to move to neighboring counties.
There are four major languages in Scotland: English, Gaelic, Scots and Latin. English is the most common, but in the Scottish Highlands, people would have spoken Gaelic. Outside of the Highlands, you might encounter the Scots language in one or more of its dialects.
Start in the home. Look for heirlooms or stories among family members to help solidify whether or not you have found someone who is truly your ancestor.
Related Reads