Sign up for the Family Tree Newsletter Plus, you'll receive our 10 Essential Genealogy Research Forms PDF as a special thank you!
Get Your Free Genealogy Forms
"*" indicates required fields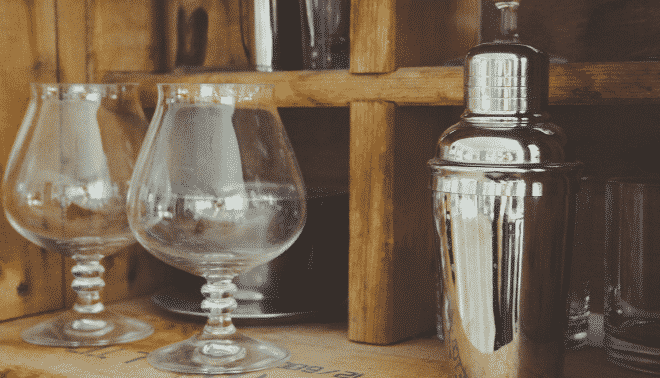 What exactly is a White Russian? How did the Bloody Mary get its name? Does true Scotch only come from Scotland?
There's a wealth of historical and genealogical info behind our favorite cocktails. Here's what genealogists should know about these classic drinks!
Note: All the recipes in this post are courtesy of the International Bartenders Association, which uses the abbreviation "cL" for centiliter. Three centiliters is roughly equivalent to 1 ounce!
Jump to:
Whiskey
Vodka
Gin
Rum
Tequila
Wine-based Cocktails
Whiskey
Scotch
Is true scotch only made in Scotland? Yes! Scotch is a type of whisky (a spirit made from fermented grain mash) made in Scotland according to a very specific set of rules and regulations. Scotch originated from a 15th century distilled beverage called uisge beatha, meaning "water of life." Today, all scotch must adhere to the Scotch Whisky Regulations of 2009 which requires, among other things, that scotch be produced entirely in Scotland.
It should also be noted that the people of Scotland prefer to be called "Scottish" and use the term "scotch" exclusively for the whisky. See "Genealogy Q&A: Explaining Scotch, Scottish and Scots-Irish."
Rusty Nail
4.5 cl Scotch whisky
2.5 cl Drambuie
Pour all ingredients directly into old-fashioned glass filled with ice. Stir gently. Garnish with lemon twist.
Irish Whiskey
Irish whiskey (spelled with an "e") also originated from the medieval drink uisge beatha. However, Irish whiskey often has a smoother finish than smokey, earthy scotches. This is because Scotch whisky uses peat-malted grain, whereas Irish whiskey does not. Irish whiskey (and Irish Cream) also must must be produced entirely in Ireland.
Irish Coffee
4 cl Irish whiskey
9 cl Hot coffee
3 cl Fresh cream
1 teaspoon of brown sugar
Warm the Irish whiskey over a burner. Pour into the glass (for hot drink) hot coffee, and add a teaspoon of sugar. Float Cream on top.
Bourbon
Bourbon is an American whiskey made primarily from corn (at least 51%). Bourbon can technically be produced anywhere in the United States, though there is some argument as to where bourbon originated. Some say the spirit has its origin in New Orleans, home of the famous Bourbon Street and a bustling port city for much of its history. Others say it originated in Bourbon County, Kentucky, named after the French House of Bourbon just after the American Revolution.
Of course, you can't mention bourbon without juleps! A julep is a drink made with spirits, sugar and mint over ice. The most famous of which is the Mint Julep, the traditional drink of the Kentucky Derby.
Mint Julep
6 cl Bourbon whiskey
4 fresh mint sprigs
1 teaspoon powdered sugar
2 teaspoons water
In a highball glass gently muddle the mint, sugar and water. Fill the glass with cracked ice, add bourbon and stir well until the glass is frost. Garnish with a mint spring.
Vodka
Russians
What exactly is a White Russian? A White Russian is simply a Black Russian (a cocktail made with vodka and coffee liquor) but with added cream. Historically, the term "White Russian" was used to refer to the members of anti-communist forces during the Russian Civil War. Sometimes called the White Army, these White Russians fought against the Bolsheviks, also called the Reds.
Confusingly, neither drink originated from these movements. In fact, The White Russian owes a large part of its popularity to the 1998 film, The Big Lebowski, where it is the protagonist's drink of choice.
Black/White Russian
5 cl Vodka
2 cl Coffee liqueur
Pour the ingredients into the old fashioned-glass filled with ice cubes. Stir gently.
Note: for White Russian, float fresh cream on the top and stir gently.
Mules and Bucks
Were Moscow Mules invented in Moscow? Nope, far from it. Legend says that this refreshing cocktail was invented in 1940s New York, when a Manhattan bar needed to clear out its stock of vodka and ginger beer. However, the Moscow Mule has some historic cousins. It is distantly related to a class of older drinks called "bucks" that are made using ginger beers and citrus. Because of this, the Moscow Mule is sometimes called a "vodka buck."
If you have Russian ancestry and are looking for a truly Russian cocktail, Yorsh is more authentic option. But be warned, this beer-and-vodka cocktail is not for the faint of heart!
Moscow Mule
4.5 cl Vodka
12 cl Ginger beer
0.5 cl Lime juice, fresh
1 slice lime in a copper mug
Combine the vodka and ginger beer. Add lime juice. Garnish with a lime slice.
Bloody Mary
The murky history of this cocktail would surely frustrate any genealogist!
The Bloody Mary made its first appearances around the 1920s and 30s. Although it's commonly believed that it was named after Mary I of England, there is still some argument as to who invented the cocktail and who it was named after.
Some credit French bartender Fernand Petiot with the invention of the drink in Paris' The New York Bar in 1920, a popular hangout for the artists and movie stars of the day. According to his story, the first Bloody Mary was named after a one of the customer's favorite bars, Bucket of Blood, and a waitress named Mary.
Still others say the drink was named after the American actress Mary Pickford who, it should be noted, has another rum-based cocktail named after her.
Bloody Mary
4.5 cl Vodka
9 cl Tomato juice
1.5 cl Lemon juice
2 to 3 dashes of Worcestershire Sauce
Tabasco
Celery salt
Pepper
Stir gently, pour all ingredients into highball glass. Garnish with celery and lemon wedge (optional).
Gin
Martinis
Although martinis sound Italian, this cocktail has its origins in the United States. As with many of the drinks on our list, its history is a bit muddled. Some say it was created in California, in a town called Martinez during the Gold Rush. Others say it was invented in San Francisco, or New York. Still others say that the martini is not an American cocktail at all, but instead owes its creation to the Italian vermouth company Martini & Rossi, who started business in the 1863.
The Classic Martini
6 cl Gin
1 cl Dry Vermouth
Pour all ingredients into mixing glass with ice cubes. Stir well. Strain in chilled martini glass. Squeeze oil from lemon peel onto the drink, or garnish with olive.
Negronis
For a truly Italian cocktail, why not try a Negroni? The most widely reported history of this drink is that it was invented in 1919 at Caffe Casoni in Florence, Italy. Legend says that one day Count Camillo Negroni asked the bartender for a stronger version of his favorite cocktail, the Americano. The bartender, Scarselli, replaced the soda water with gin and the Negroni was born.
Negroni
3 cl Gin
3 cl Campari
3 cl Sweet Red Vermouth
Pour all ingredients directly into old-fashioned glass filled with ice. Stir gently. Garnish with half orange slice.
Rum
Rum and Coke
Although rum is produced all over the world, the majority of the world's rum comes from Latin America and the Caribbean. Rum and its variants are used in many cocktails, but none so popular as the classic rum and coke. This classic concoction began as a "Cuba Libre," a drink that emerged during the early 20th century in Cuba, after the Spanish-American War.
The country had won its independence, and so it comes as no surprise that this drink's original name means "Free Cuba." Today, the Cube Libre is recognized as a contemporary classic by the International Bartenders Association.
Cuba Libre
5 cl White Rum
12 cl Cola
1 cl Fresh lime juice
Build all ingredients in a highball glass filled with ice. Garnish with lime wedge.
Rum and Fruit
Another rum-based classic cocktail, the piña colada, is especially celebrated on the island of Puerto Rico. Literally translated as "strained pineapple," this cocktail is made with rum, pineapple juice and coconut cream. It became the National Drink of Puerto Rico in 1978.
Piña Colada
3 cl White Rum
9 cl Pineapple juice
3 cl Coconut cream
Blend all the ingredients with ice in a electric blender, pour into a large goblet or Hurricane glass and serve with straws.
Garnish with a slice of pineapple with a cocktail cherry.
Tequila
This agave-based drink hails from the town of Tequila in southwestern Mexico. Although tequila is used in several classic cocktails, there are none so well known as the margarita.
The competing stories surrounding the margarita's origins started popping up around the 1930s and 40s. One of the earliest stories says that the drink was first created in Mexico in 1938 for Zeiglfield Follies dancer Marjorie King, who was allergic to spirits but not tequila. The bartender made her an American cocktail called a Brandy Daisy, substituted the brandy for tequila, and the margarita was born.
Margarita
3.5 cl Tequila
2 cl Cointreau
1.5 cl Freshly squeezed lime juice
Pour all ingredients into shaker with ice. Shake well and strain into cocktail glass rimmed with salt.
Wine-Based Cocktails
Champagne
For those genealogists who want to toast their French roots, wine is usually the drink of choice. However, there are a few classic "French" cocktails made with wine and distilled wines, such as brandy.
The French 75 is made with gin, lemon juice, sugar and champagne. It is believed that an early version of this cocktail was invented in Paris during the 1920s before the modern recipe took off in the states. Sometimes just called "the 75" it's said that this cocktail takes its name from the French 75 mm field gun used during WWI.
And yes, in order to truly be champagne, the wine must come from grapes grown in the Champagne region of France!
French 75
1.5 cl Fresh lemon juice
2 dashes Sugar syrup
6 cl Champagne
Pour all the ingredients, except champagne, into a shaker. Shake. Strain into a champagne flute. Top up with champagne. Stir gently.
Brandy
The French Connection is a cocktail made with cognac (a type of brandy) and amaretto. There isn't much documentation about this drink's origins, so it's difficult to say where it originated. The "French" in the French Connection likely comes from the cognac, which comes from the town of Cognac in western France.
The French Connection
3.5 cl Cognac
3.5 cl Amaretto
Pour all ingredients directly into old fashioned glass filled with ice cubes. Stir gently.
So What's a Genealogist's Drink of Choice?
An Old-Fashioned of course! This classic whiskey cocktail is true to its name, with references to the drink reaching back as far as the early 1800s. The modern recipe appeared as an "Old-Fashioned" in the 1948 book, The Fine Art of Mixing Drinks by David A. Embury. Even at its earliest appearance, the Old-Fashioned was meant to honor the generations of cocktails that came before it, and it's sure to be enjoyed by generations to come!
Old-Fashioned
4.5 cl Bourbon or Rye whiskey
2 Dashes Angostura Bitters
1 sugar cube
Few dashes plain water
Place sugar cube in old-fashioned glass and saturate with bitters, add a dash of plain water.
Muddle until dissolve. Fill the glass with ice cubes and add whiskey. Garnish with orange slice and a cocktail cherry.