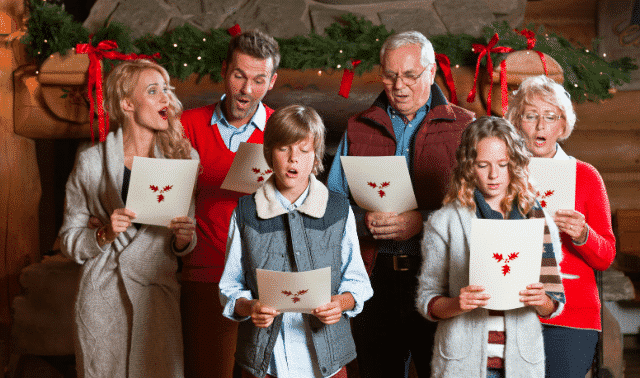 Those Christmas carols that have been fa-la-la-ing through the mall since mid-October would've sounded strange to our early Christian ancestors—and not just the ditties about Rudolph and Santa.
The first Christmas songs were austere, theologically laden hymns, written in Latin in about the fourth century when the holiday was first formalized and attached to Dec. 25. "Veni, redemptor gentium" ("O Come, Redeemer of the Earth") by St. Ambrose, bishop of Milan, may be the oldest extant Christmas hymn. A doctrinal rebuttal to the Arian heresy, it doesn't exactly lend itself to radio airplay.
The term "carol"—probably from the Old French word carole, meaning circle dance—is much too jovial for these early hymns. Singing "carols" was first associated with pagan seasonal celebrations. When Christians began adapting these songs, church fathers responded with those doctrinally correct hymns.
A Melting Pot of Song Types
Not until the 12th century, with the Parisian monk Adam of St. Victor, was music from popular songs again associated with Christmas. But it was St. Francis of Assisi, in 1223, who created the carol as we know it today, staging musical plays mostly sung in the common language instead of Latin.
His nativity pageants employed real hay and animals and the tunes of popular drinking songs.
By 1426, the first collection of Christmas carols in English—by a Shropshire chaplain, John Awdlay—included 25 songs. About this time "wassailers" began caroling from house to house (and asking for treats or money in return). From Old Norse meaning "wishing you good health," the wassail tradition was not originally confined to Christmas, nor was it always benign, like trick-or-treating.
A Ban on Christmas Carols
Initially the Reformation, with Martin Luther's rejection of Latin, welcomed Christmas carols. But Puritans and Oliver Cromwell disapproved of such merriment and looseness with Scripture. They banned Christmas celebrations and carols in England in 1647.
The nearly two centuries between the Puritan crackdown on Christmas and the holiday's Victorian revival would nonetheless produce some of our most familiar carols. Isaac Watts, "the father of English hymnody," published "Joy to the World" in 1719. Based on the Psalm 98, the hymn wasn't originally intended strictly as a Christmas song. The music's origin is often attributed to George Frideric Handel.
Charles Wesley, brother of Methodism founder John Wesley, wrote "Hark! The Herald Angels Sing" in 1739; it would become the best known of his 9,000 poems and hymns. Wesley's version (which had no tune) began "Hark how all the welkin rings," using an old word for heaven.
Organist William Hayman Cummings updated the lyrics about 1850 and set them to music by Felix Mendelssohn. (When Mendelssohn composed the music to celebrate the 400th anniversary of the printing press, he stipulated that it never be used for religious purposes.)
"Silent Night," begun as a poem by an Austrian priest, Joseph Mohr, in 1816, was set to music two years later by the organist at his parish, Franz Xaver Gruber. According to legend, mice had damaged the church organ, so Gruber composed the song instead for two voices and guitar. Mohr and Gruber debuted "Stille Nacht" at midnight mass, performing it themselves.
By 1822, enough carols existed to form a collection by Davies Gilbert, a member of Britain's Parliament. In 1833, English lawyer William Sandys published a larger, more influential collection, Christmas Carols Ancient and Modern. It included "The First Nowell" and "God Rest Ye Merry, Gentlemen."
The British revival of Christmas carols coincided with the reign of Queen Victoria (1837-1901). Her 1840 marriage to Prince Albert brought that German's fondness for the holiday from the Continent.
Among Albert's ambitions for his adopted country was to import "an echo … of the old time, of what we thought and felt" at Christmas—"in essence," as one source puts it, "to invent an English Christmas tradition where little had previously existed."
Combining the Music of Many Nations
Among those Brits who caught the carol bug was John Mason Neale, an Anglican cleric whose reputation as a closet Catholic meant he had plenty of free time.
While warden of an almshouse in the 1850s, Neale translated "O Come, O Come Emmanuel" and "Good Christian Men Rejoice" and wrote "Good King Wenceslas." As is typical of popular carols, Neale wrote only the words, borrowing the "Wenceslas" tune from an old Scandinavian song he found in a book sent by the British ambassador to Sweden.
More secular carols began to creep into the repertoire with "Jingle Bells," originally conceived as a Thanksgiving song by James Lord Pierpont. Though a New Englander (and uncle of financier J.P. Morgan), Pierpont was serving as an organist and music teacher at the Unitarian church in Savannah, Ga., when he copyrighted the song in 1857. That church is now known as the Jingle Bell Church.
James "Haven" Gillespie wrote "Santa Claus Is Coming to Town," with music by John Coots. It was first performed in 1934 on the radio program of Eddie Cantor, who commissioned the song as Gillespie was mourning his brother's recent death.
At first Gillespie was too grief-stricken to write a happy holiday song, but a subway ride to his childhood neighborhood inspired him; he recalled his mother's warnings to him and his brother that Santa was watching.
Modern Christmas Carols
Irving Berlin—like Cantor, a Jew—wrote "White Christmas" in 1940. Sung by Bing Crosby in the 1942 movie Holiday Inn, the song's wartime nostalgia made it one of the biggest popular tunes of all time.
"White Christmas" inspired other carols invoking the spirit of the season more than its religious roots, such as "Have Yourself a Merry Little Christmas," written in 1944 by Hugh Martin for another movie, Meet Me in St. Louis.
"Rudolph, the Red-Nosed Reindeer," adapted by Johnny Marks and recorded by Gene Autry, hit number one on the Billboard pop singles chart the week of Christmas 1949.
It sold over 1.75 million copies the first holiday season and eventually topped 25 million, ranking as the second best-selling single of all time until the 1980s. Marks' inspiration was a story by his brother-in-law, Robert L. May, published in a 1939 booklet by the retailer Montgomery Ward.
"Rudolph" was almost a moose named Rollo or Reginald, with a nose any color but red—which was associated with alcoholism.
Thankfully for mall music at Christmastime, the version you're probably humming right now prevailed.
Related Reads