Sign up for the Family Tree Newsletter Plus, you'll receive our 10 Essential Genealogy Research Forms PDF as a special thank you!
Get Your Free Genealogy Forms
"*" indicates required fields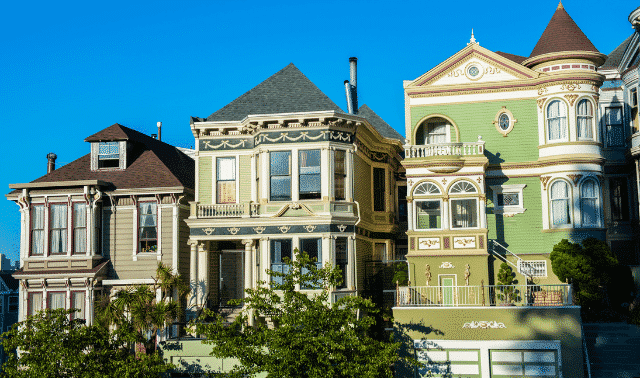 When a friend moved into an old Victorian-era house in Denver, he wanted to learn its history: When was it built? Who lived there? What was the neighborhood like? It couldn't be that hard to figure out, right? My interest in genealogy and maps came in handy. It turns out that the street name, address, city and county had all changed, while the house itself—as you'd expect—remained in the very same spot. Here's how I sorted it all out.
County assessor records show that the home at 3349 Bryant Street was built in 1890. But local historians and research at the Denver Public Library's Department of Western History and Genealogy told me this date probably was an estimate. So my first goal was to determine the actual year.
The deed's legal description describes the property as Lot 32, Re-subision of Block 27 of Potter Highlands. A county website links to a digitized subdision (or plat) map from 1887. It shows Lot 32 fronting Third Street, not Bryant Street. When did that change happen?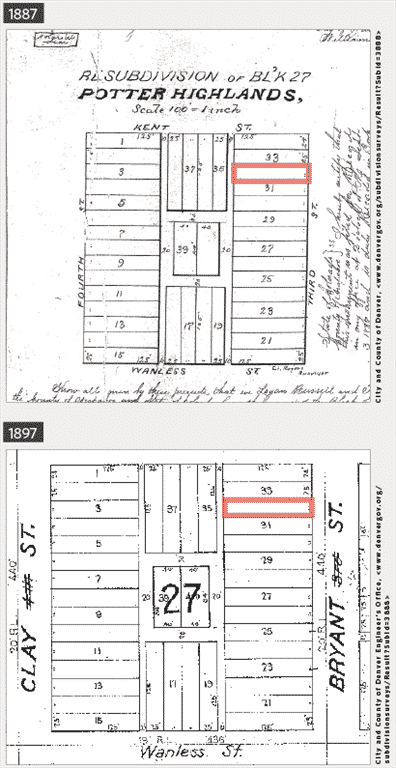 Moving forward in time, I found a circa 1897 assessor's map showing Block 27 fronting Bryant Street, with "3rd St" crossed out: evidence that Bryant used to be Third.
The next step was finding Sanborn fire insurance maps, but the house's location always seemed to be just off the map's edge. Fortunately, the Denver Public Library has the 1905 Baist's Real Estate Atlas, which shows building footprints. Lot 32 and adjacent lots have brick houses, represented by pink boxes. So my friend's Victorian was there by 1905.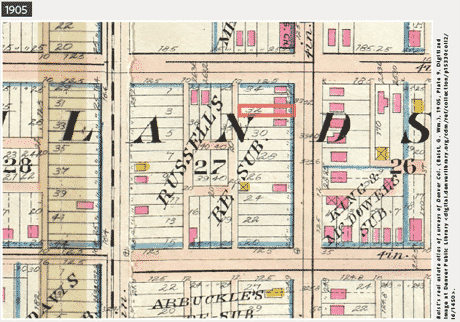 I would've looked up residents and their addresses in the 1890 US census, except almost all those records were lost to fire. Instead I turned to the 1900 census and used Stephen P. Morse's One-Step Unified Census ED Finder to find the enumeration district for 3349 Bryant Street. Browsing to the home's listing, I found Hannah Ziegenfuss renting the place with a son, daughter and boarder.
Colorado lacks state censuses after 1885, so city directories were my next step. Hannah lived at 3349 Bryant in 1899 and 1898. But in the 1897 directory at Ancestry.com, a keyword search on 3349 Bryant found nothing. Then I recalled that the street was named Third at the time, not Bryant.
But I couldn't find anything for 3349 Third or 3rd in the 1897 directory (which also showed the Ziegenfuss family in another part of the city) or earlier editions. Then I learned that the neighborhood was originally part of the City of Highlands, which Denver annexed in 1896. Highlands had its own street names and different address ranges. County boundary research showed this house was part of Arapahoe County in 1890 (not Denver, as it is today). Arapahoe County offices may hold additional resources.
Next I tried a different tactic: triangulation, or using two known reference points to locate a third. In the 1898 city directory, I looked up the residents of the houses on either side of 3349 Bryant. Alfred H. Lomax lived at 3345 Bryant. Going back another year, I found Alfred H. Lomax at 2029 Third in Highlands. (Remember how Third Street in Highlands became Bryant Street in Denver?) I repeated this step with the other neighbor. In the 1898 city directory, a keyword search on 3353 Bryant reveals resident William O. Vinacke. Going back one more year put him at 2033 Third Street in Highlands.
Given that 2029 and 2033 Third Street in Highlands each had the same occupants as 3345 and 3353 Bryant Street a year later, I could surmise that the house known today as 3349 Bryant Street, Denver, was originally 2031 Third Street, Highlands. City directories listed a series of renter-occupants in this house clear back to 1891.
There was no 2029, 2031 or 2033 Third Street in the 1891 city directory. So was my friend's house built in 1891? Likely not. Information in directories could be up to a year old by the time the area was canvassed and the data published. (Recall that the change from Third to Bryant occurred between the 1897 and 1898 directories, even though Highlands was annexed to Denver and the street names changed in 1896). A deed search, which might shed further light, has so far proven fruitless, but it's safe to deduce that my friend's house was built—or at least first occupied—in 1890.
The estimated date of 1890 in the county records appears to be the actual date built. And now my friend knows that the history of his house includes early residents from a college professor to a music teacher to a stone mason. He thinks it's pretty cool that, although his house is still in the same place, it started life as 2031 Third Street, Highlands, Arapahoe County, Colo., in 1890. Everything has changed except for the state name.
A version of this article appeared in the May/June 2017 issue of Family Tree Magazine.