Sign up for the Family Tree Newsletter Plus, you'll receive our 10 Essential Genealogy Research Forms PDF as a special thank you!
Get Your Free Genealogy Forms
"*" indicates required fields
The degree to which we are able to learn about the lives of our ancestors—beyond just names, dates and locations—depends on our meticulousness, the information available (either online or offline), and our skill set.
It also depends on whether we've taken advantage of all avenues available to us in our family history quest. Moving beyond the low-hanging fruit (e.g., a census, a death certificate, or a church record) may make the difference between a basic sketch of an ancestor or a life-like portrayal of him.
That's where historical newspapers come in. In my experience, newspapers make the seemingly impossible, possible.
That was certainly true in my years-long quest for answers about my great-grandfather, Hugo Wendt. Neither I nor my living family members knew much about him. But all that changed when many small-town historical newspapers from Nebraska came online for the first time.
After weeks of extensive digging, I largely reconstructed Hugo's life. Through historical newspapers, many details of Hugo's long-forgotten past came to light. And Hugo, the man whom we previously knew so little about, came to life!
Here's the story of how I used newspapers to reconstruct my great-grandfather's life. I won't be able to cover all of the events (both momentous and mundane) that were documented by small-town newspapers. Nevertheless, it will give you a birds-eye view of an extraordinary man whose forgotten past, which came to light, is now memorialized. Hopefully it inspires you to do the same for your ancestors.
Collecting Family Stories
Family lore had little to say about Hugo, and the oral history that did get passed down was superficial (albeit, poignant). Years ago, I asked a now-deceased relative about Hugo and received a vague, cryptic response. I knew, without a doubt, that she had withheld information.
She gave me some details to work from, however. Hugo owned a dry goods store in Big Springs, Neb. And she said that Hugo had a tragic head injury resulting from a train accident, and it caused his family to split up.
Sure enough, research showed that Hugo and his wife, Elsie, my great-grandmother, had separated by 1924. Their two sons (one of whom was my grandfather) remained with Hugo in Nebraska. Their two daughters left with Elsie, eventually settling down in California.
These twin tragedies—Hugo's train accident and the family's separation—formed the basis of my interest in genealogy. And newspapers were there to guide my research.
Researching a Train Disaster: 'Fog Causes a Collision'
Research into the train accident yielded an unforgettable discovery, not too long after I began digging through newspapers.
On 27 October 1900, Hugo—working as a cattleman—was hauling cattle on an eastbound Union Pacific train from Big Springs, Neb. Near Gothenburg, Hugo's train slowed because of dense fog. But a mechanical failure prevented the train's brakeman from successfully contacting the engineer of a second, rapidly approaching train.
The engine of the second train collided with the caboose of the first—with Hugo sleeping inside. Hugo suffered several burns from the engine's steam, as well as three broken ribs and a bad cut on his head. He and the two injured brakemen were given medical care, then boarded on another train for Omaha to receive more attention.


Thanks to that article in the Omaha Daily Bee (above), I learned—with unusual clarity—the specific details of Hugo's tragic train accident. But it took some creativity on my part to find the article. The story didn't come up for a search of Wendt, because Hugo's last name was misspelled in this article (and thus, indexed by the website) as "Welsp." I only found it by searching for alternative keywords, though a wildcard search for We* might have also found it.
Surprisingly, Hugo's accident took place almost 25 years before his family split up. We'll discuss that in more detail shortly, but it cast doubt on the family story that his accident caused his family's later separation.
Occupation Clues: Postman, Student, Lawyer, Congressional Hopeful
After recovering from his injuries, Hugo continued raising cattle and farming. But, according to the Chappell Register, his career took multiple different turns over the years.
In 1902, he was recommended for postmaster of Big Springs (also known as Big Spring). He worked in that position until resigning in 1906. From 1907 to 1908, Hugo attended "the university at Lincoln" (today, the University of Nebraska—Lincoln), then attended law school at Creighton College (today, Creighton University) in Omaha in 1909.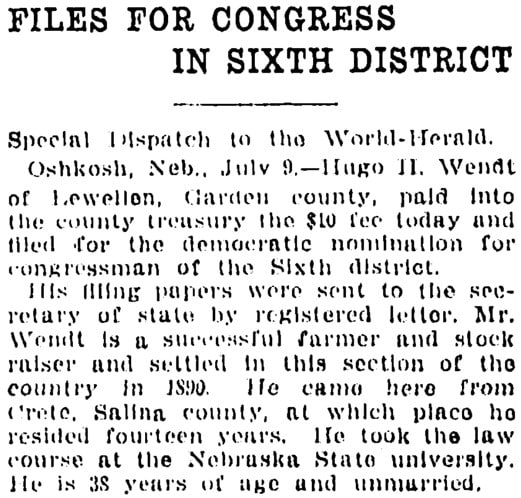 Once out of law school, Hugo filed to run for the Democratic nomination for Nebraska's 6th congressional district in 1910. The notice in the Omaha World-Herald (above) offers an excellent summary of Hugo's background, which is replete with genealogical details. It does, however, contradict an earlier report when it says he attended law school at "Nebraska State university" (not Creighton, a private school).
The photograph of Hugo on his horse (below) was taken on his property in Lewellen, Neb., likely (given his heroic pose) to promote his run for Congress.
According to The North Platte Semi-Weekly Tribune, Hugo garnered just 25 votes. (Needless to say, he did not win the Democratic primary.) But not long after his congressional run, he met Elsie West in Tennessee, where he married her in 1912.
No living family members knew that Hugo went to law school or ran for Congress. Clearly, there was more to Hugo's life than we'd known from oral history.
Misfortune: 'When One Becomes Heavy-Hearted or Troubled'
We've so far covered Hugo's achievements—only some of which could be included in this case study. But financial problems loomed over Hugo in the following years, culminating into disaster in 1923.
Hugo spent years acquiring vast sums of wealth, both through an inheritance and through real estate ventures in Nebraska and Kansas. But times grew hard, and newspapers reported a series of foreclosures on his properties. Hugo had no choice but to file multiple bankruptcies.

Hugo wrote an opinion piece in The (Omaha) World-Herald (above) that provides a window into his new financial reality (as well as his ability to express himself clearly). In it, he rails against prohibition in biblical terms, highlighting how poverty and hard labor were each more challenging without alcohol:
"But strong drink and wine, that God says the poor shall have and gave to them, has been denied and destroyed. When one becomes heavy hearted or troubled he cannot get wine or strong drink to cheer him and take on new life and hope."
Prohibition also, Hugo maintained, formed the basis of a mental health crisis: "Suicide is increasing in our dry United States so fast that the most extreme drys will have to vote it wet at the first opportunity to ease their guilty conscience."
Amid financial turmoil, the prospect of becoming homeless would likely have been on my great-grandma Elsie's mind. To remain with Hugo in Nebraska with financial matters only worsening would have no longer been an option for her. I haven't found any newspaper accounts that reveal exactly when Elsie left Nebraska with the girls, but it would have been as soon as late 1924.
My late grandfather, understandably, did not want to share the many hardships he endured during his childhood years. At some point after Elsie departed, he, his brother, and Hugo ended up living in a tent. Only the generous intervention of Big Springs townspeople lessened their burdens.
Using Newspapers to Evaluate Family Stories: Twin Tragedies
With these twin tragedies in mind—Hugo's accident and later financial ruin—we can now evaluate our initial question: Did Hugo's head injury in 1900 lead to his family's breakup some 25 years later?
Newspaper accounts paint a more-complicated picture than did family lore. The accident didn't seem to hinder Hugo intellectually. That he was able to attend and complete law school nearly 10 years after the accident demonstrates he was able to handle advanced course work. And his profound prose in the World-Herald opinion piece on prohibition demonstrates his acuity in the decades that followed.
Perhaps the severe head injury affected Hugo's judgment, rather than his cognitive abilities. His financial mismanagement in the early 1920s led to his downfall, and through research, I found several instances of Hugo making sudden decision changes regarding how he made a living. For example, by the time Elsie left Nebraska, Hugo would leave town seemingly at random to work odd jobs. He'd even leave his sons behind without proper supervision.
From a modern perspective, I wondered why his many nearby family members didn't show concern, or help the boys with food and shelter during Hugo's frequent absences. Hugo seemingly answers this riddle with several of his own, couplets published in November 1924 in dozens of newspapers across the United States. One in the Salt Lake Telegram read:
"High society's oft discussed:
Pies believe in the upper crust."
This hints at Hugo's previous life as a member of high society, as well as a newfound distaste for it.
Through newspapers, it's possible to reconstruct the long-forgotten past, both of an individual and of a family. Coupled with other sources, newspapers can make your family history come alive. What you can find will vary from one set of circumstances to the next. But the immense possibilities make the research effort worthwhile.
A version of this article appeared in the March/April 2023 issue of Family Tree Magazine.
Related Reads