Sign up for the Family Tree Newsletter Plus, you'll receive our 10 Essential Genealogy Research Forms PDF as a special thank you!
Get Your Free Genealogy Forms
"*" indicates required fields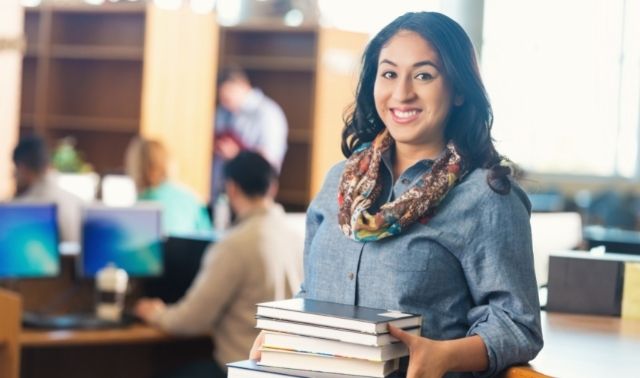 Cheap, fast and easy? Not qualities usually associated with genealogy. But a service known as interlibrary loan (sometimes abbreviated ILL) does indeed help you access scarce, out-of-print or obscure research materials—those not available in a library near you—in a simple, cost-effective way. Here's your guide to expanding your research repertoire with interlibrary loan.
Lending libraries
Recognizing that no library can provide every title its users might request, librarians have created reciprocal agreements between institutions in order to locate and borrow copies of items their patrons need. This service, called interlibrary loan, operates on an institution-to-institution basis: You must visit your local public library, archives or genealogical society library to request material through interlibrary loan.
You may be able to borrow materials from another library branch in your community, state libraries across the country, and even international repositories, as long as they participate in interlibrary loan (some don't, because of lack of staff resources or funding, or because their collections are too rare). Note that the Family History Library (FHL) doesn't participate in interlibrary loan. The closer to home the lending library, the faster your request will be filled, but you can potentially borrow an item from anywhere in the world.
Depending on availability, you can borrow books, microfilmed records, newspapers, magazine and journal issues or photocopies of single articles, and government documents via interlibrary loan. Some libraries even lend audio and video recordings, maps and sheet music. Institutions will seldom lend original manuscripts, but they may be able to make photocopies for you or email PDF files.
Non-circulating Items You Can't Borrow
So what can't you borrow through interlibrary loan? Generally speaking, libraries don't lend current material, such as the latest fiction bestsellers. Theses and dissertations from a commercial source (such as an online data service the library subscribes to) may not be available through interlibrary loan.
Rare, valuable or fragile items are supposedly not lent, though in my experience, these qualities are in the eye of the beholder. I've borrowed items I would consider as belonging to one or all of these categories, including a scarce 19th-century pamphlet containing genealogical information, valued years ago at $250 and probably worth considerably more today. If you're in doubt about whether the item you want can be borrowed, ask your librarian. You have nothing to lose by making the request.
How to use the interlibrary loan system
How can you get in on this library action and borrow family history materials you otherwise wouldn't have access to? Follow these four steps:
1. Locate the materials.
First, find the materials you want by searching online catalogs of libraries and archives that have collections relevant to your research. Also try searching WorldCat, an online catalog listing the holdings of thousands of libraries around the world. WorldCat will identify the nearest library that has the item you want. If it's close enough to home, you can pay a visit in person. Otherwise, interlibrary loan is a good option.
Visit the holding library's website and look for information on interlibrary loan services to verify that the library participates (if you can't find this information, call and ask). The Hudson's Bay Company Archives in Winnipeg, Manitoba, Canada, for example, offers details on its microfilm holdings and lending policies on its website. In some cases, the materials you want may be available both in printed form and on microfilm. You'll need to decide which best suits your purpose and ensure that your local library has the equipment needed to use microfilm. If the film is part of a series, be sure to get the right reel number (look for a finding aid or call the institution to ask).
2. Fill out the paperwork.
Print the catalog information on the item you want and the holding library, and pay a visit to your local public library. Visit the reference or circulation desk and let the staff know you'd like to borrow an item through interlibrary loan. You may be sent to the department (such as Genealogy) related to the item you want to borrow. The librarian will give you a form to fill out with details of the requested item. If you need help filling it out, just ask the librarian, who will need to verify your information before sending the form for fulfillment. Sometimes, if you have an account with your library, you can skip the in-person visit and fill out an interlibrary loan request form online.
For books, you'll provide at least the author, title, publisher, date of publication, and place of publication. For journal or magazine articles, the name of the periodical, place of publication (especially for newspapers), volume, issue number, date of publication and page numbers are essential. For microfilms, include the reel numbers you need. The form also asks for the source of the reference. If you saw the title you're requesting listed in the bibliography of an article or found it through WorldCat, for example, make sure you've noted that source.
The form may require some unfamiliar bits of information, such as the Library of Congress control number, the OCLC (Online Computer Library Center) record number, or other terms even more arcane. Two fields that sometimes perplex borrowers are the ISBN and ISSN. The first is the International Standard Book Number provided by publishers as a unique identifier on their books. These are usually marked above the bar code on a publication. The Library of Congress online catalog is a good place to find this number. The second is the International Standard Serial Number, again a unique identifier for periodicals, including print and electronic journals. Your librarian should be able to access it for you.
Providing these numbers whenever possible is a big step in ensuring you get what you want. For example, many newspapers have been called the Daily News. A borrower requesting an item from the Daily News of Longview, Wash., would provide ISSN 0889-0005. Then, there's no way a lending library can confuse the publication with the numerous other newspapers of the same title around the world.
3. Pay the fee.
Your cost for using interlibrary loan is amazingly cheap. Generally speaking, libraries offer this service for free or at nominal cost ($5 or so) to the borrower. You may have to pay for photocopies of a magazine article or a few pages in a book, although many libraries provide complimentary copies or digitized pages as PDF files. Occasionally, libraries will charge you for postage, particularly if the item is expensive to mail (such as to a foreign country) or it requires insurance or special handling.
Some libraries also charge a small copyright fee. Be aware that usage of materials borrowed through interlibrary loan (or from your local library, for that matter) is for the purpose of "private study, scholarship or research," according to US Copyright statute (in essence, this means you can't copy and distribute the item you've borrowed). A stamped message to that effect may appear on a photocopied document. Some libraries require the user to sign a document agreeing to this condition.
4. Get the call.
Your library will notify you with a phone call, email or postcard when your material has arrived. The book or microfilm will be held for a specified period before being returned to its home library (ask ahead of time how long your window is). If you'll need the item for a longer period of time, inform the librarian before the item becomes due and ask for an extension of the loan period. Keep in mind you may be required to use the materials at the library, rather than taking them home to read.
Interlibrary loan is a bargain for genealogical researchers seeking to expand the scope of their family history search. The keys to using the system are knowing what materials you want, being as accurate and detailed as possible in filling out a request, and asking for help at any step along the way when you encounter problems. Following these guidelines will make the process cheap, fast and easy, not only for you, but also for the borrowing and lending libraries.
Tip: To avoid unnecessarily long waits or, worse, getting the wrong material, be as accurate and complete as possible on your interlibrary loan request. If you have any problems filling it out, ask the librarian for help.
Tip: Want that source of family history information for your very own? Check online booksellers such as Amazon.com and AbeBooks for out-of-print editions. You may be able to purchase photocopies of pamphlets or short publications directly from the holding library. I've had success with this method, and have found that some large research libraries, such as the Bancroft Library of the University of California, Berkeley, provide detailed online catalogs and excellent order fulfillment services. Look for a services or reproductions section on the library website.
A version of this article appeared in the July 2011 issue of Family Tree Magazine.
Related Reads