Sign up for the Family Tree Newsletter Plus, you'll receive our 10 Essential Genealogy Research Forms PDF as a special thank you!
Get Your Free Genealogy Forms
"*" indicates required fields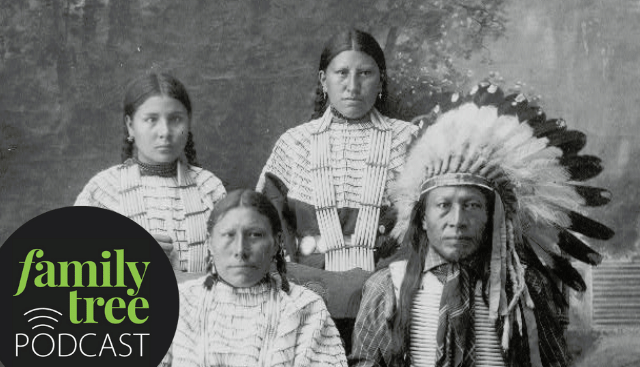 In this episode, genealogist and author Judy Nimer Muhn discusses how to research ancestors who who belonged to one of the United States' five largest indigenous tribes today: Navajo, Cherokee, Sioux, Chippewa and Choctaw. Plus, Diahan Southard is back to shed some light on DNA Painter and what third-party DNA tools can tell you about your genetic ancestry.
Ep. 155: November 2021
In this episode:
---
Tree Talk (01:20)
Too often genealogists forget that their story IS family history! Social Media Editor Rachel Christian asked readers "Do you keep a journal? Do you include yourself in family history writing projects? How do you document your life and experiences for future generations?" In this episode she shares some of the great ideas these questions generated. Join the conversation on Facebook and Twitter.
Follow Family Tree Magazine on Social
---
Featured Interview: The Five Tribes (05:21)
Many people have family stories of Native American heritage in their family tree. But how can you be sure? Author Judy Nimer Muhn is here to share tips for helping you find your ancestors who belonged to the United States' five largest indigenous tribes.
---
DNA Deconstructed: What is a DNA Painter? (24:28)
Your DNA Guide Diahan Southard joins Lisa to discuss third-party DNA tools are, as well as answering common questions about DNA Painter.
---
Best Genealogy Websites: The 75 Best Websites for Genealogy (29:30)
We're exploring some of the best genealogy websites for state research with Rick Crume, author of Family Tree Magazine's new 75 Best State Websites for Genealogy list.
Websites featured in this interview:
---
Editor's Desk (39:40)
Whether you want to learn more about using FamilySearch, land records, or historical newspapers, Amanda Epperson has some great Family Tree University courses to tell you about that can help.
Family Tree University: https://www.familytreemagazine.com/course/
Sign up for Our Free Genealogy Newsletter: https://www.familytreemagazine.com/newsletter-signup/
Subscribe for free to the Family Tree Magazine YouTube Channel: https://www.youtube.com/user/familytreemagazine/featured
---
Your Host: Lisa Louise Cooke
Listen to Lisa Louise Cooke's Genealogy Gems Podcast in your favorite podcasting app or with the Genealogy Gems Podcast app in your app store, and visit her website for great research ideas, podcast episodes and videos.
Have fun climbing your family tree!