Sign up for the Family Tree Newsletter Plus, you'll receive our 10 Essential Genealogy Research Forms PDF as a special thank you!
Get Your Free Genealogy Forms
"*" indicates required fields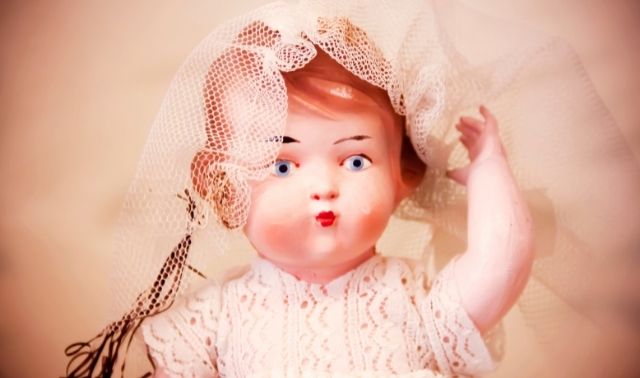 Dolls have been beloved playthings for centuries, so it's no surprise they sometimes look worse for the wear. But if you take these precautionary measures, Great-grandma's childhood sidekick still can bring joy to more generations.
1. Clean them carefully.
Before you store a doll, remove grime and dirt that's built up over the years, but be careful your well-intentioned efforts don't cause damage. Cleaning methods vary by the doll's makeup—porcelain, bisque, plastic or cloth. Find more tips and links below, and consult these books: The Handbook of Doll Repair & Restoration by Marty Westfall (Three Rivers Press) and The Care of Favorite Dolls: Antique Bisque Conservation by Mary Caruso (Hobby House Press).
2. Keep them in a closed cabinet.
Keeping dolls in airtight plastic containers puts them at risk for mold and mildew. Instead, keep them in closed cabinets, away from pets, dust and sunlight, in a temperature-controlled area of your home. Place dolls in archival boxes (rather than acidic wood or cardboard) and cushion them with acid-free tissue or cloth. Turn bisque dolls with glass eyes facedown in their boxes.
3. Use indirect lighting.
Direct sunlight can fade doll clothing and hair, and fluorescent lights can turn vinyl dolls green! Indirect lighting is always best. If you want to show off your prized playthings, change out the dolls on display to minimize their exposure to light and dust.
4. Handle with care.
Wash your hands—and don't put on lotion—before touching a doll. Keep food away from them and their storage areas. Though dolls are kids' toys, it's best not to let your little darlings play with the antique variety.
5. Watch for invaders.
Unwanted creatures like to nest in doll wigs (often mohair or human hair) and clothing. Before adding a new doll in your collection, inspect it thoroughly for signs of insects and eggs. The United Federation of Doll Clubs recommends fumigating contaminated dolls with moth crystals for at least six weeks to rid them of pests.
6. Hold on to original clothing.
Your doll's original clothing, shoes and other accessories add value, so keep them even if you buy her new togs.
7. Utilize a doll hospital.
Call the doctor if you need help with intensive repairs, such as resetting displaced eyeballs or making over a "basket-case Barbie." Contact the American Institute for Conservation of Historic & Artistic Works or your local historical society for doll hospital referrals.
Identifying Doll Brand Markings
Not sure whether you have a German doll or a French Bébé; a Midge or a Skipper? If you find a brand marking on the toy, surf over to Doll Reference for information on dolls from the 1840s to the 1980s. Use the search tool in the upper-right corner to find a match and learn more about your doll's origins and age. Pictures and advertisements accompany many of the descriptions.
If your doll has no maker's markings, try a reference guide such as 200 Years of Dolls: Identification and Price Guide, 3rd edition, by Dawn Herlocher (Krause Publications).
Family Archivist: Preserving Heirloom and Antique Dolls
Ask the Archivist
Q: How should I care for the dolls I collected as a young girl? I have several international dolls in ethnic dress, and two large, well-loved dolls. I'd like to share them with my granddaughters one day.
A: Dolls of all sizes are among girls' most often saved treasured from childhood. Small souvenir dolls were popular collectibles in the mid-19th century. Your large play dolls could be made from several different materials. It can be difficult to determine what materials were used, but you should know this information before attempting to clean the doll. Cloth, wood, ceramic, bisque, porcelain and plastics are only some of the materials often found in the heads and bodies of old dolls. Is your doll celluloid, one of the first synthetic plastics, which can be unstable and flammable? Or is it composition, a material composed of sawdust, glue, resin and other substances?
Learn more about your dolls and how to care for them by consulting a doll handbook or a local doll-collecting club. Some basic preservation rules hold true no matter what your treasures are made of. Always wear white cotton or nitrile gloves when handling the doll, as oils transferred from your hands will attract dirt and pests. Don't wet-wash the doll or clothing. Instead, lightly dust the dolls with a soft bristle brush or a vacuum with a brush attachment. If you choose the latter, use a mesh screen over the nozzle to protect the doll and its clothing from the suction.
If you want to display a doll, rotate exposure as a museum would, with a few weeks on display in an airtight glass case away from light and heat. Then move the doll to archival storage for three to six months. Keep storage boxes inside a closet or cabinet in the living area of your home, with consistent temperature and humidity. Finally, don't attempt a repair that can't be undone. Find a professional conservator by talking to other collectors and searching the online directory of the American Institute for Conservation of Historic and Artistic Works (choose Objects as a conservation specialty).
United Federation of Doll Clubs
Did you know that doll collecting is one of the most popular hobbies worldwide, after collecting stamps and coins? The United Federation of Doll Clubs (UFDC) has more than 11,000 members worldwide and features a magazine, a doll museum in Kansas City, Mo., an annual convention, and educational resources. Contact a UFDC group in your area for information on your antique doll.
Storing Your Antique Dolls
Store your antique dolls in an archival storage window box, available from suppliers such as Gaylord or Hollinger Metal Edge. To determine the right size box, measure your doll from head to toe and add a few extra inches for padding. Use acid-free tissue paper to cushion the doll. If the doll has a dress with a full skirt, place lightly crumpled tissue paper inside it to support the fragile cloth. Dolls with "sleep eyes" that open and close should be stored face down to prevent fatigue on the threaded weights that make the eyes work.
More Notes on Dolls from the Family Archivist
Doll Display Disaster
This beautiful handmade doll was crafted to look like my grandmother in her early 20th-century cotton eyelet dress and jacket. But unfortunately, years of display in a glass-front case allowed light and stale warm air to speed up deterioration. The cotton dress is now brown and brittle; the painted porcelain bodice, yellow. Protect your heirloom dolls by displaying them for limited periods and away from light and heat. Preserve them in an archival box for long-term storage.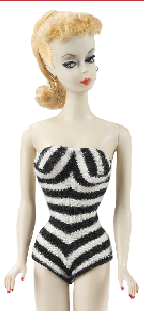 Heirloom ID: Ponytail No. 1 Barbie
Many grown women today fondly remember childhood days spent dressing their Barbie dolls and styling (and restyling) their hair. Until 1959, when Ruth Handler (wife of the founder of Mattel) created Barbie, based on a German doll named Bild Lilli, most dolls looked like babies or little girls.
Marketed as a "Teen-age Fashion Model," Barbie came with a blonde or brunette ponytail and coy, side-glancing eyes. She wore a chic black-and-white swimsuit. Over the years, she's appeared in everything from a bubble-cut hairstyle (sold from 1961 to 1967) to a lab coat (Doctor Barbie debuted in 1994). Collectors call the first doll, which originally sold for $3, "Ponytail No. 1." According to Antique Trader magazine, her value now ranges from $4,000 to $9,000, depending on condition. "Mint in box" versions of Brunette Ponytail No. 1—which Mattel produced in fewer numbers—fetch top dollar.
Tip: Write the history of your vintage doll—who gave it to you and when, your memories of playing with it, repairs made, etc.—and place a copy on acid-free paper in the doll storage box. Find more heirloom preservation help in my book How to Archive Family Keepsakes (Family Tree Books).
Written by Denise May Levenick, from the December 2015 issue of Family Tree Magazine.
FamilyTreeMagazine.com is a participant in the Amazon Associates Program, an affiliate advertising program. It provides a means for this site to earn advertising fees, by advertising and linking to Amazon and affiliated websites.