Sign up for the Family Tree Newsletter Plus, you'll receive our 10 Essential Genealogy Research Forms PDF as a special thank you!
Get Your Free Genealogy Forms
"*" indicates required fields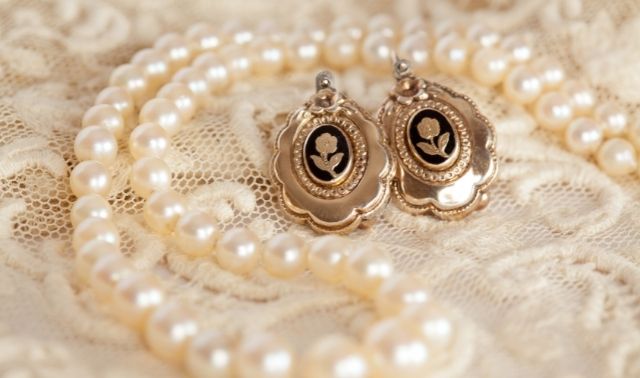 Will your children, nieces and nephews know the story of the rings and brooches they find in your dresser drawer or jewelry box one day? Without a little help, my sons probably won't recall who's pictured in my grandmother's gold-tone brooch. These simple tips will help you preserve treasured heirlooms and the stories that make them special.
Establishing Provenance
Photograph the item and make record of who owned it. If you aren't sure, do some online research on the style of the piece by exploring vintage jewelry websites or consult such books as C. Jeanenne Bell's How to Be a Jewelry Detective. By making such documentation, the family history associated with the item will be permanently saved in physical form, even if some accident should befall the piece or if you decide to let it go someday.
Engravings
Use a magnifying glass or jeweler's loupe to carefully examine watches, brooches, fraternal organization pins, wedding rings and charms for engraved names and dates. These can help you identify the original owner and significance of the piece. Transcribe what you find and add it to an heirloom history stored with the jewelry.
Cleaning and Preservation Tips
It's a good move to clean the jewelry before storage, but using the wrong cleaning agent or an abrasive cloth can cause permanent damage. Consult a professional jeweler for advice specific to your piece so that you can keep it in optimal condition.
Gemstones
Remember red, white and blue: You may clean red rubies, white diamonds and blue sapphires with mild dish detergent and water. But according to the Jewelers Mutual Insurance Co., "Many other gemstones have fickle properties that require specific care." Even ultrasonic cleaners can damage some gemstones, like pearls and coral. Take other stones to a jeweler for cleaning and maintenance.
Pearls
Store pearls in a soft pouch or case to prevent scratches from other jewelry. Don't hang your necklace, which can stretch or break the cord.
Gold
True gold won't tarnish and needs cleaning only with a soft, dry cloth. Avoid abrasive cleaners such as baking soda, toothpaste and bleach. Be careful not to rub off any engraving.
Silver
Gently polish sterling silver with a soft, dry cloth. Remove stubborn tarnish with a small amount of nonabrasive silver cleaner, such as Hagerty Silver Clean or Tiffany & Co. Silver Polish Spray. Exposure to air will hasten tarnishing, so store your vintage silver jewelry in a cloth pouch. Bags made with Pacific Silvercloth are embedded with tiny silver particles that absorb tarnish-producing gases.
Cameos
Cameos feature intricate designs carved on stone, ivory, lava, coral, tortoiseshell, bisque or other materials. Portraits have always been popular, but you'll also see flowers, birds and other natural images. The carving is typically set in a 14K gold or sterling silver. Avoid synthetic cleaners, dips and stiff brushes. Use only a soft, natural artist's brush with warm distilled water. Have any cracks professionally repaired before cleaning.
Watches
Use it or lose it. With smartwatches and Fitbits to keep folks on schedule, many no longer wear traditional wristwatches. But mechanical timepieces are best preserved in working condition: Broken springs and gunky lubricants can make it difficult to get an old watch ticking again. Wind and run your heirloom watch every month and have a jeweler service it every five to seven years.
Storage Tips
Purchase the correct type of jewelry box
Avoid jumbled jewelry boxes where bumping can cause scratches. Soft cloth pouches or lined boxes are the best way to store rings, pearls, watches, and individual jewelry pieces. Invest in a quality jewelry box with multiple compartments and a secure lid. For more long-term storage, consider archival compartment boxes, cushioning the piece in acid-free tissue.
Maintain air quality and temperature control
Very dry air can dehydrate your pearls and cause stones to crack. But damp conditions can encourage tarnish and erode the metal on settings, chains, clasps and watch movements. Store jewelry in a place inside your home where the humidity and temperature are moderate and consistent.
Store in sets
Jewelry sets and collections are more valuable than individual pieces. When possible, keep a set together instead of giving one daughter earrings; another, the bracelet; a third, the necklace. If the set must be split among family members, encourage borrowing to reunite the pieces for special occasions.
Appraisal and Insurance
It doesn't take a master jeweler or gemstone specialist to know that a $2,000 diamond vintage engagement ring deserves a wholly different level of treatment than a $20 piece of costume jewelry. Getting an expert evaluation of the monetary value of an item gives you the information you need to decide whether a piece belongs on prominent display in a sealed glass case or if it belongs in a shoebox in your attic. (No certification on the gems? No problem. Check this website for help.) Depending on the appraisal, you may decide that an item merits extra insurance coverage to guard against theft or loss. Talk to your insurance agent about any special arrangements needed to cover valuable jewelry under your home insurance policy.
Wearing Your Vintage Jewelry
Where is the fun in preserving an elegant piece of family jewelry if it never gets to see the light of day? Take it on parade from time to time by using it the way it is meant to be used—wearing it. Does Grandma's taste in bracelets differ from yours? Does Mother's ring not fit you? Have the precious gems reset into a new necklace or piece of jewelry that brings the past and present together. A good jeweler can restring and add to a beaded or pearl necklace to suit your style and neck size. Knotting between pearls minimizes loss in case of breakage. Replace broken clasps with suitable vintage pieces to maintain the historical integrity of your jewelry. Just make sure that your expensive or sentimental heirloom jewelry is handled with the utmost care by adhering to these tips:
Don't wear delicate rings, brooches, bracelets and other adornments in an active setting where pieces may fall off.
Keep your precious items out of the way of rigorous tasks that could easily damage them, such as washing dishes.
To avoid stains and hard-to-remove residue, don't apply hairspray, perfume or lotion while wearing your heirloom jewelry.
A version of this article appeared in the January/February 2018 issue of Family Tree Magazine.
FamilyTreeMagazine.com is a participant in the Amazon Associates Program, an affiliate advertising program. It provides a means for this site to earn advertising fees, by advertising and linking to Amazon and affiliated websites.