Sign up for the Family Tree Newsletter Plus, you'll receive our 10 Essential Genealogy Research Forms PDF as a special thank you!
Get Your Free Genealogy Forms
"*" indicates required fields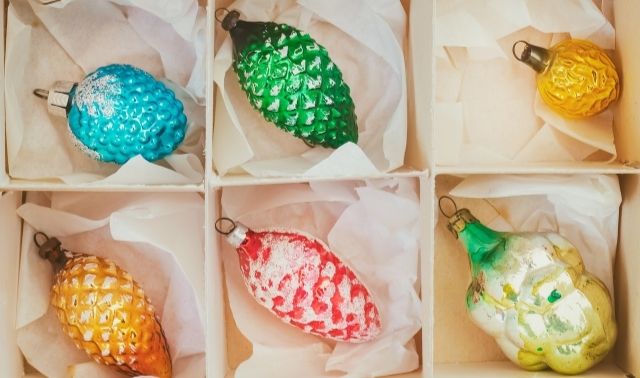 Most vintage Christmas ornaments don't survive with their original boxes intact. When you do have the ornaments along with the box they came in, the set becomes more interesting to collectors and family historians. The packaging can help to identify the ornament and add to its value, but the flimsy cardboard box deserves a little extra care for long-term survival. Most ornament boxes were made of inexpensive cardboard, often with a lightweight cellophane window to display the colorful contents.
Fortunately, Christmas decorations spend most of the year tucked out of sight from heirlooms' worst enemy: light. When holiday decorations are stored in out-of-the-way places such as basements, attics and garages, however, fluctuating temperatures, moisture and pests all can cause damage, making Christmas not so merry after all.
If you own such holiday treasures, follow these guidelines to ensure they bring joy for many Christmases to come:
1. Display Your Ornaments Safely
Place cotton batting or foam padding under your tree in case an ornament falls (you can cover it with a tree skirt). Check ornaments' caps and hooks before hanging to make sure they're strong. Wrap thin hooks around branches for support, or add new wire hooks. Keep them away from direct sunlight. Another idea is to store and display them inside a dust-free cabinet.
2. Clean Carefully
After taking down the tree, gently dry-dust old glass baubles—detergents and even plain water can remove paint. Wipe paper or cardboard surfaces, with a slightly damp cloth, but to prevent warping, clean a small area at a time and let dry.
Avoid washing antique fabric ornaments such as velvet and crochet. Instead, take them to a professional conservator for treatment. It's OK to polish metal ornaments if they're colorfast (test a tiny area first). Clean wax ornaments with warm water and a soft cloth; if they're bent out of shape, use a hair dryer on low to soften the wax and reshape it.
3. Pack Using the Correct Materials and Store in a Safe Location
Start your storage solution by individually wrapping each ornament in acid-free tissue paper, available from archival suppliers before placing it in its original box. Then set that box inside another box to prevent crushing and damage. If any ornaments lack their original boxes, use sturdy, acid-free divided boxes to hold your collection. Opt for heavy cardboard over plastic containers, which prevent moisture from escaping. Be sure to store your keepsake ornaments in a location that remains dry and cool year-round.
Acid-free tissue paper
Archival, acid-free tissue paper is one of the most useful supplies in an archivist's toolkit. Although it looks like regular tissue paper, archival tissue is manufactured to remove damaging contaminants. Regular tissue paper becomes acidic, discolored and brittle over time—damage that extends to adjacent objects through acid migration.
Tissue paper is available in sheets or on rolls. Cut pieces to size and crumple to cushion fragile items or stuff inside the sleeves of a gown to prevent creases, or wrap gently around glass ornaments to shield them from light and dust.
Purchase acid-free, unbuffered tissue from a local art store or an archival supplier such as Hollinger Metal Edge, Brodart or Gaylord.
Fiberfill
For additional protection between ornaments and the bottom of a storage box, use 100 percent polyester fiberfill (the same kind of material used in quilts). You can remove any dividers and trim the batting to cover the bottom and extend up the inside of the box, or cut to fit the bottom of divided sections. Polyester batting is available from fabric stores and archival suppliers; avoid batting made with recycled or unknown materials.
What to Do With Broken Ornaments
Fragile glass ornaments can crack or break without notice. But don't throw out those chipped, nicked or damaged globes just yet: You can breathe life back into them and show off their charm with a little artful staging to hide the blemishes.
Put them on a pedestal: A broken or chipped neck can make it difficult to attach a hanger when you're decorating your tree. But geometric patterns and all-over designs still look beautiful if you turn the ornament upside down and display it on top of a candlestick holder or in a glass vase or bowl. For a centerpiece or mantel decoration, assemble three or more ornaments on a table with a candle.
Fix them: Missing metal caps, fasteners and hangers are replaceable. You'll find a wide variety of styles and sizes from supplier D. Blümchen & Co.
Group them together: Holes and scratches are usually the result of a fall off the tree or a bump into a hard surface. The ornament might look fine on all sides but one. Collect similarly damaged ornaments, along with any others you'd like to display differently, and carefully arrange them in a large glass vase, bowl or hurricane candle holder. Place the display where it'll catch the room's light and watch the ornaments' colors come to life.
Pick up the pieces: If an ornament that's special to you breaks beyond repair, you could carefully gather the salvageable pieces into a decorative glass box to bring out at Christmas.
Identifying Shiny-Brite Ornaments
Count yourself lucky if your family managed to preserve a box or two of classic glass Shiny-Brite ornaments. The history of these decorations dates back to the hand-blown glass ornaments made in mid-19th-century Germany. By the 1920s, glass ornaments also were produced in Japan, Czechoslovakia and Poland. But when World War II closed the door to European imports, German immigrant Max Eckardt seized the opportunity to create an American version.
Eckardt worked with the Corning Glass Co. to manufacture clear glass balls, which were then shipped to his four Shiny-Brite factories in New Jersey to be hand-painted. The ornaments became a popular replacement for German-made baubles, and after the war, Eckardt's Shiny-Brite became the world leader in production of glass Christmas ornaments.
You can use the caps and hangers on Shiny-Brite ornaments to help date them. Early ornaments were made with metal caps, but wartime shortages made it necessary to switch to a cardboard tab. Learn more about midc-entury glass ornaments by visiting the The Golden Glow of Christmas Past website.
A version of this article appeared in the December 2014 issue of Family Tree Magazine.
Related Reads