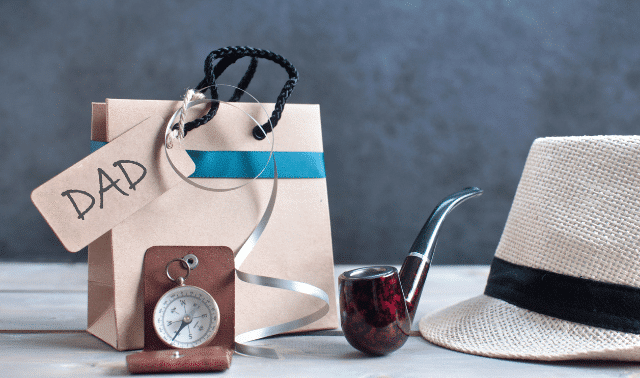 Father's Day is recognized on the third Sunday of June as a national holiday in the United States, but do you know how it came about? More importantly, do you know what to get for your history buff dad when the day comes? We've got some ideas to help you show your appreciation for the father or father-figure in your life.
History of Father's Day
The origins of Father's Day started on opposite sides of the country. In 1908, a church in West Virginia honored those fathers who had perished in the Monongah Mining Disaster, which left 1000s of children fatherless. In 1910, Sonora Smart Dodd, widely recognized as the woman who started Father's Day as a tradition, introduced the day in Spokane to honor her father, who'd raised six children on his own.
Efforts to make it a national holiday were stymied, however, for several decades. Sponsored by merchants who would benefit from the gifts purchased for fathers, many newspapers decried it as a commercial holiday and Congress refused to recognize it.
However, in 1957, Senator Margaret Chase Smith accused Congress of ignoring fathers for 40 years while honoring mothers. A decade later, President Lyndon B. Johnson issues the first presidential proclamation for the holiday to be held on the third Sunday in June, but it was not until 1972 that Father's Day became a national holiday.
Personal gifts
Framed photo
A framed picture of dad with his kids or grandkids, or dad as a youngster with his dad, is a classic. Or take pictures of little ones wearing Dad's or Grandpa's shoes, tie or hat, and frame it.
Heritage album
If you've been doing genealogy research, put together some of the items you've found personal to your dad into a heritage album, which weaves photos, documents and traditions into a keepsake.
Examples of items you should try to include in your heritage album:
pictures of family members with names and relationships to you
copies of official documents: birth, death, baptismal and marriage certificates; naturalization papers, land deeds
timelines of major facts about the family: employment history, residences, births, deaths, marriages
personal histories provided by interviews, other relatives, family traditions, anecdotes and historical documents
mementos to be shared with future generations, such as war medals and military dog tags, hospital birth bracelets and locks of hair
significant historical, social and political events that affected the lives of the family you're documenting
information about family hobbies or special talents
Bev Kirschner Braun
Finally have those old home movies transferred from reels or VHS tapes onto DVDs, or scan his old vacation photos or slides and put them in a photo book or on a family history storytelling website.
Questions and quality time
What to get to know Dad better? Get Questions to Bring You Closer to Dad: 100+ Conversation Starts for Fathers and Children of Any Age by Stuart Gustafson and Robyn Freedman Spizman for yourself. Then, treat Dad to a day of bonding. Also check here for more great family interview questions.
Can't spend the day with him in-person? Send him a copy of Dad, I Want to Hear Your Story: A Father's Guided Journal To Share His Life & His Love and ask him to fill it out and send it back.
Favorite family recipes cookbook
Compile Dad's favorite recipes from when he was growing up until now, using the ideas in this article.
Military heirloom display
Put together a display of his or his family member's military heirlooms, following these ideas from Sunny Jane Morton.
Maps
Books
The Family Tree Historical Maps Book: A State-by-State Atlas of US History, 1790-1900 by Allison Dolan
History of the World Map by Map by DK Publishing
National Parks Maps by Abby Leighton
National Geographic Family Reference Atlas of the World by National Geographic
Prints and reprints
Order a framed reprint from his childhood hometown or other important location from Maps of the Past, MapShop, World Maps Online. Commemorate a special meeting place with a Where We Met map from Positive Prints. Another out-of-this-world option to consider is Starry Maps, which creates a custom map of the night sky as it appeared on a specific date.
Books and audiobooks
Genealogy
Family Tree Guide to DNA Testing and Genetic Genealogy by Blaine T. Bettinger
Heritage genealogy guides from Family Tree:
The Family Tree Toolkit: A Comprehensive Guide to Uncovering Your Ancestry and Researching Genealogy by Kenyatta D. Berry
Military history
War Letters: Extraordinary Correspondence from American Wars edited by Andrew Carroll. The audiobook is read by several well-known personalities including, Tom Brokaw, Rob Lowe, Noah Wyle and Joan Allen.
Military History: The Definitive Visual Guide to the Objects of Warfare by DK Publishing
Cloudbuster Nine: The Untold Story of Ted Williams and the Baseball Team That Helped Win World War II by Anne R. Keene
The British Are Coming: The War for America, Lexington to Princeton, 1775-1777 (The Revolution Trilogy, 1) by Rich Atkinson
Traveling and exploring
Journey: An Illustrated History of Travel by DK and Simon Adams
History & Guide book series from Amazon
Traveling History Up the Cattle Trails: A Road Tripper's Guide to the Cattle Roads of the Southwest by Robin Cole-Jett
Katy Trail: A Guided Tour through History by Kathy Schrenk
Tourist Trains Guidebook, Eighth Edition by Trains Staff and Contributors
Sports history
On the Origins of Sports: The Early History and Original Rules of Everybody's Favorite Games by Gary Belsky
The Glory of Their Times: The Story of the Early Days of Baseball Told by the Men Who Played It by Lawrence S. Ritter
The Boys In The Boat: Nine Americans and Their Epic Quest for Gold at the 1936 Berlin Olympics by Daniel James Brown
The American Angler's Book: Embracing the Natural History of Sporting Fish, and the Art of Taking Them by Thaddeus Norris
Pin it!