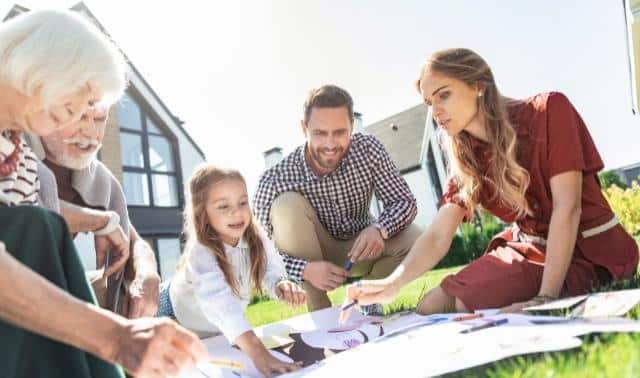 How do you print your online family tree clearly and efficiently (without having to tape pieces of paper together)? Whether you want to share a physical copy of your tree with relatives or display a family tree poster proudly on a wall, a little know-how can prevent a lot of frustration down the road.
Here's what you need to know before printing your family tree!
Printing from the major genealogy sites
Ancestry and other major genealogical companies give you the option to print family tree posters directly from your account. Your can print your tree directly from Ancestry.com by clicking the "Print" button near the top right of the screen (it's recommended that you print the pedigree view to save paper).
Ancestry also has a partnership with a professional printing company, MyCanvas by Alexander's, which prints family photo books, calendars, posters and more. You can access MyCanvas from your Ancestry account to print your family tree in a variety of styles and sizes.
To print your tree from MyHeritage, select the Family Tree tab and find Print Charts and Books.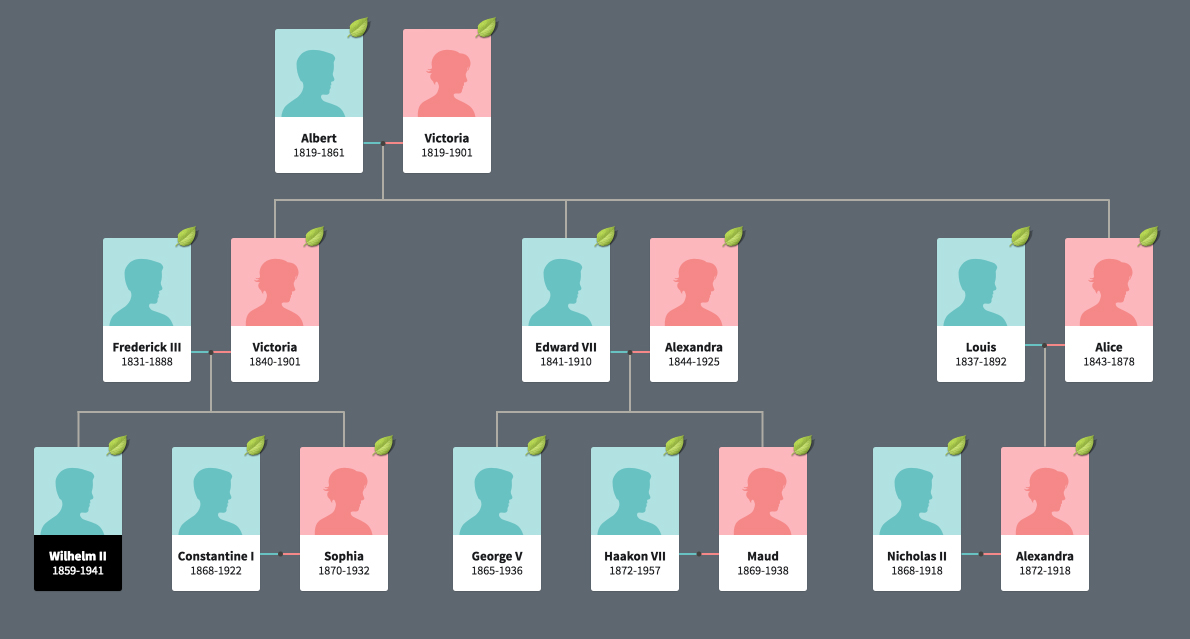 Printing from genealogy software
Most genealogy software programs also allow you to print your family tree. These trees often aren't very decorative, so if you'd like more options you can search for and add-on program. For example, Legacy Family Tree's Charting Companion lets you create family trees in a variety of shapes and sizes. RootsMagic provides its own printing service, where you can print charts, maps and trees created in and outside of the RootsMagic software.
Using a family tree printing service
There is a wide variety of services that can make family trees for you, in a range of styles and price points. Create charts to print at home, or get it professionally printed on high-quality paper. The level of customization on the print-at-home services varies widely, so it's a good idea to know what you want the final product to look like before you choose! Here are some options to consider: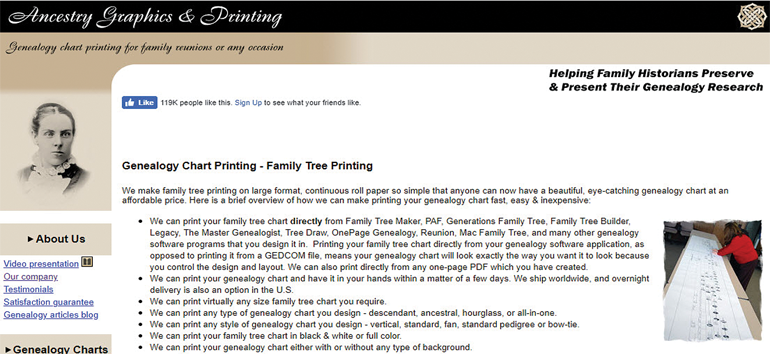 This family-owned business in Illinois specializes in printing customized or fill-in-the-blank genealogy wall charts with five to 10 generations for customers around the world. The site has sample chart images, an introductory video tutorial for submitting your tree for printing, and free genealogy-themed screen savers.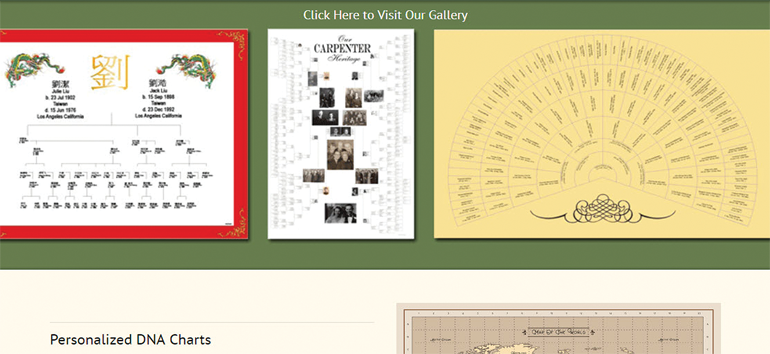 Inexpensive "working charts," professionally designed decorative wall charts, personalized DNA displays and fill-in-the-blank charts are among the many options from this Utah company. Free consultations help you choose the best chart for your needs; extra copies of decorative or working charts are half-price. Visit the site to view example images and pricing.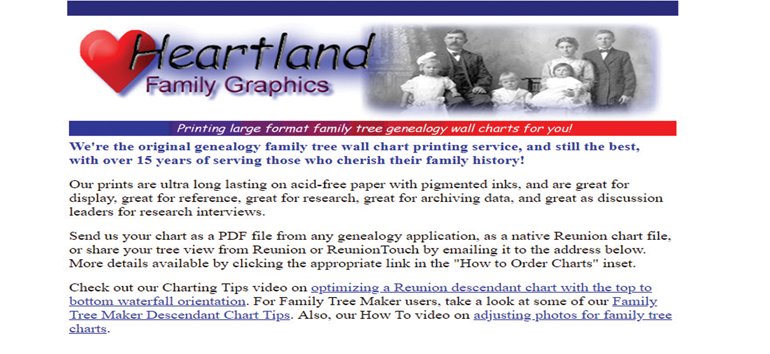 This site specializes in creating charts from Reunion genealogy software for Mac, but it also provides instructions for the Family Tree Maker and MyHeritage Family Builder programs. Wall charts are printed on acid-free paper with pigmented inks. The site offers video tips on adjusting your photos for charts and organizing a Reunion descendant chart.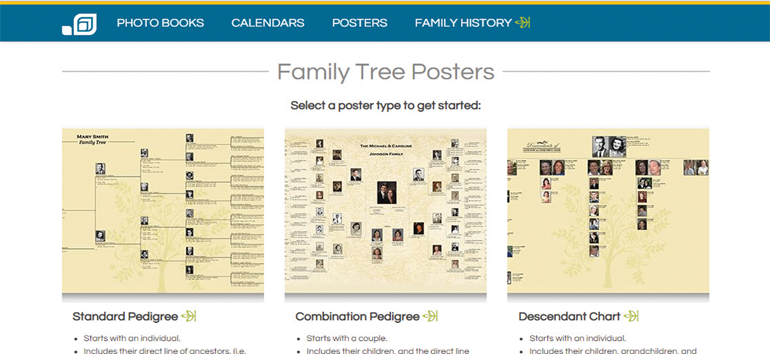 As mentioned above, this service partners with Ancestry to import information and images from your Ancestry online tree. You can create family tree posters in three styles and sizes, and order them printed on archival-quality photographic paper.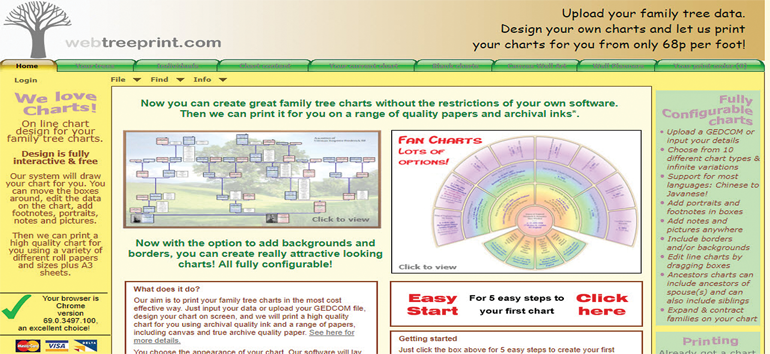 Use a free interactive design tool here to create family tree charts, edit data, add footnotes and photos, and more. Choose from 10 chart types, and a variety of design elements, paper sizes and styles. Webtreeprint.com supports most languages. Get started by clicking Easy Start.
Summaries written by Sunny Jane Morton. This portion of this article originally appeared in the January/February 2019 issue of Family Tree Magazine.
Other Printing Options
Geni (free JPEG for download)
OnePage Genealogy (free PDF for download)
TreeSeek (free PDF for download)
Keepsake Family Trees
Create one yourself
Don't have an online family tree or want to create one from scratch? SmartDraw provides templates that allows you to create family trees and other genealogical charts. You can also find a variety of blank trees and templates online, including free or low-cost options from Etsy and ThoughtCo.
Originally written in August 2018.