Sign up for the Family Tree Newsletter Plus, you'll receive our 10 Essential Genealogy Research Forms PDF as a special thank you!
Get Your Free Genealogy Forms
"*" indicates required fields
Before nightly news and Netflix documentaries, we tuned in to the radio for need-to-know information. Radio variety shows, soap operas and comedy programs dominated American media in the 1940s. But as The Buggles put it in their 1979 song, "Video Killed the Radio Star."
These days, however, podcasts are reviving the art of informative audio. Edison Research reported in 2016 that 21 percent of Americans age 12 and older had listened to at least one podcast in the past month. That's at least 57 million podcasts on innumerable topics—including genealogy. To acquaint you with this source for family history tips and resources, we've listed seven of our favorite, free genealogy podcasts.
It's easy to stream or download a podcast by visiting the website listed for each one, or by using iTunes or an app such as Stitcher Radio or Spotify. Listening can turn your commute or house-cleaning into an educational opportunity. Be careful though—you might get hooked: The Americans who tune in weekly listen to about five podcasts a week.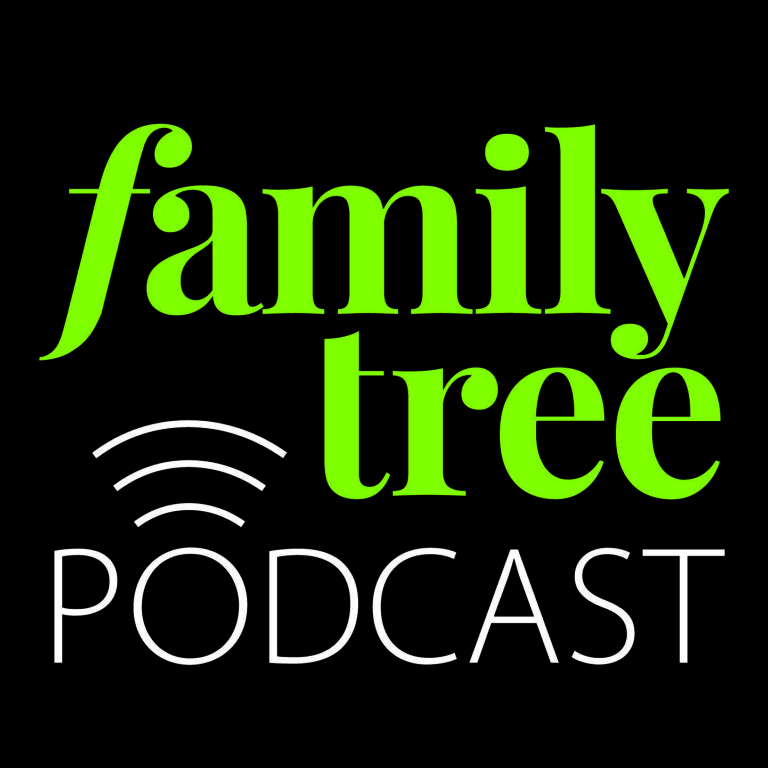 Host: Lisa Louise Cooke
Frequency: Twice per month
If you enjoy reading Family Tree Magazine, chances are you'll love our podcast. Genealogist Lisa Louise Cooke, who also produces the Genealogy Gems podcast (see below), invites expert contributors to delve into the research and news featured in the magazine and on our website.
Each podcast focuses on a theme, such as maximizing military records or finding Irish ancestors. The folks behind Family Tree Magazine, including Editor Andrew Koch, also chat about what they're working on. The new-in-2023 "Best Websites" bonus episodes highlight key genealogy resources, with detailed tutorials and behind-the-scenes interviews.
Show notes for each episode feature links to recommended websites and articles on FamilyTreeMagazine.com. Subscribe to the podcast here.
Host: Scott Fisher and team
Frequency: Weekly
With more than 400 episodes and titles such as "One Marriage, Nine Kids, Eight Fathers!" and "Finding A Murder Victim's Next of Kin," Scott Fisher, self-proclaimed "roots sleuth" and long-time morning show host, doesn't shy away from the intimate or interesting. Extreme Genes delivers weekly podcasts that highlight the emotional and sometimes literal journey each genealogist takes to find his or her family. Team member David Allen Lambert, chief genealogist for the New England Historic Genealogical Society, hosts "Tech Tips" that'll give you new ways to find family history with social media and websites. Happily, Fisher posts transcripts of each podcast on his website, so the days of rewinding to catch a minute you missed are over.
Host: George G. Morgan and Drew Smith
Frequency: Once or twice per month
The "Genealogy Guys" are genealogist and family history author George G. Morgan and Drew Smith, the University of South Florida's School of Library and Information Science instructor. They began podcasting in 2005, discussing genealogy conferences, books, news and research destinations. Each episode comes with a summary on the show website and links to online resources the guys and their guests recommend. Keep an eye out for the notable, fun episodes recorded in front of live audiences at genealogy conferences.
Host: Lisa Louise Cooke
Frequency: Monthly
Cooke's own Genealogy Gems podcast highlights research techniques that are accessible to genealogists of any skill level. She also scores interviews with fascinating figures such as "Who Do You Think You Are?" executive producer Dan Bucatinsky (episode 113) and Pamela Smith Hill, editor of the Laura Ingalls Wilder annotated autobiography Pioneer Girl (episode 183). You also get to hear from other listeners, in letters sharing their research joys and frustrations. Bonus podcast episodes are available to Genealogy Gems Premium members.
Host: Amy Crabill Lay and Penny Burke Bonawitz
Frequency: Once or twice per month
"Welcome to the Genealogy Happy Hour, a place where new family historians can learn how to document their family histories and celebrate their new discoveries," begins this monthly podcast. Genealogy Happy Hour feels like sitting down with old friends and a bottle of wine to discuss the pitfalls and triumphs of genealogical research. The podcast's conversational tone balances out the amount of research know-how the hosts pack into each episode (despite their self-proclaimed "always in training," status) on topics such as finding female ancestors" and analyzing documents.
Newer episodes have helpful descriptions below the podcast links at genealogyhappyhour.com. To browse descriptions of older episodes, visit the Soundcloud site.
Host: Will Moneymaker
Frequency: Weekly
Featuring not only a podcast, but also resource articles and a weekly genealogy newsletter, the Ancestral Findings website has been around almost two decades. Moneymaker's bite-sized podcasts are perfect for busy researchers, clocking in at around five minutes long with tightly focused topics such as "How to Use Family Lore to Discover the Real Stories" (episode 74) or "WWI Draft Cards: Where to Find Them and What They Can Tell You About Your Ancestors" (episode 67). If there's a particular brick wall you've run into, scroll through Ancestral Findings' playlist of hundreds of podcast episodes to find the one that might bust through your road block or at least point you in the right direction.
Host: Maureen A. Taylor
Frequency: Weekly
As the Photo Detective, Maureen Taylor helps clients learn about all things related to photographs: using clues to identify relatives and settings, preserving images, and handling old photo formats, to name a few. She shares her expertise in this podcast that has run for nearly 200 episodes, and interviews other expert guests on subjects ranging from home movies to English genealogy to narrative nonfiction.
Last updated, April 2023.