Sign up for the Family Tree Newsletter Plus, you'll receive our 10 Essential Genealogy Research Forms PDF as a special thank you!
Get Your Free Genealogy Forms
"*" indicates required fields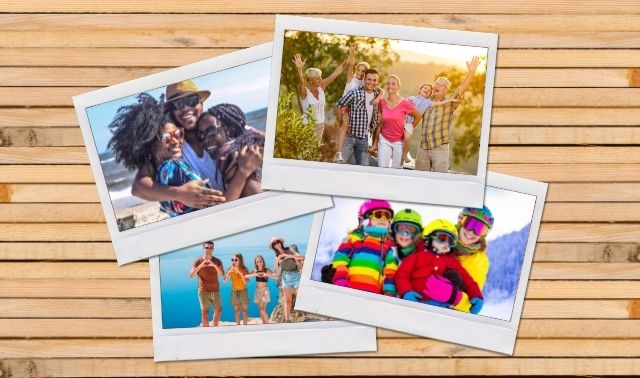 Back in simpler days, family reunions were held in backyards or at the local park. Grandma would make vats of potato salad and heaping stacks of cookies, and afterward she and the other women would talk over the dishes while the children got muddy running through the sprinkler.
But times have changed.
Grandma's busy with her job now, and so are all her children and their spouses. Even their children are busy, with soccer practice, tennis lessons and summer camp. What's more, they're scattered all over the nation. In fact, she and Grandpa worry that all the far-flung cousins barely know each other.
That's why family reunions are booming, and so is business at the vacation destinations that cater to them. Families want to reconnect, but they also want to have a good time and some hard-earned relaxation.
"I'm really selfish," says Nancy Reynolds, a pastry chef in Minneapolis. "When I'm on vacation, I want a vacation." That means, for starters, that she doesn't want to cook, and she likes to eat well. In 12 years of accompanying her husband's family of 25 on family reunions, Reynolds' favorite spot was Lost Lake Lodge, a small, serene Minnesota resort that grinds flour at its own grist mill and serves gourmet food. But most others in the family, she acknowledges, care less about cuisine than about such traditional pursuits as golfing and fishing. "It's worth it to have those cousins be together," she says. "I'm always grateful for the experience."
Reunion-oriented Resorts and Cruises
Today, however, every single person in the family can have the vacation of a lifetime. Reunion-oriented resorts offer not only a variety of fine dining choices but a dizzying array of activities for all ages, from daily circus performances at Callaway Gardens in Georgia to a treetop ropes course for do-it-yourself trapeze artists at California's Northstar-at-Tahoe. At Black Wolf Lodge in Wisconsin, the world's largest indoor water park — the outdoor one is pretty big, too — has grandmas and grandpas squealing their way down "Lookout Mountain" alongside Gen-X nephews and pig-tailed grandchildren. And there's always the usual slate of tried-and-true activities — swimming, biking, hiking, miniature golf, tennis, volleyball.
"We didn't want to be cruise-director types, so we wanted someplace with lots of things to do," says Mary Beth Solano of Fort Collins, Colo., who with her sister organized a reunion that brought together 55 people from Florida, Virginia, Wisconsin, Minnesota and Colorado. "We had lots of different types of families there. We had some older people who couldn't get around very well, other people who wanted to go white-water rafting, and everything in-between. Plus we had some very young children, so we needed day care."
They chose YMCA of the Rockies at Snow Mountain Ranch near Winter Park, Colo., which, with its sister center near Estes Park, hosts more than 650 family reunions a year. Not only does it offer a day camp for children and a huge list of a la carte activities, but it helped Solano arrange a hayride and marshmallow roast just for her family and bring in two local callers for an evening of line dancing.
"That was a grand time," Solano recalls. "You're with your family, so you can be as goofy as you want to be."
In fact, there's no end to the ways resorts can help families create lasting memories. Smugglers' Notch in Vermont sends families on forest treks with llamas, which tote the picnic lunches, and on canoe trips that end with a tasting at a nearby winery.
"When it's something unusual, I think the memory sticks a little tighter," says the resort's Barbara Thomke. "People say, 'Remember when we went walking with the llamas?'"
It's not easy accommodating everyone in a family. Golf and tennis aren't a problem; every resort has those on site or nearby. But some family members will want to eat in restaurants, others to save money by staying in lodgings with a kitchen. Some will want daycare services, while others want to catch up with their children. Some want a quiet setting; others must be in the middle of the action.
That's why the key to a successful family reunion is versatility. With that in mind, we looked around and came up with this guide to 10 of the best places to gather with your family. (Just don't spend too much time oohing and aahing over the possibilities — remember, to pull off a reunion next summer, you need to start planning now.)
In the summer, this year-round ski resort makes up for the lack of snow on next-door Mount Mansfield, Vermont's highest point, by offering more fun and activities than most people can keep track of. What's really amazing is that it's all included in the price: all-day adventure programs for kids ages 3-17; guided hikes; miniature golf; old-fashioned lawn games at the Vermont Country Fair; dance, movie, splash and wine-and-cheese parties; and many other events. That is, if guests can tear themselves away from the resort's lake, eight pools and three waterslides, one of which is 300 feet long. Not to mention tennis and golf instruction, art workshops, kayaking, horseback riding and carriage rides through covered bridges.
Smugglers' Notch actively courts reunion business, offering a free barbecue or mixer for groups of 20 or more and the services of a planner for family theme dinners, volleyball tournaments and group portraits. For those who want to explore the picturesque countryside, the resort is half an hour from Stowe and other quaint towns, an hour from Lake Champlain and two hours from Montreal.
Choosing a cruise for a diverse family can be tricky Some may object to the sheer mass of humanity and intense social scene on a 2,000-passenger "party" boat. Others may think they don't want to be stuck in one place for three days or a week. Some are interested more in bicycling than bingo and midnight buffets.
But cruise consultant Dave Blank of Cruise One in Columbia, Md., insists there's still a cruise for everyone. "First, call a travel agent," he advises. "I'll ask you a lot of questions. I'm like a doctor before operating; I have to ask a lot of questions before I make a recommendation. I find out where people are coming from, what kind of vacation they've had before, if they've ever had a family reunion. Then, I see if I can make a match."
Holland America, he says, caters more to seniors, and Carnival more to young people. Disney cruises that combine a few days at Disney World with a few days of cruising are popular, he says, because they appeal to both kids and seniors. And the big boats — today, those as big as the Titanic are considered "medium-sized," he says — have something for "the 2-year-old up to the 92-year-old."
For those who don't like being around lots of people, he suggests a 100-passenger Cruise West trip to Alaska, perhaps with kayaking or bicycling land excursions. For those who don't like the frenetic Caribbean atmosphere, try a cruise to Bermuda on the Zenith, a medium-sized, family-oriented boat.
"The beauty of a cruise is, no one does the cooking, but everyone's on board at the same time," Blank adds. "I had one very nice grandfather in New Hampshire who took 32 members of his family on a cruise and had T-shirts made up for them that said, 'We're Spending Our Inheritance.'"
When Grand View Lodge opened in 1919, the local sport was fishing, fishing and fishing. People still fish — after all, this is the land of 10,000 lakes — but the overwhelming draw today is golf. Now there are more golf holes than fishing holes in the Nisswa-Brainerd area — 468 greens vs. 465 lakes — and Grand View Lodge boasts 54 of them, including the Pines, one of Minnesota's best courses, and the new Deacon's Lodge, designed by Arnold Palmer.
Of course, Grand View also offers the other amenities of a classic Minnesota lake resort. There's a long beach on big Gull Lake, a new indoor pool complex with a no-foot slide, a children's program for ages 3-12, and daily activities that include free water-skiing and tubing, a big hit with teenagers. Nearby is the town of Nisswa, a tiny shopping oasis in the woods, and the 48-mile Paul Bunyan State Trail, a paved trail for bicycling and in-line skating.
Minnesota's lake country also has many smaller resorts that would be perfect for family reunions, from the nearby Lost Lake Lodge to resorts with cabin rentals. Check out Explore Minnesota to learn more.
Both in the shadow of Colorado's Rocky Mountains, these two centers are probably the most popular places in the nation for family reunions. They've got it all: a variety of lodgings, some with kitchens; lots of activities, from campfire sing-alongs to horseback riding; the services of staff planners; and, of course, a gorgeous setting.
Estes Park Center is 90-years-old and has an old-fashioned atmosphere, with its own post office and buildings in a cluster. It's right in the middle of the mountains and has direct access to 350 miles of hiking trails in adjoining Rocky Mountain National Park. Snow Mountain Ranch stands in a forest of lodgepole pine near Winter Park and includes 5,000 acres crisscrossed by mountain-bike trails.
Both have day camps for kids ages 2½ to 18, as well as full-time "hike masters," puppeteers, storytellers, musicians and a "mountain man," who talks about trapping in the old days. There's plenty to do indoors, too — swimming, roller-skating, crafts and a climbing wall.
There are other YMCA retreats around the nation: Silver Bay Association in Lake George, N.Y., Blue Ridge Assembly in Black Mountain, N.C., and Trout Lodge in Potosi, Mo.
Where it all began! As soon as it opened in 1997, Black Wolf Lodge was a huge hit. Not only did guests love its sophisticated north-woods decor, but its three-story indoor water park, with bright-yellow tubes bobbing along a river, waterfalls cascading into hot tubs and two-story totems looming over a thicket of slides and chutes kept whole families breathless and busy for hours. Later, the name was changed to Great Wolf Lodge and a successful (and super-fun) resort chain was born.
It was already the world's largest indoor water park when the aptly named Waterman family, creators of the world's largest outdoor water park, doubled it to 42,000 square feet. Then they had to add more rooms, including eight suites (among them a log cabin just for the kids). Of course, there's also a 20,000-square-foot water park outside.
The Wisconsin Dells area offers all kinds of attractions, such as water-ski shows and boat tours of the serpentine canyons and unusual rock formations that first brought tourists here back in 1856. But your family may not want to leave the resort: "We were all in the water," says LaVerne Pasko of Palatine, III., who gathered 28 family members, ages 2 months to 70, for the 40th anniversary of her and her husband, Paul. "We didn't go into the Dells area at all. I thought that was unusual for the 24- and 25-year-olds. But we had just a wonderful time."
Many resorts include a great beach on a lake, but not every resort has a beach on a Great Lake. Parasailers and scuba divers play here, and tall-masted wooden schooners whip around Grand Traverse Bay, giving weekend sailors a chance to hoist a jib. This is Lake Michigan, home of the Grand Traverse Resort in Acme, Mich., the Midwest's largest full-service, year-round resort and conference center.
On the resort's catamarans, there's a breakfast cruise just for children. But there's lots to do away from the lake, too — biking, hiking, tennis and swimming in the pools, two indoor and two outdoor. Parents can indulge in a facial or massage in the spa, or play a round of golf on one of three courses, including the new Wolverine by Gary Player. Meanwhile, their kids can have a ball at the Cub House, a 2,000-square-foot licensed day-care center, or at Cub Camp, for older children.
Activities abound beyond the resort's 1,400 acres. Art fairs and music festivals are held all summer long around Traverse City. Just 20 miles to the west is Sleeping Bear Dunes National Lakeshore, a 40-mile-long stretch of quartz sand beach known as the Golden Crescent.
At Callaway Gardens, it's not enough to have tennis, golf and swimming. At this resort, an hour southwest of Atlanta, guests also are treated to daily performances by acrobats and trapeze artists.
For many years, members of the "Flying High" Circus club from Florida State University have been performing at Callaway, serving as camp counselors in their spare time. But the circus isn't the resort's biggest drawing card. That would be the gardens at this 14,000-acre site, founded by textile industrialist Cason Callaway, who felt, says the resort's Rachel Crumbley, that "all children should see something beautiful by the time they're 6."
In the summer, the price of a cottage includes day camp for the children, evening entertainment, golf clinics, tennis tournaments, swimming at the world's largest man-made beach at Robin Lake, rides on a miniature train and admission to the gardens, which includes the Day Butterfly Center and Azalea Bowl. The resort also includes 63 holes of golf and hosts the PGA's Buick Challenge. Plus it's home to the Masters Water-Ski Tournament, which draws international contestants.
You'll find antique-hunting and shopping nearby in Warm Springs, also the site of the Little White House, where Franklin D. Roosevelt died. The house is now a state historic site.
Northstar on Lake Tahoe in California
It's not always easy to find a family resort that teenagers as well as toddlers can love. Ski resorts, however, are used to catering to snowboarding teens, who have given the slopes a much-needed boost over the last decade.
Northstar, on the quieter north shore of Lake Tahoe, is paradise for older kids who want to challenge themselves with speedy sports. A mountain-bike park, reached by chairlift, has more than 100 miles of trails. A BMX park boasts dirt jumps and two huge skateboard ramps. There's a climbing wall and a treetop-ropes course, 50 feet above the ground, that promotes cooperation rather than competition.
The littler guys, ages 4-9, get their own ropes course, pony rides and trail rides. For children 2-10, there's Minors' Camp, with full- or half-day activities.
All this is in addition to tennis, swimming, nature hikes and golf on the resort's 18-hole course.
Reunions are happily accommodated, says the resort's Jeff Brown: "We take all the labor away from the family. A lot of families have noble intentions — of barbecuing, for example — but if they change their mind, we're available."
Few resorts are so blessed with scenic riches as Port Ludlow on the Olympic Peninsula. On one side, there's Puget Sound; on another, the peaks of the Olympic Mountains. And, stretching for miles around, Olympic National Forest. Oh, and the urban excitement of Seattle is just 90 minutes away
It may be tempting to lounge around and look at the scenery, but this is a resort for active types: swimming, biking, hiking, kayaking, tennis and golf on 27 holes. Children enjoy an Adventure Camp (ages 5-10), a playground and a cobblestone beach on which kids can chase little crabs.
Guests who want to venture farther afield can sign up for whale-watching excursions out of nearby Port Townsend, also known for its antique shops and historic homes, or for guided tours of local gardens and wineries.
Special meals for family groups — say, alder-plank barbecued salmon — are easily arranged, says the resort's Lynn Frasier, as well as special evenings — a magic act or murder mystery, for example.
In some ways, this luxurious resort near the chic town of Sedona, Ariz., is geared mostly to adults. But to the right kids, a stay here can be eye-opening.
At Enchantment Resort, surrounded by the craggy red cliffs of Boynton Canyon, arts and crafts help children understand the local Native American culture. Children ages 4-12 can attend Camp Coyote, where they'll make kachina dolls and explore the canyon, as well as swim, play tennis and go on treasure hunts.
Of course, there's plenty for adults to do, too — golf, mountain bike, hike to nearby ruins and on trails in the surrounding national forest, ride horses and visit the resort's Healing Spa, which emphasizes holistic therapies based on Native American rituals and beliefs. And the Grand Canyon is just 2½ hours away.
From the January 2000 issue of Family Tree Magazine.
Updated: August 2021