Sign up for the Family Tree Newsletter Plus, you'll receive our 10 Essential Genealogy Research Forms PDF as a special thank you!
Get Your Free Genealogy Forms
"*" indicates required fields
The world-famous Family History Library in Salt Lake City, Utah is home to the world's largest genealogical research collection—and it's free to visit. Here's what to expect at the Family History Library and tips for planning your trip to this genealogy dream vacation destination.
Getting to the Library
First, the library has a new official name: the FamilySearch Family History Library (we'll still call it the FHL). The name change is a great reminder that FamilySearch.org is the online home of the FHL (or should we say the FHL is the bricks-and-mortars home of FamilySearch.org)?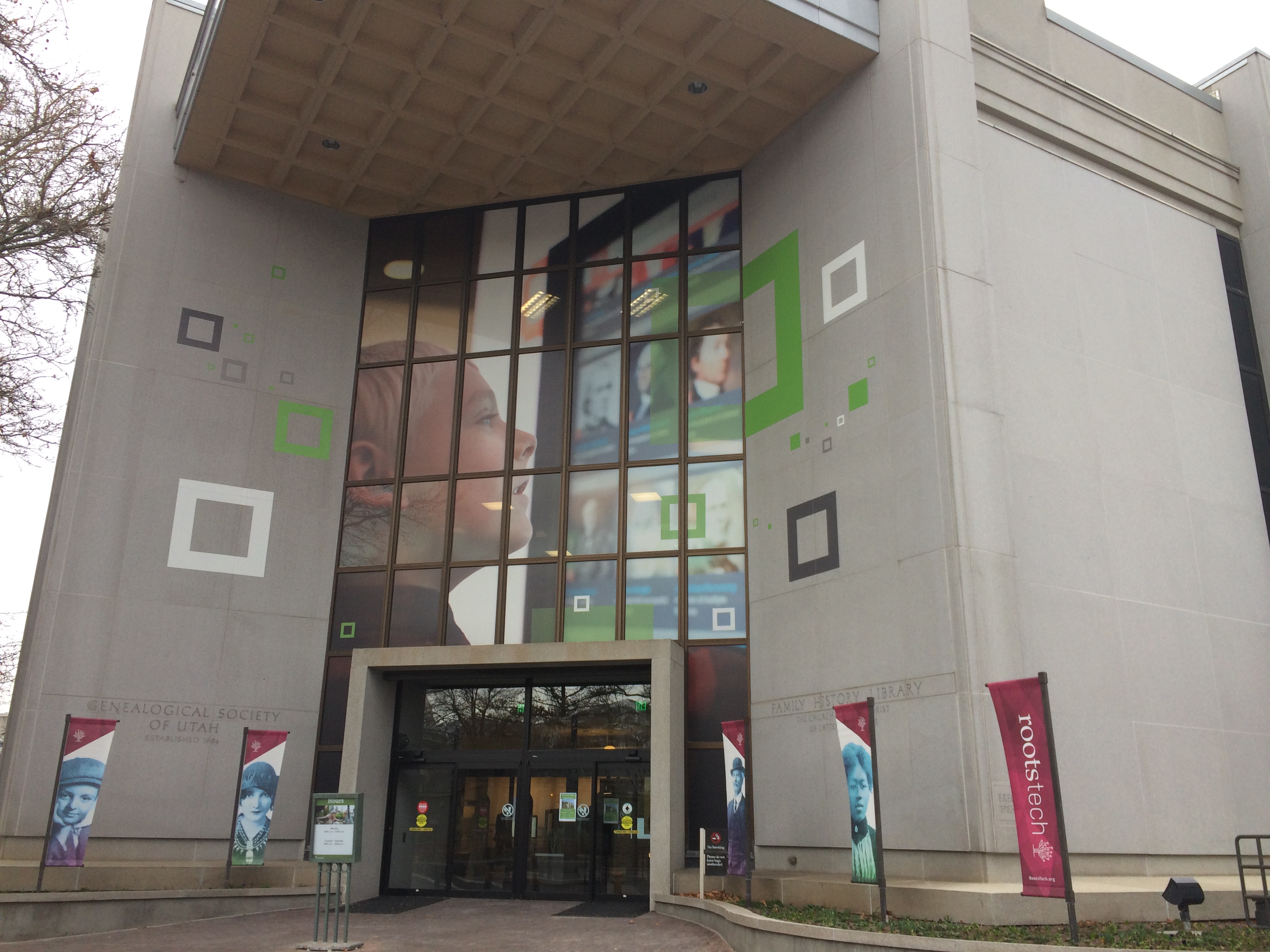 The FHL is in downtown Salt Lake City, adjacent to the world-renowned Temple Square. If you're flying in through Salt Lake City International Airport, you don't even need to rent a car to get to the library: take the inexpensive Trax light rail train from the airport to the Temple Square station, less than a block south of the library. Of course, some visitors will find it worth renting a car to drive up into the mountains or visit the Great Salt Lake. Here's where to park near the library if you're driving.
The library itself is free to use and has generous hours. It's open Monday – Saturday at 8:00 am. On Mondays and Saturdays the library closes at 5:00 pm, and Tuesday-Friday hours extend until 9:00 pm. The library is closed on Sundays. Casual business dress is pretty typical but isn't required.
The main floor entry is spacious, with volunteer ready handy to point you the right direction. There's no check-in desk. A fairly new main-floor interactive exhibit is fun for passersby and others new to family history. To cut right to the ancestral chase, though, veer right in the main entryway to take the elevators or stairs to the research floors.
Researching in the Family History Library
The Family History Library sorts the world's records into regions on four different floors. Volunteers and research experts staff information desks on each floor. The Get-Started station is on the top floor, along with free scanning stations and U.S. and Canada print collections. The second floor houses U.S. and Canada microfilms. Head to the sub-basement for Australia, the British Isles and New Zealand collections, and to the basement level for other international collections.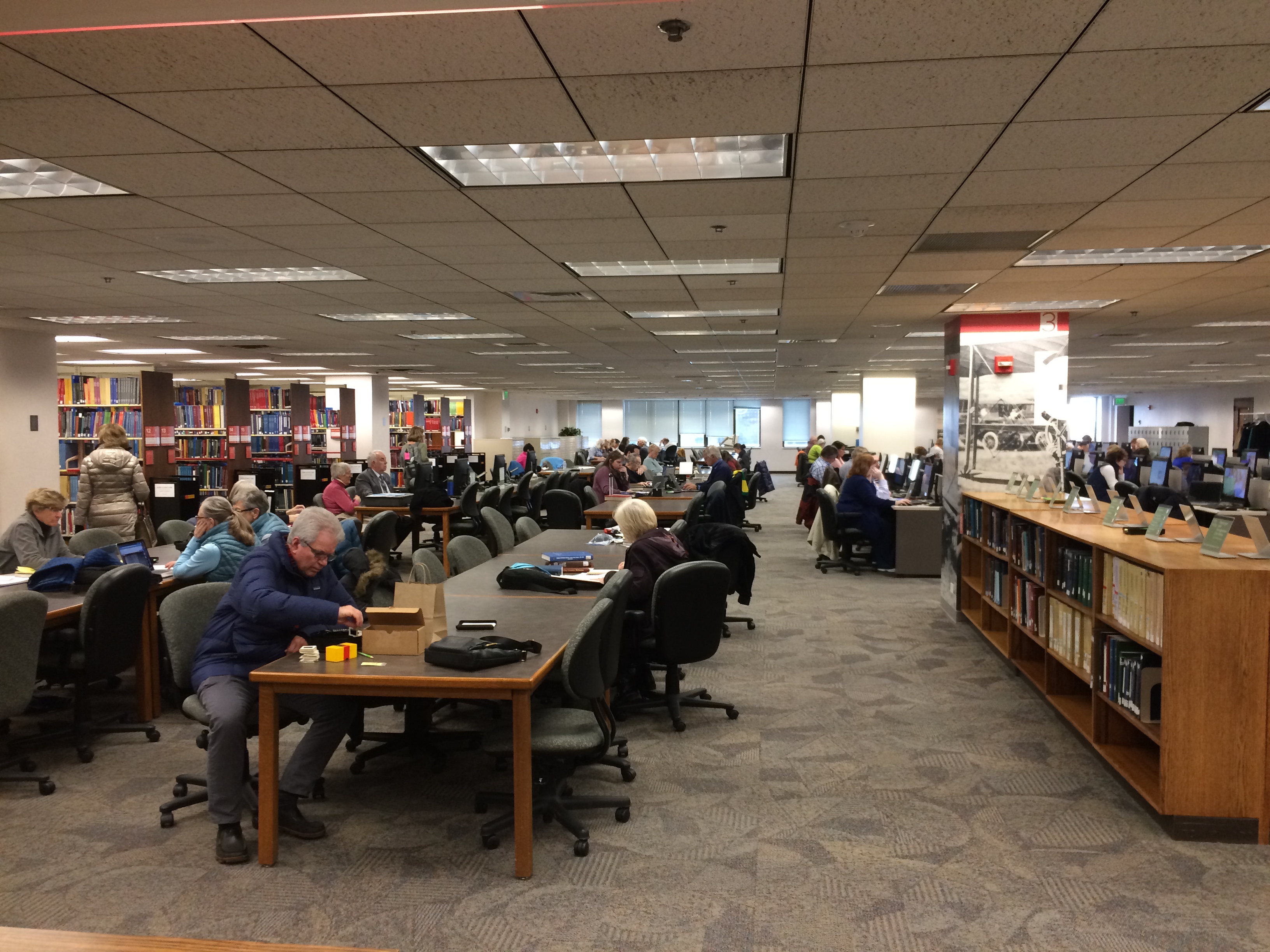 Dozens of computer terminals grant maximum access to digitized materials in the FamilySearch catalog and to Library Editions of popular genealogy websites such as AmericanAncestors.org, Ancestry.com, Findmypast and MyHeritage (here's the full list). You could sit at these terminals all day, surfing sites that would normally require your subscription dollars. You'll eventually need to pull yourself away from these to dive into the stacks, though.
That's because the true research wealth of the Family History Library is its only-available-offline resources. Clearly-labeled library stacks on each floor organize into geographical locals hundreds of thousands of printed histories, record transcriptions, research guides, maps, gazetteers, atlases and more than 4500 periodicals. Here's how to plan your research and explore the FamilySearch catalog and here's how to look up articles and periodicals that may pertain to your family history.
Additionally, towering cabinets organize thousands of microfilm reels with images of original records from all over the world. (Left-handers: there are a few left-handed microfilm readers—thank you from a southpaw!). Some records have been imaged on microfiche—which look like large index cards made out of film—and can be read with specialized readers, too. Here's how to use a microfilm reader.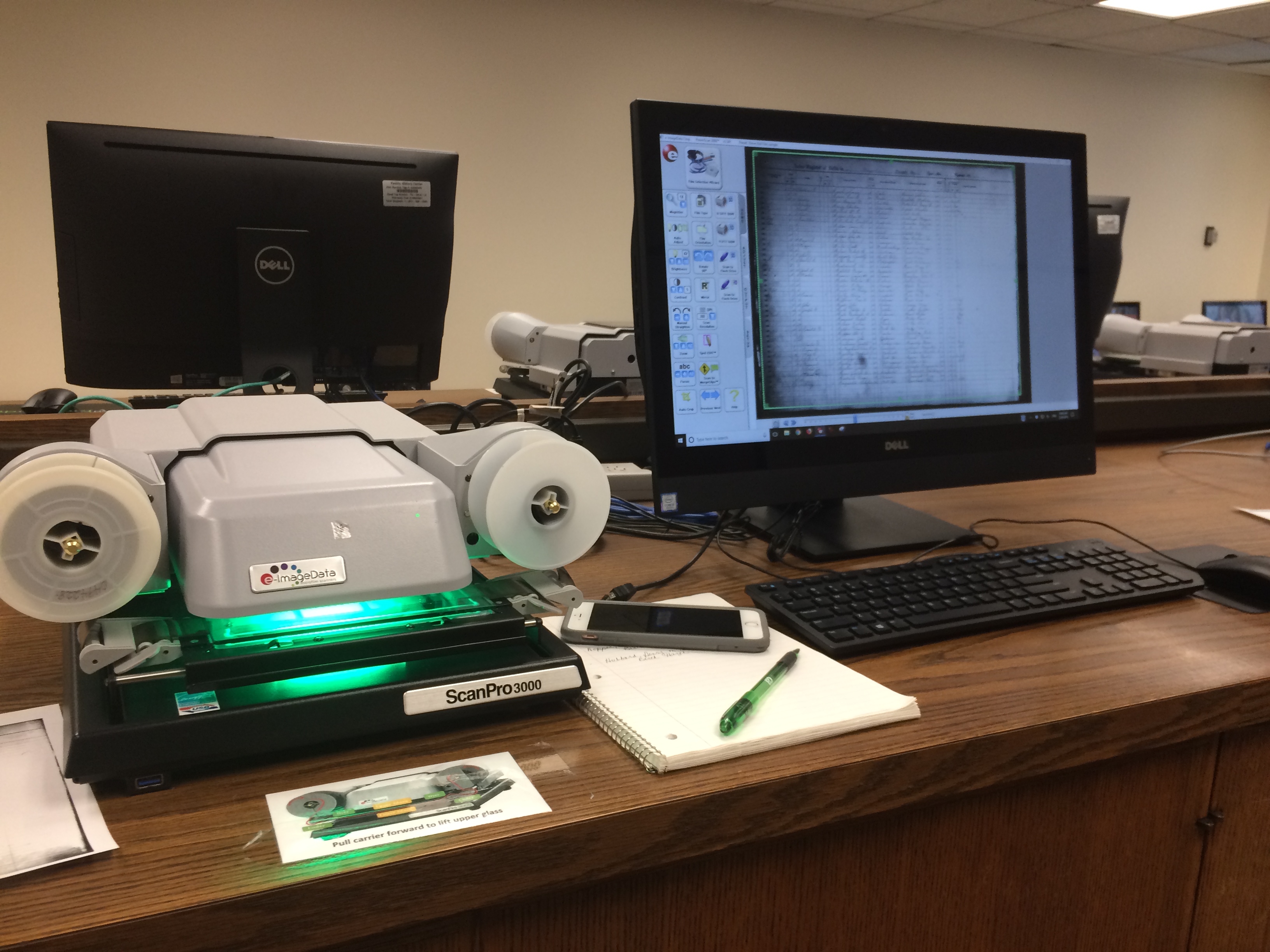 You'll likely find yourself claiming a swiveling chair at one of the many broad, well-lit tables that claim the center section of each research area. There's plenty of table space for your laptop, a notebook and your current stack of books. Some of the tables have outlets for your laptop and chargers. (If possible, come with a research buddy so you can trade off quick trips to the stacks, photocopier and bathroom; that way, one of you can always keep an eye on your valuables.)
You may take all the digital images you want with your own device for free, or use a photocopier to scan images to your own flash drive (also free). Traditional photocopiers are also available, black and white as well as color. Free scanning stations on the top floor are available to digitize your photos, documents (including 2-sided documents), slides, and even oversize items up to 11" x 17."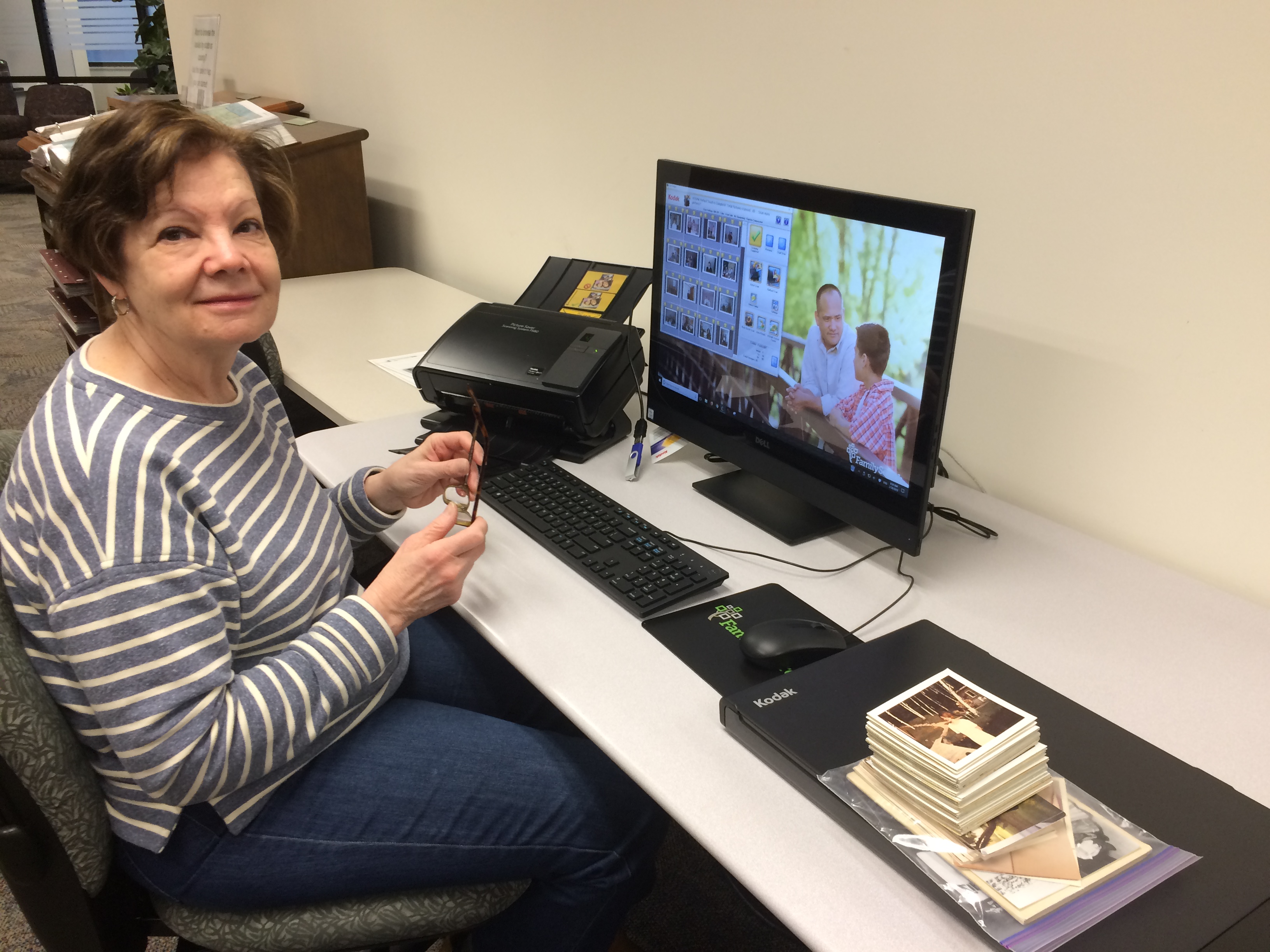 If you're interested in taking some classes while you're at the FHL, consult the list of that day's events.
Dining Options
There are many restaurants within walking distance, including my favorite quick option for homemade turkey pot pie, the Nauvoo Café in the Joseph Smith Memorial Building (directly across Temple Square from the library). Other popular spots include The Garden Restaurant and The Roof Restaurant, both in the Joseph Smith Memorial Building, The Blue Lemon with counter service for fresh and tasty food and JB's Restaurant at the Salt Lake Plaza Hotel, with breakfast buffet, salad bar and traditional country or diner options.
However, I have frequently gone hungry at the FHL because I didn't want to stop researching. I typically pack snacks and pre-packaged meals from Harmon's Market at City Creek, which isn't far from the Family History Library. You can't snack in the research areas, but there's a first-floor patron snack room and vending area where you can retreat and refuel in-between microfilms and stalking the shelves.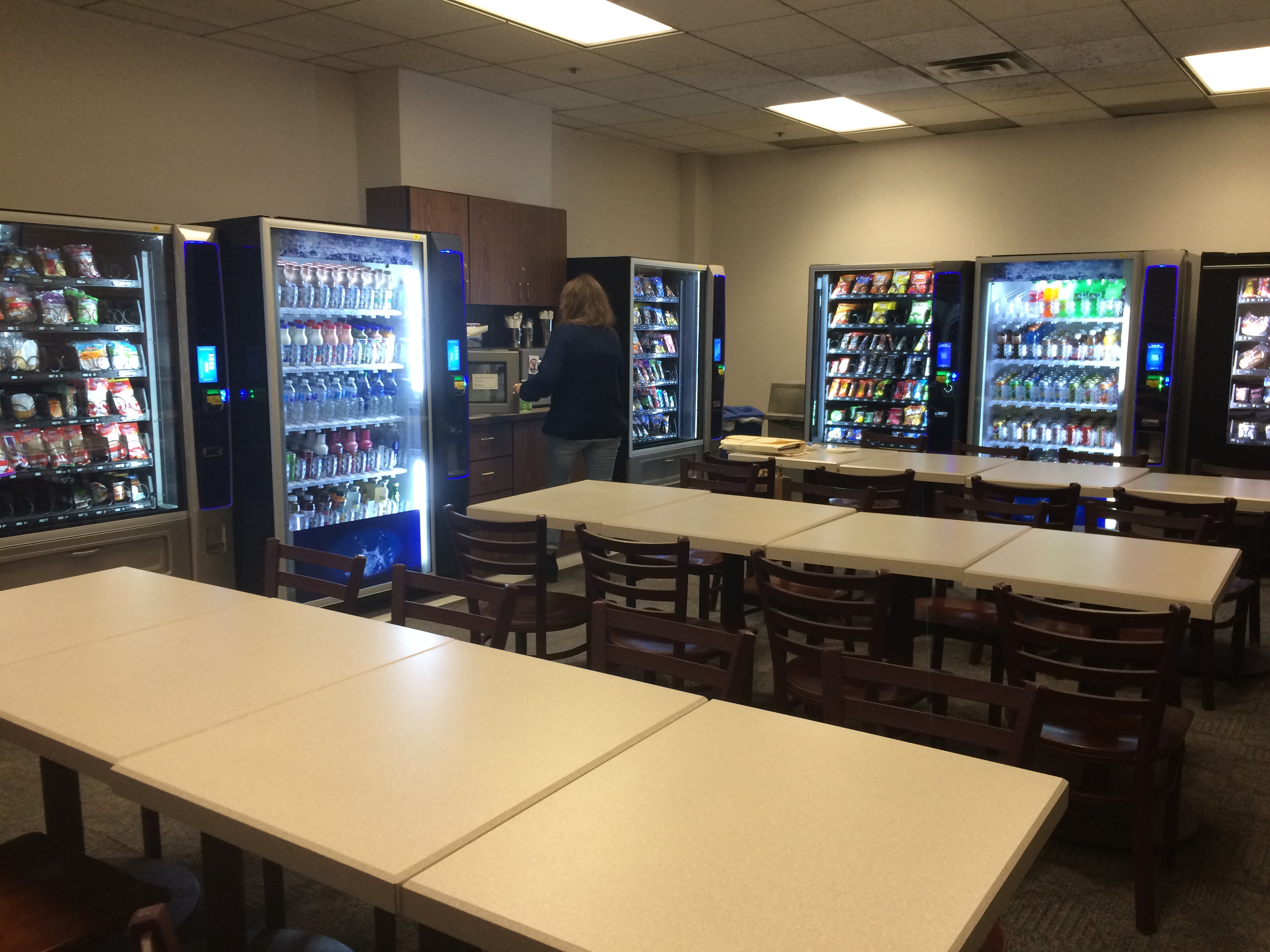 Lodging
When it's time to give your tired eyes some sleep, you've got plenty of hotel options downtown. For accommodations off the beaten tourist path, consider Airbnb options or the gorgeous and historic Ellerbeck Mansion Bed & Breakfast, just over a half mile away. Public transportation can deliver you to accommodations in many parts of the Salt Lake Valley.
Time to make reservations—and your research plan! So read these important tips for preparing for research success at the Family History Library (or any other library).