Sign up for the Family Tree Newsletter Plus, you'll receive our 10 Essential Genealogy Research Forms PDF as a special thank you!
Get Your Free Genealogy Forms
"*" indicates required fields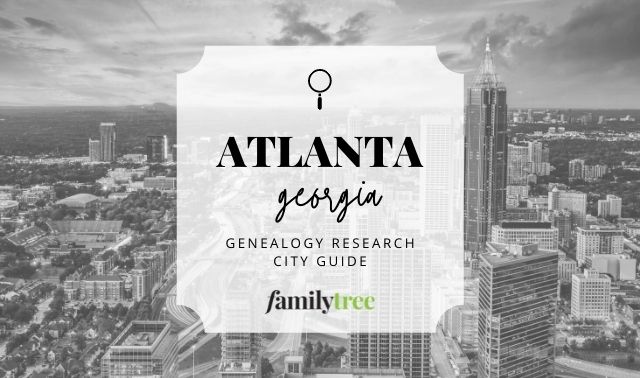 In 1847, Atlanta, Ga., was "a dreary collection of cabins" with a single storefront. But within 25 years, bragged the Appletons journal in 1872, Atlanta became home to nearly 500 stores that sold $25 million in merchandise. Today the Atlanta area still booms, doing billions of business a year. Your genealogical research will flourish, too, if you follow our pointers for tracing your Atlanta ancestors.
A Brief History of Atlanta
Creek natives roamed the shores of the Chattahoochee River long before European colonists built Fort Standing Peach Tree on the future site of Atlanta in 1813. The Creek ceded ownership in 1821, and land was immediately distributed by a state-run lottery. Settlements quickly sprang up, but Atlanta (originally named Terminus, then Marthasville) didn't grow until a railway terminus was built and trains began to run in 1845.
Soon, four rail lines snaked through Atlanta. The 1850 population of about 2,500 quadrupled within 10 years, then quadrupled again in 20, despite the Union Army's burning of the city in 1864. Settlers migrated from other parts of Georgia and the Southeast, along with a few upper-crust northerners and Europeans. After the Civil War, Atlanta rebuilt itself into a thriving state capital. Newly emancipated African-Americans arrived by the thousands in search of jobs and education.
Atlanta continued to grow and evolve over the coming century. Cotton mills were replaced by WWII manufacturing and later by the telecommunications industry. Air travel eventually trumped rail transportation. In 1950, nearly a million people lived in the metro area; today, it's 5 million. Recent immigrant populations include those of Latin, Asian and Jewish ancestry.
History Timeline
1732: Georgia becomes one of the 13 Colonies
1788: Georgia becomes a state
1821: Earliest permanent settlers arrive
1847: Atlanta incorporates as a city
1861: Atlanta is a major Southern transportation hub at the outset of the Civil War
1864: Union Gen. William T. Sherman's troops burn Atlanta
1886: Local drugstore sells Coca-Cola as a "headache and hangover tonic"
1906: Atlanta Race Riot breaks out Sept. 22
1917: Atlanta burns again, leaving 10,000 homeless
1939: The movie Gone With the Wind opens in Atlanta
1964: Martin Luther King Jr. wins the Nobel Peace Prize
Atlanta Genealogy Records
When starting your research, you'll need to know that Atlanta became part of DeKalb County in 1822 after the land lottery. The city then became part of Fulton County in 1853. Today, parts of the city spill back into DeKalb County.
Vital records
BIRTH RECORDS
Begin: 1896
Privacy restrictions: Must be close relative with legal interest.
Research tips: Old records requested by a relative are sometimes honored. Request from county or state offices; apply in person or through VitalChek.
DEATH RECORDS
Begin: 1887
Privacy restrictions: Any relative may request.
Research tips: Request from county or state offices; apply in person or through VitalChek.
MARRIAGE RECORDS
Begin: 1842
Privacy restrictions: none
Research tips: Request from county probate court. Georgia marriage records from 1829 (including images) are searchable at the Georgia Archives Virtual Vault.
The city of Atlanta began recording vital statistics in the late 1800s, well before the state mandated it in 1919. Order birth, death and marriage certificates through state or county offices.
Privacy restrictions limit access to birth records to immediate family, but local certified genealogist Paul K. Graham reports some success in obtaining information on long-deceased ancestors. Death records are easier to come by: Any relative may request one. Additionally, some early 20th-century death certificate images are available at the Georgia Archives Virtual Vault. The Georgia Death Certificate Index at the Atlanta History Center lists name, county and certificate number for deaths since 1919; similar data for 2.7 million people is available at Ancestry.com.
Archivist Sue VerHoef of the Atlanta History Center also recommends Garrett's Necrology File. Atlanta marriage records from 1829 (including images) are searchable at the Georgia Archives Virtual Vault.
Many pre-1900 records are now at the Georgia Archives; the Family History Library (FHL) has microfilmed some up to the early 1900s. Fill in the gaps with Ancestry.com's 167,000-name database of Georgia marriages to 1850 and a microfilmed collection of Fulton County African American marriages (1866 to 1902) at the Atlanta History Center.
Census records
Begin: federal in 1820
Research tips: Search for Atlanta ancestors in DeKalb County in the 1830 to 1850 US censuses, and in Fulton from 1860 on. Remember to look under Terminus or Marthasville before Atlanta's incorporation in 1847.
Land records
Begin: 1821
Research tips: Begin with published results of 1821 land lottery. Subsequent land transfers filed at County Clerk of Superior Court.
The 1821 land lottery results appear in printed indexes at Georgia repositories and the FHL. Post-lottery land transfers between individuals are recorded with the County Clerk of the Superior Court. Request copies from the county clerk if you know the correct reference book and page numbers; county offices don't provide research services.
Cemeteries
Atlanta has several major historic cemeteries with offices still in operation. Oakland Cemetery was the only city cemetery from 1850 through the 1880s. Details about burial records are here; Ancestry.com also has headstone transcription data for 40,000 Oakland burials.
South-View Cemetery has served African Americans and other minorities since 1886; about 70,000 people are buried there. E-mail its office with lookup requests (use the form at http://www.southviewcemetery.com). Graham also recommends looking for local veterans in the Marietta National Cemetery in nearby Cobb County (find a burial index at http://www.interment.net).
Newspapers
Many Atlanta newspapers are digitized and searchable online. Southern Miscellany, Atlanta Intelligencer and Atlanta Daily Examiner all circulated before the Civil War. The Atlanta Constitution started its presses in 1868; circulation grew to 140,000 by 1890. The Atlanta Journal cropped up in 1883. (These huge dailies merged in 2001 to become the Journal-Constitution.) The African American Atlanta World circulated weekly beginning in 1917, and by 1932 became the syndicated Atlanta Daily World. Graham searches many of these papers for free at the Atlanta Historic Newspaper Archive; you also can read them on microfilm at the Atlanta History Center.
City directories
Begin: 1859, 1867 to present
Research tips: Search many Atlanta city directories for free at Internet Archive.
The first Atlanta directory appeared in 1859. The Civil War disrupted publication, but annual guides begin again in 1867. Search for city directories online at the Internet Archive (1867 to 1922) and in person at the DeKalb History Center (1918 to 1991), or order microforms from the FHL (1859 to 1935). VerHoef says you can look up people by address, last name or business name beginning in the mid-1880s. Street names have changed over time, she warns, and street numbers changed in 1892 and 1926. A quick email inquiry to the Atlanta History Center might help you track a street name or number change.
Local maps
The history center has an excellent collection of area maps, historical and modern. You also can find an 1850s subdivision map of Atlanta. Graham relies on the detailed Sanborn fire-insurance maps (1886 and later) that appear in high-resolution format at the Digital Library of Georgia.
Atlanta Research Repositories
As the phoenix of the South, Atlanta rose from the ashes of the Civil War to become one of the region's largest, most dynamic cities and the "capital of the New South." Despite its modern attitudes and appearance, though, the city harbors a long and complicated past. Atlanta now serves as a major repository of its history on paper and microfilm.
National Archies and Records Administration Southeast Region
The mother lode of southeastern US genealogical records awaits you at the National Archives and Records Administration Southeast Region. Located between downtown and the Hartsfield Atlanta Airport, this facility specializes in federal records from Alabama, Florida, Georgia, Kentucky, Mississippi, North Carolina, South Carolina and Tennessee, dating from 1716. Regional holdings include indexes of passenger arrival lists for eastern and Gulf Coast ports and naturalization records from federal courts throughout the Southeast. Also look for military service records and indexes (including World War II draft registration cards) and pension and bounty land warrant applications. For general US research, you'll find federal census records and indexes from 1790 to 1920.
Before you go, check out the Guide to Archival Holdings at NARA's Southeast Region (Atlanta). To get there by public transportation, take the Metropolitan Atlanta Rapid Transit Authority (MARTA) train to the East Point or Lakewood station and catch bus 20 for a five-minute ride to the facility. (For help navigating MARTA, see the website.) Once you're there, you'll need to apply for a researcher identification card (similar to a library card) in order to use the archival holdings. Nearby hotels include Hampton Inn and Suites Atlanta and Holiday Inn Airport North. If you're looking for something to eat, your choices around here are mostly chain restaurants and cafes.
Georgia Department of Archives and History
The place for Georgia-specific research is the Georgia Department of Archives and History. At the Ben W. Fortson Archives and Records Building, you can tap state and local records, as well as private manuscripts and photographs, dating from 1732. The archives' Surveyor General Collection includes Georgia's 1.5 million land grants and plats from 1775 to 1909, plus more than 10,000 county and state maps. In the non-government section, you'll find family letters and papers, business records and account books, records of organizations and churches, and photographs.
Take a look at Documenting Family History in Georgia before your visit to the state archives. If you take MARTA, the state archives is three blocks south of the Georgia State University station. Upon arrival, apply for a research card, which must be worn at all times while in the building.
Atlanta-Fulton Public Library
Also downtown is the Atlanta-Fulton Public Library's local and family history department. Located on the main library's fifth floor, this department has books on the history of Atlanta, Georgia and the neighboring region, plus genealogy sources for Georgia as well as some sources for North Carolina, South Carolina, Virginia, Tennessee and other states. Highlights include Atlanta city directories from 1867, Atlanta telephone directories from 1946 and criss-cross directories from 1946; microfilmed archives of The Atlanta Georgian and neighborhood community papers; a biographical index card file of prominent Georgians of the past; and Georgia vital records indexes.
Take MARTA to Peachtree Center station. The library is at the corner of Forsyth Street and Carnegie Way. Pick up the genealogy "pathfinder" guides for beginners, African American research, Native American research and missing persons at the service desk.
Atlanta History Center
A good stop for both state and regional research is the Atlanta History Center. Its general collections include a special library dedicated to the American Revolution, cemetery and census records, insurance maps and city directories. The manuscript collections include private papers, institutional records and business documents. The history center's visual collection portrays the South through photographic prints, negatives, miscellaneous graphics, maps and architectural drawings, as well as film, audio and video.
To get to the Atlanta History Center, take MARTA to the Lenox station. Transfer to bus 23 to Peachtree and West Paces Ferry Road. Walk three blocks west on West Paces Ferry Road and you'll reach the pedestrian entrance in front. Be sure to register before you begin researching. Places to stay in this area include Embassy Suites, Wyndham Garden Hotel and Hampton Inn Buckhead. Buckhead is Atlanta's restaurant district, so you'll have plenty of eateries to choose from.
Written by Susan Warner
Atlanta Genealogy Research Tips
If you're tracing ancestors in the Atlanta area, take advantage of these expert pointers from from Sue VerHoef, an archivist at the Atlanta History Center and Paul K. Graham, a certified genealogist based in Atlanta.
Master Georgia geography: "Militia districts and land lot numbers are used to describe Georgia property locations," says VerHoef. "These colonial-era designations have changed slightly over time. Look for militia district boundaries and land lot numbers on historical and modern maps (Atlanta generally falls into districts 14 and 17)."
Get census savvy: "In the 1900 US census, the enumerator put the full date of birth of every person (not just month and year) in at least one enumeration district in Atlanta," says Graham.
Dig into cemetery records: "Original Oakland Cemetery Records at the Atlanta History Center (and on microfilm at the Georgia Archives) are more complete than the records they use at the cemetery today," says Graham. "A lot more people are listed, especially in the post-Civil War decades."
Explore Jewish history: "The Bremen Jewish Heritage and Holocaust Museum is an excellent facility on Jewish history, culture, and heritage," says VerHoef.
Search yesterday's news: "The Constitution is searchable online on Newspapers.com or through the University of Georgia. You can also browse through some of the newspaper's photo morgue collection at the Georgia State Library digital collections. The bulk of the images are from the 1950s–1980s.
But don't rely entirely on the web. The Atlanta Journal-Constitution archives are also available on microfilm at several library locations.
Peruse Atlanta building permits: These are organized by address, but aren't complete. Use this resource to see when a house appeared at a certain address (pull the address from a city directory or census). Find on microfilm at the Atlanta History Center.
Search Garrett's Necrology File: This is a locally compiled source on white males who died between 1857 and 1931. Search the index at the Atlanta History Center's website. You may also request a staff search for a fee; the fee includes the mailing of copies of anything in the file, which sometimes includes full obituaries or headstone transcriptions.
Check the Leon S. Hollingsworth Genealogical Card File: Your ancestors might be in this 45,000-card statewide index of censuses, wills, deeds, tax records, marriages, military records, cemetery records, newspapers and family Bibles. The original files are at the Georgia Archives; find a printed surname index at the Family History Library and several Georgia repositories.
Conduct research in the Western & Atlantic Rail Archives: If your relatives worked for the railroad, this could be a rich source. The collection, housed at the Georgia Archives, includes contractors' and employment records with job descriptions, pay and train assignment.
Atlanta Genealogy Resources
Websites
Publications
Atlanta and Environs, 2 volumes, by Franklin M. Garrett (Lewis Historical Publishing Co.)
Georgia Research: A Handbook for Genealogists, Historians, Archivists, Lawyers, Librarians, and Other Researchers by Robert S. Davis Jr. and Ted O. Brooke (Georgia Genealogical Society)
Official History of Fulton County by Walter G. Cooper (Reprint Co.)
Pioneer History of Atlanta (Pioneer Citizens' Society of Atlanta, available on Google Books)
Archives and organizations
Atlanta Fulton Public Library, Georgia Local and Family History Department
DeKalb County Clerk of Superior Court
Fulton County Department of Health and Wellness, Vital Records
Fulton County Office of the Clerk of Superior Court
Georgia Department of Community Health, Vital Records
Atlanta Fast Facts and Historic Sites
Settled: 1821
Incorporated: Terminus, 1837; Marthasville, 1843; Atlanta, 1847
Nicknames: Gate City, Hotlanta, ATL
State: Georgia
County: Fulton (since 1853)
Other parent counties: DeKalb (1822 to 1853)
Area: 132.4 square miles
Motto: Resurgens (Latin for "Rising Again")
Primary historical ethnic groups: Scots-Irish, African-American, Latino, Asian, Jewish
Primary historical industries: Transportation, manufacturing
Famous sons & daughters: Hank Aaron, President Jimmy Carter, W.E.B. Du Bois, Martin Luther King Jr., Spike Lee, Julia Roberts, Ted Turner
Historic Sites
Atlanta History Center: Explore museum exhibits, historic homes and gardens—including the (off-site) apartment in which Margaret Mitchell wrote the Pulitzer Prize-winning Gone with the Wind—and an excellent genealogical research library. Also see a panoramic presentation of the Battle of Atlanta through a cyclorama (one of the world's largest paintings).
Martin Luther King Jr. National Historic Site: The site includes the home where Martin Luther King Jr. was born and spent his early childhood, as well as the Ebenezer Baptist Church, a visitor center, library and archives, and the King Center (Freedom Hall), where the civil rights leader is buried.
Southern Museum of Civil War and Locomotive History: This Smithsonian-affiliated museum showcases the daily lives of Civil War soldiers, the railroading industry in the South, and a re-creation of the Civil War's Great Locomotive Chase.
Stone Mountain Park: See the Confederate Memorial, the largest relief carving in the world. View exhibits and a film relating to the Civil War and local economic history.
Kennesaw Mountain National Battlefield: The battles and soldiers of the Civil War are still remembered at this battlefield, which preserves a battleground of the Atlanta Campaign.
A version of this article appeared in the March 2011 issue of Family Tree Magazine.
Related Reads