Sign up for the Family Tree Newsletter Plus, you'll receive our 10 Essential Genealogy Research Forms PDF as a special thank you!
Get Your Free Genealogy Forms
"*" indicates required fields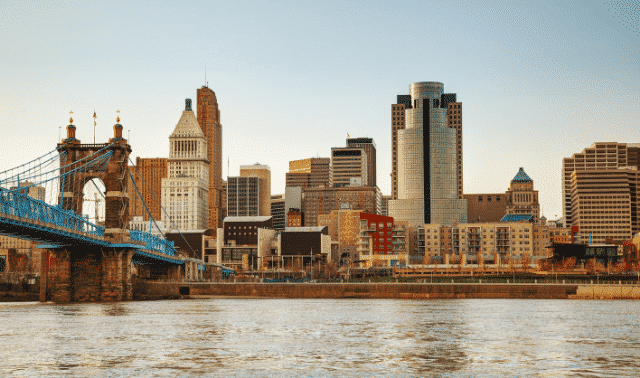 In 1800, Cincinnati was just another landing on a bend in the Ohio River. Forty years later, it was the largest inland city in the United States. This rapid growth was due mostly to the river, which flows from Pittsburgh to the Mississippi with plenty of bends but little interruption.
Tracing early Cincinnatians can be tricky. The city lost some of its 19th-century records in fires, floods and a riot. Fortunately, locals re-created many records, documented vital events in multiple places, and put many sources online. If finding your Cincinnati ancestors seems at times a winding way, imagine yourself as one of those early Ohio River travelers: Relax and enjoy the slow, circuitous route—our guide will steer you toward family discoveries.
A brief history of Cincinnati
The Northwest Ordinance officially opened Ohio for settlement in 1787. Settlers landed in Cincinnati (originally named Losantiville) within a year, and the city became the seat of the newly formed Hamilton County. The city grew as Revolutionary War veterans claimed lands in the adjacent Virginia Military District, and others arrived from New Jersey, New York, Pennsylvania, Maryland, Massachusetts, Connecticut, England and Germany.
By 1811, steamboats picked up the pace of travel on the Ohio. Canals later connected Cincinnati to pig farmers in central Ohio and Lake Erie. By 1835, Cincinnati was nicknamed "Porkopolis" for its pork-packaging success.
German immigrants, who arrived in droves beginning in the 1830s, built the Over-the-Rhine neighborhood. Irish came during the potato famines. Jews from Germany and England created a center of Jewish culture. African-Americans escaping slavery passed through town; some stayed. Italians arrived in the late 1800s and again after World War I, first from northern and then southern Italy.
Post-Civil War growth slowed as rail travel trumped inland waterways. But river trade thrived again during the Great Depression. Downtown saw a construction surge, though a disastrous flood in 1937 left 100,000 locals homeless. After World War II, African-Americans fleeing the Jim Crow South and Appalachians looking for work filled city neighborhoods.
Cincinnati-based genealogy records
Search for early settlers in First Families of Hamilton County, Ohio. Read about those pioneers in the 1881 History of Hamilton County, Ohio by Henry A. Ford and Kate B. Ford, free at Internet Archive. Then consult these sources:
Vital records
Statewide vital records begin in 1908, but city records start in the 1860s. You can search birth and death records from 1865 to 1912. The Hamilton County Probate Office has re-created birth records for 1863 to 1908 and death records for 1881 to 1908. The Public Library of Cincinnati and Hamilton County (PLCH) has an old index of Cincinnati births (1874-1908) and deaths (1865-1908). Order birth and death records from 1909 and later from the Cincinnati Health Department (inside city limits), the Hamilton County Health Department (outside Cincinnati and Norwood) or the Ohio Department of Health.
For marriages, start with the Cincinnati Marriage Indexes. Find A Collection of Pioneer Marriage Records in Hamilton County, Ohio (1789-1817) at the PLCH, Cincinnati Historical Society or Family History Library (FHL). The probate court has online marriage indexes, banns and records from 1808 to 1983.
Land records
Local land records start with the Symmes Purchase by speculators. Subsequent sales of Symmes Purchase lots (1787-1800) are on FHL microfilm (visit a FamilySearch Center to rent it). Look for deeds as early as 1794 at the Hamilton County Recorder's office and on FHL microfilm. Find plats back to 1939, and house and building information since the 1860s, at the Hamilton County Auditor's office.
For dates when the city annexed local neighborhoods, click the neighborhood links at Wikipedia. The FHL has land ownership maps and atlases back to 1835. See Sanborn fire insurance maps (1904-1930) at the PLCH Virtual Library. You'll find street name changes and a gazetteer in A Guide to Genealogical Resources in Cincinnati & Hamilton County, Ohio.
Censuses
The earliest surviving federal census returns for Cincinnati are for 1820. Ohio Tax Lists for 1800 to 1812, 1825 and 1835 are on microfilm at the PLCH (see a transcription of 1810 county tax list here). For early ancestors, consult Census for Cincinnati, Ohio, 1817 and Hamilton County, Ohio, Voters Lists 1789 and 1799 by Marie Paula Dickoré, available at the FHL and the PLCH.
Cemetery records
Local burial grounds linking to burial databases where applicable are listed here. The oldest is Pioneer Memorial, with stones dating to 1797. There is a Jewish cemeteries database online, including the Chestnut Street Cemetery opened in 1821.
Hamilton County's cemetery deeds (1859-1934) are on FHL microfilm, as are morgue records (1887-1992) and some cemetery and funeral home records. PLCH also has some funeral home records.
Newspapers
Cincinnati newspapers dating to 1796 are at the PLCH, including a collection of German papers (1846-1920). Search Cincinnati newspaper obituary indexes for English and German newspapers before 1920, and another obituary index starting in the 1940s at the PLCH.
Church records
Many early Cincinnatians were Episcopalians or Roman Catholics. For records, contact Episcopalian parishes (or for closed parishes, the archivist at the Diocese of Southern Ohio). Mail Catholic sacramental record requests (1839-1920) to the Archdiocese of Cincinnati. Local Jews formed the first congregation west of the Alleghenies in 1824; research them at the Jacob Rader Marcus Center of the American Jewish Archives.
City directories
Download directories spanning 1819 to 1934 from the PLCH Virtual Library, or visit the Cincinnati Historical Society Library. You'll find local histories in the 1819 and 1853 editions, and street naming information in the 1850s volumes. For areas outside city limits, use PLCH's county directories for 1887 to 1915 and post-1939.
Probate court records
These include estates, wills, trusts, naturalizations, marriages and guardianships. Many digitized indexes and records as far back as 1791. Probate journals, abstracts and wills are available on FHL microfilm for most years since 1791.
Cincinnati genealogy records at a glance
Birth Records
Begin: 1863
Research tips: Search digitized records at the probate court website (1863-1908) and the University of Cincinnati Libraries website (1865-1912). Order records since 1909 from the Cincinnati Department of Health (within city limits) or Hamilton County Health Department (outside city limits), or the Ohio Department of Health.
City Directories
Begin: 1819
Research tips: Download from the Public Library of Cincinnati and Hamilton County or visit the Cincinnati History Library.
Death Records
Begin: 1881
Research tips: Find digitized records (1881-1908) at the probate court website. Order records since 1909 from the Cincinnati Department of Health (within city limits) or Hamilton County Health Department (outside city limits), or the Ohio Department of Health.
Deeds
Begin: 1794
Research tips: Request from Hamilton County Recorder's Office.
Marriage Records
Begin: 1808
Research tips: Search digitized records at probate court website. Order copies from county probate office.
Probate Records
Begin: 1791
Research tips: To access digitized records, go to the probate court website and select a record type. Look up your ancestor's name in the alphabetical index books, then use the volume and page search to view a digital copy of the record.
Cincinnati fast facts 
Settled: 1788
Incorporated: 1819
Nicknames: Porkopolis, Queen City, City of Seven Hills
State: Ohio
County: Hamilton
County seat: Cincinnati
Area: 80 square miles
Motto: Juncta Juvant ("Strength in Unity")
Primary historical ethnic groups: African-American, German, Irish, Italian, Jewish
Primary historical industries: shipping, iron production, meat packing, breweries, textiles
Famous residents: Neil Armstrong, Johnny Bench, Doris Day, Rutherford B. Hayes, Nick Lachey, Sarah Jessica Parker, Tyrone Power, Albert Sabin, Steven Spielberg, Jerry Springer, Harriet Beecher Stowe, William Howard Taft, Otis Williams
Population
1800: 850
1850: 115,435
1900: 325,902
2021: 301,394
Tip: If your Cincinnati ancestors suddenly disappear (or appear out of nowhere), they may have moved across the Ohio River to Covington, Newport, or Bellevue, Ky.
Top Cincinnati historic sites
1. Christian Waldschmidt Homestead
7567 Glendale-Milford Road, Camp Dennison, OH 45111, (513) 831-0907
This restored 1804 home once belonged to a Revolutionary War veteran settler. The Camp Dennison Civil War museum is nearby.
2. Cincinnati History Museum
1301 Western Ave., Cincinnati, OH 45203, (513) 287-7000
Get to know early Cincinnati at this museum, one of several inside the city's Art Deco train station. Displays include a model railroad of the city from 1900 to the 1940s.
3. Findlay Market
1801 Race St., Cincinnati, OH 45202, (513) 665-4839
This market, which anchors the Over-the-Rhine Historic District, opened in 1855 and continues to thrive. The cast and wrought iron-framed market house is the state's oldest surviving such structure.
4. German Heritage Museum
4764 West Fork Road, Cincinnati, OH 45247, (513) 598-5732
Experience the long history of German-Americans in Cincinnati through historical artifacts and records relating to early residents.
5. National Underground Railroad Freedom Center
50 East Freedom Way, Cincinnati, OH 45202, (877) 648-4838
Cincinnati was known as a stop on the Underground Railroad. This Smithsonian affiliate museum commemorates the history of slavery and the path to freedom.
Cincinnati Timeline
1803: Ohio achieves statehood
1819: Cincinnati becomes home to Medical College of Ohio
1850: First US Jewish hospital opens in Cincinnati
1853: City establishes America's first full-time, paid fire department
1863: Martial law imposed during Civil War
1869: Cincinnati Red Stockings are baseball's first professional team
1879: Proctor & Gamble makes Ivory Soap
1880: Maria Longworth Nichols Storer founds Rookwood Pottery
1884: Rioters burn Cincinnati courthouse
1902: First reinforced concrete skyscraper built on 4th Street
A version of this article appeared in the May/June 2012 issue of Family Tree Magazine.