Sign up for the Family Tree Newsletter Plus, you'll receive our 10 Essential Genealogy Research Forms PDF as a special thank you!
Get Your Free Genealogy Forms
"*" indicates required fields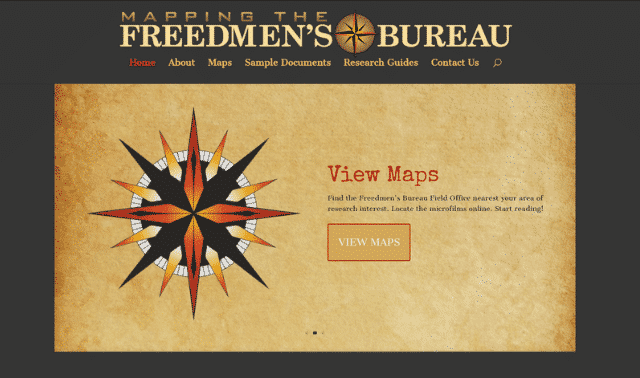 A website called Mapping the Freedmen's Bureau will help you research African American ancestors after the Civil War.
The site, created by African American history and genealogy experts Toni Carrier and Angela Walton-Raji, has an interactive map of field offices of the Bureau of Refugees, Freedmen and Abandoned Lands, a federal agency set up after the Civil War to serve indigent black and white families. The same map also shows contraband camps (communities of African American fugitive slaves, or "contraband," during the war) and bureau hospitals.
Microfilm Numbers and Digitized Records
When you click a Freedmen's Bureau field office near a place where your ancestors may have lived, you'll see a pop-up showing the National Archives microfilm numbers which the records for that office, as well as links to the digitized versions, if available, on FamilySearch.org website.
There, you can browse record images for your ancestors' names. Records of the bureau include labor contracts, marriage registers, correspondence, applications for aid, monthly reports on abandoned lands, court trial documents, lists of workers, registered complaints and more.
The map doesn't show Freedmen's field offices in Virginia, although Virginia did have field offices. FamilySearch.org's Virginia Freedmen's Bureau records are searchable by name, though, making it easier to find your ancestor's records.
Types of Records
Records of the bureau include:
labor contracts
marriage registers
correspondence
applications for aid
monthly reports on abandoned lands
court trial documents
lists of workers
registered complaints
Icons for contraband camps and hospitals link to websites with more details about those locations and their records.
The Mapping the Freedmen's Bureau site also has a similar map of Freedman's Savings and Trust Co. branches, a separate organization that operated a bank where African American workers could deposit their earnings. Although FamilySearch.org's Freedman's Bank records are indexed and searchable, the map links you to the first page of the microfilm instead of to the search form. You might find it useful to try the search form first, then browse if you don't find what you need.
Mapping the Freedmen's Bureau also has sample old documents you can view, as well as the National Archives' guides for researching Freedmen's Bureau records for each state where the bureau operated.
Related Reads