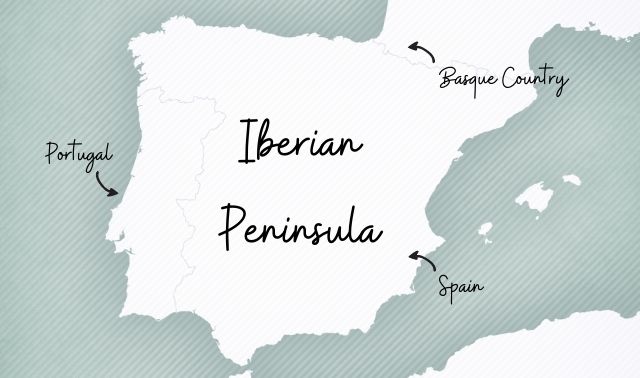 Since ancient times, the Iberian peninsula—encompassing Spain, Portugal, and the long-contested Basque country—has been coveted and conquered by the Romans, Germanic tribes, Arabs, Holy Roman Empire and Napoleon. For genealogists today, tracing your ancestry in the Iberian region is a conquest with its own challenges: language barriers, decentralized records, lagging digitization and state takeovers of church registers, among others.
But those obstacles aren't insurmountable—technological weapons can help you break down language barriers, records access is gradually improving, and the reward for tackling Spanish, Portuguese or Basque records likely will be well worth the struggle: The area's church and notarial records in particular are some of the world's richest genealogical treasures. Follow these four steps for your own successful assault on the formidable peninsula.
1. Identify your ancestor's city of birth or last foreign residence in US records.
This city will become the target of your genealogical attack. Start by checking US marriage applications, delayed birth registrations, church records, obituaries, passenger lists or border crossings, naturalization paperwork, passport applications, SS-5s (Social Security applications), and after 1940, Alien Registrations.
No luck? Check the same sources for your ancestor's siblings. Then foray into lesser-known resources that might yield your ancestor's "real" surname or even the elusive birthplace. Fraternal organization records (particularly Portuguese), local histories, oral histories, and Spanish colonial records have been collected by ethnic studies centers and genealogical societies, regional archives and museums, and the Family History Library (FHL).
If you have an ancestral line that eventually leads back to Spain, it probably wanders through Mexico, Central or South America for several generations before arriving here. Even the Spanish who colonized St. Augustine, Fla., in 1565 (more than 40 years before the British settled Jamestown) arrived from Cuba and other points south. Before you're ready to tackle Spain's records, you may need to take a strategic detour through Latin American records. Portuguese and Basque immigrants are more likely to have stepped off the ship directly from their Iberian homeland.The largest waves of Portuguese settlers washed into American fishing villages on the east and west coasts over the past two centuries. Basque arrivals quickly migrated inland to sheepherding regions of the American west.
Look for clues in larger migration patterns of incoming Spaniards, Portuguese and Basques. Did your immigrant ancestor live in one of these places? As a last resort, you might be able to guess at a region of origin based on where the neighbors came from.
Major US Destinations for Spanish and Portuguese Immigrants
Some 18th-century Portuguese colonized Martha's Vineyard and Nantucket. Fall River and New Bedford, Mass., were popular destinations. Most came for economic reasons or to escape mandatory military service.
Portuguese sailors reputedly are among the forebears of the multiracial Melungeon group, which gradually migrated to their cultural home of today in the Cumberland Gap area of Appalachia.
St. Augustine was settled (via Cuba) in 1565, and several Spanish missions followed. When the British gained Florida in 1763, the 3,000 resident Spaniards left quickly. Spain eventually regained control but didn't repopulate, and Florida passed to the United States in 1819.
Originally a French colony, Louisiana came under Spanish control in 1763. Thousands of Spanish settlers came from Cuba and elsewhere until the French regained the area by secret treaty in 1801 and sold it to the United States in 1803.
Spain established Santa Fe de Nuevo Mexico was established in 1598. Plagued by native resistance, Spanish occupation was intermittent, but Santa Fe remained the provincial capital until Mexico gained independence in 1821. The United States took New Mexico by force in 1846 to 1848.
The Spanish began colonizing in the late 1600s, mostly to keep out the French. To build up residency, they encouraged white immigration from the United States. By 1834, white settlers outnumbered Spanish by more than three to one. Basques numbered among the early Spanish explorers and eventually settlers of this New Spain colony.
Basques from the province of Viscaya made Boise home, as they migrated from California outward to lands suitable for sheepherding. A large cultural Basque presence remains.
Many Basque sheepherders (mostly from Viscaya) migrated from California in the late 19th century to satisfy needs of miners.
Between 1769 and 1820, Spain colonized missions, ranches and military outposts up the coast of California. They introduced natives (often forcibly) to Catholicism and European-style agriculture. About 10,000 Spanish settlers still lived there when the U.S. gained California in the Mexican War (1846 to 1848). In the mid-1800s, Portuguese immigrants farmed and fished all along the coast from San Diego to San Francisco (some found their way as far north as Seattle). Larger settlements included a fertile region known as "the Pocket" in Sacramento and the Santa Clara valley near San Jose. California attracted Basques after gold was discovered; they came straight from Spain and also from colonized areas of South America. Many arrivals hailed from the province of Navarre or from French Basque areas. A significant number of Basques remained to ranch and herd sheep in the Central Valley region, particularly in and around Bakersfield.
Before it was a US state, the Kingdom of Hawaii recruited workers from Portugal for its sugar plantations. Early arrivals were sailors from the western Azores and the Cape Verde Islands. Most Portuguese workers arrived from the Azores and Madeira Islands with their families between 1877 and 1884, by which time they numbered nearly 10,000.
2. Arm yourself with translation tools.
Like advanced weaponry, translation tools will do most of the fighting for you. Don't go up against foreign-language reference materials or send off communications without using these resources:
Website translators: Some foreign-language websites, particularly national ones that see a lot of international traffic, have already translated their sites into English and other languages. Look for the word English or a British or American flag icon; you can click on these to translate some (if not all) pages. If you don't see these, simply plug the website's URL into an automatic translator, such as Google Translate or BabelFish. The resulting translation will be a little rough, but still useful.
Word lists: Once you start finding old records in a foreign tongue, you'll want a cheat sheet of genealogical terms. Look to FamilySearch's Genealogy Word Lists or do an internet search on the terms genealogy word list and the language you need. You also can turn to published language dictionaries. George S. Ryskamp's Finding Your Hispanic Roots (Genealogical Publishing Co.) has an excellent section on reading old Spanish dialects.
Letter-writing guides: Again, FamilySearch is the place to look. On the Research Wiki home page, enter the name of the country and the phrase letter writing guide. You may need to hire assistance to write a letter in Basque.
3. Brief yourself on geography and governmental archives.
Spain is divided 17 municipalities that encompass 50 smaller provinces, which in turn are home to towns or cities. Off the mainland, Spain includes the Balearic and Canary Islands. For mid-19th-century descriptions of most every little hamlet and parish in Spain, see Pascual Madoz's Diccionario Geográfico-Estadístico-Histórico de España y Sus Posesiones de Ultramar (view or download it from our Google Library).

Availability and accessibility of Spanish government records varies widely by municipality and era. Some regions have their own historical languages or dialects (Basque, Catalan, Galician) and all have their own archiving practices. Many records were lost during the Civil War (1936 to 1939). Some municipalities (such as Galicia) have put major effort into posting original images or indexes online. Others—namely Andalusia and Valencia—don't have such extensive internet resources.

You can find municipal archives through Censo-Guía by following these steps:
Don't run this site through a web translator before performing a search—it will limit the search function.
From the Tipo de Archivo field, choose the type of archive (regional, parochial), then choose España for both Área Geográfica (geographic area) and País (country).
In the box labeled C.C.A.A./1a División, look for the name of the autonomous community. Provincia/2a División asks for the province, and Núcleo de Población Menor asks for the name of a smaller population center.
If you don't find what you want, systematically delete the most specific levels of inquiry until you find an archive serving that larger geographic area.
For the beginning Spanish researcher, the National Archives is most useful for web catalogs and directories that will help you locate records.

Portugal consists of the mainland and the Azores, Madeira, the Cape Verde Islands. Towns are the basic unit of government; they are grouped into councils, several of which make up one of 18 autonomous districts (plus two autonomous regions, the Azores and Madeira). Search for existing towns, councils and districts through interactive maps at www.freguesiasdeportugal.com.

The Portuguese government seized ecclesiastical records in 1910, so today you'll find church records included with civil ones at district and national archives. Find a list of district archives at dgarq.gov.pt/rede-portuguesa-de-arquivos/rede-dgarq/arquivos-regionais. The National Archives (Archivo Nacional, also known as the "Torro do Tombo") is an excellent resource for more-advanced genealogical research, as well as a catchall for records that didn't end up where they were supposed to. Learn more about its collections by typing the URL into an automatic translator, then clicking on Search the Torro do Tombo>Genealogy and Local History>Genealogy.

The Basque region straddles Spain and France and has complicated historical relationships with both countries. On the Spanish side are two municipalities, Navarre and the Basque Autonomous Community (with three provinces, Álava, Biscay, and Gipuzkoa). On the French side is the North Basque Country (part of the Pyrénées-Atlantiques department), which today is much less culturally Basque than the Spanish side.

For records on the Spanish side, check out the excellent National Archive System of Euskadi (Euskadi is what Basques call their own country), also known as IRARGI. If your ancestors came from the North Basque Country, consult guides to research in France.
4. Master the major record sets.
Your go-to sources for tracing ancestors in this region are records documenting vital events. After conquering those, you can move on to several unique record sets.
Church records
Catholicism was the religion in Spain and Portugal for hundreds of years, and the church kept excellent records dating to the 1500s or even before. Before modern civil registration, parish baptismal, marriage and burial records may be the only place to find your ancestors' names. Spanish church records are particularly famous for thoroughness: They may contain an individual's name, event date and location, parents' names, other relatives listed as godparents and even a father's vocation.
The easiest place to start your church record search is online. Go to FamilySearch for more than 10 million indexed baptisms, marriages and deaths in Spain (1500 to 1950) and more than a half-million in Portugal (1570 to 1910). You can search nearly 6 million Basque sacramental records (excluding Navarre) at www.snae.org/sacramentales.en.php, or search and order copies of these at church archives covering Viscaya and Guipuzcoa. The FHL has filmed many church records for Spain and Portugal; search its catalog for the name of the district/municipality or parish.

To track down original records in Spain, consult the Guía de los Archivos y Las Bibliotecas de la Iglesia en España (download a PDF here). Otherwise, ask about parish records at diocesan archives; diocesan boundaries are described in the Catholic Encyclopedia. Contact information for diocesan archives is at www.conferenciaepiscopal.es/index.php/iglesia-catolica-en-espana/diocesis-espanolas.html. Search for parochial archives (archivo parroquial) through Censo-Guía.

You can locate Portuguese parish records in district or national archives with the book Inventário Colectivo dos Registos Paroquiais by Maria José Moura (locate copies at libraries using WorldCat). View a directory of online Portuguese parish records at ETombo.
Civil registration
Spain (including the Basque region) and Portugal didn't require civil registration of vital events until 1870 and 1911, respectively. Some cities in Spain started earlier, and non-Catholics in Portugal registered with civil authorities as early as 1832. But the records have great information, such as grandparents' names and birthplaces in Portuguese birth records and a notary's name if a will was filed with Spanish death records. Sometimes life events are cross-referenced: A marginal note about an individual's marriage or death may appear in a birth record.
Most Spanish civil registrations are still in municipal archives, and haven't been filmed or indexed (though a small but growing collection is digitized on the FamilySearch website). Some were unfortunately destroyed in the 1930s Civil War. Generally, you should write to the municipal archive for copies. Though it's now possible to order different types of civil registration data through the Ministerio de Justicia, the process is a bit complicated. If you don't read the language, consider hiring a Spanish genealogist to order these for you.

In Portugal, almost all civil records (less than 100 years old) are still in the hands of district civil registries. Find a list of these on the Portugal page of FamilySearch's Research Wiki (click on Civil Registration). For records dating back more than 100 years, contact the district archive or library. The Basque government has a central Spanish-language site for ordering civil birth, marriage, and death certificates. If you want access to original records, you can reach district civil registries through this site (click on Directorio de Registros Civiles).
Notarial records
Spanish protocolos are tough to find but literally packed with a lifetime's worth of legal events: wills, adoptions, lineage and nobility records, title transfers and sales of land or other personal property, marriage contracts, apprenticeship records and more. You have to identify which local notary your ancestor used and where his files may have ended up (if they were kept). District notarial archives and databases of wills exist in some places; in others, look for notarial records in provincial, ecclesiastical and private archives, and for filmed records at the FHL.
Passaportes
These Portuguese emigration documents (applying to those leaving Portugal) contain information similar to what you'd find in a US passenger manifest: name, age, birthplace, date of application (usually filed shortly before leaving the country), parents' names, destination, occupation. Though these exist as early as 1757, the most accessible records seem to be for an era of heavy emigration traffic, the late 1800s to early 1900s. Look for passaporte records in both district and national archives. The FHL has filmed some of Madeira's passaportes (run a place-names search of the catalog and look under Emigration and Immigration). The Azores government is in the process of digitizing its passaportes, beginning with Ponta Delgada (1875-1939); check its website for progress.
Spanish and Portuguese Names
Keep these tips in mind as you hunt for your ancestors' names: Spanish and Portuguese names use both maternal and paternal surnames. The dad's paternal surname traditionally comes first, though some immigrant families switch the order to match the US custom of using maiden names as middle names. When a woman marries, she keeps her full name. She may add her husband's paternal surname (look for it after a prefix de, de la or del, meaning "of [the family].")
This naming system has been widespread since the mid-1800s; before that, you'll only find it in Castilian upper-class families. Commoners will just have a paternal surname. A person may have three or more first names, one of which is likely a saint's name. Any one of those names may be used alone in daily life—and on any document after the birth certificate. The title Don or Doña can indicate your ancestor was a person of substance (at least socially), who may have left a correspondingly substantial paper trail.
Once you've dominated these sources, you'll be in an excellent tactical position for forays into additional records: military files, censuses, passenger lists, Inquisition records and more. It might take a while to learn the ins and outs of research in Spain, Portugal and the Basque region, but be patient: As fellow Iberian conqueror Napoleon Bonaparte once said, "Victory belongs to the most persevering."
A version of this article appeared in the December 2011 issue of Family Tree Magazine.
Iberian Genealogy Resources
Websites
Books
Organizations
Related Reads
FamilyTreeMagazine.com is a participant in the Amazon Associates Program, an affiliate advertising program. It provides a means for this site to earn advertising fees, by advertising and linking to Amazon and affiliated websites.