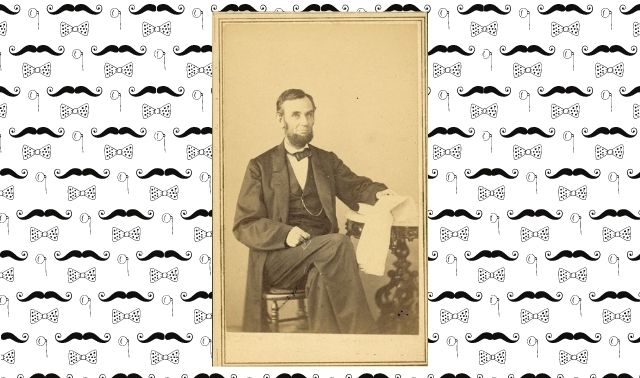 The story of Abraham Lincoln's beard is a sweet one. In 1860, a young girl named Grace Bedell wrote to the then–presidential candidate, advising him to grow a beard to aid his campaign and his appearance.
I am a little girl only 11 years old, but want you should be President of the United States very much so I hope you wont think me very bold to write to such a great man as you are. Have you any little girls about as large as I am if so give them my love and tell her to write to me if you cannot answer this letter. I have yet got four brothers and part of them will vote for you any way and if you let your whiskers grow I will try and get the rest of them to vote for you you would look a great deal better for your face is so thin.
Lincoln responded that he wouldn't make any promises yet a few months later he's photographed with the beginnings of his trademark facial hair.
Lincoln was the first President to have a beard.

It's a remarkable tale of how a preteen may have influenced a political candidate's appearance (and perhaps his career). Lincoln's beard made his a fashion icon of the 19th century and led many men to follow his lead.

Many books are written about Lincoln, but two of my favorites focus on photographs of him:
Lincoln Photographs: A Complete Album by Lloyd Ostendorf (Rockwood Press, 1998)
Lincoln Life-Size by Philip B. Kunhardt III, Peter W. Kunhardt and Peter W. Kunhardt, Jr (Alfred A. Knopf, 2009).
Online sources of pictures of Lincoln include the Library of Congress Prints and Photograph Division and the Allen County Public Library's Lincoln Collection.
More Lincoln Photos from Library of Congress: Lincoln's inauguration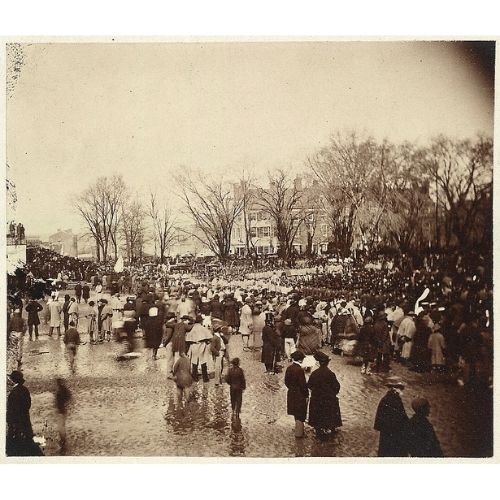 From movies to today's inauguration, all things Lincoln are in the spotlight. On March 4, 1865, President Abraham Lincoln participated in his second inauguration. Thousands of individuals came to Washington, DC, to witness it. The news media of the time were present, reporting on the events of the day.
Photographs of inaugurals usually focus on the President, but in 1865, at least one photographer captured the crowds. This rainy inaugural photo is from the Library of Congress collection and captures Washington, DC, at a key moment. The Civil War was drawing to a close, and Lincoln spoke to that in his address:
With malice toward none, with charity for all … let us strive on to finish the work we are in to bind up the nation's wounds …
A reporter for the Sunday Mercury published in Philadelphia on March 5, 1865, wrote about the weather:
"Rain had been falling all yesterday and last night, making the proverbially filthy streets of the political metropolis filthier and more unpleasant than ever. (page 3)"
If you look closely at this photo you'll see people dressed for inclement weather, wearing heavy overcoats and hats, standing in deep puddles. There are a few children in the foreground. Somewhere in this group are African American troops who marched in the Inaugural Parade.
A crowd scene like this allows a peek into the past. There is a wide variety of clothing, from wool coats to hoop skirts, worn by these individuals. Take a close look at the hats worn by the men in the crowd. Only one man is wearing a stovepipe hat; the rest are in smaller hats and caps. The man in the tall hat is dressed formally for the occasion. Men of means or who had significant jobs usually dressed the part. In the 1860s, the hat a man wore could tell you a lot about their occupation or fashion habits.
Do you know about the political leanings of your ancestors?
There may be images of women bearing suffragette banners or men wearing political memorabilia such as pins.
Even if your ancestor wasn't politically active, study the history of your ancestors' lives to see how political decisions influenced their everyday experiences.
Take a close look at the pictures in your family, set them in a time frame and investigate the history in your genealogy. There may be images relating to immigration, military service and even social events—all a result of the political situation of the country in which they lived.
Related Reads