Sign up for the Family Tree Newsletter Plus, you'll receive our 10 Essential Genealogy Research Forms PDF as a special thank you!
Get Your Free Genealogy Forms
"*" indicates required fields
The key to organizing your image collection is a simple and logical naming system. Start with simple file names that don't require a key to abbreviations. And make it a habit to import and rename images soon after a photo shoot or scanning session.
Long, complicated file naming schemes are difficult to maintain and cumbersome to use. The end of the name may be cut off in your computer folder view or printout. More words give more opportunity for misspellings or inconsistency.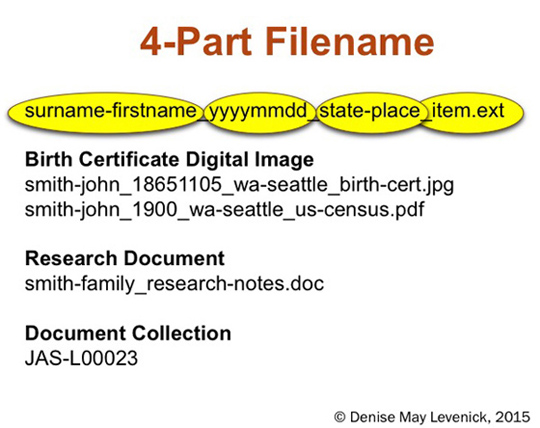 As you develop your file-naming scheme, create a File-naming Cheat Sheet and post it next to your computer to help you maintain consistency. Here's a cheat sheet for my four-part file-naming scheme:

The four parts of my digital photo file names are
Name: Surname-firstname
Date: YYYYMMDD
Location: from largest to smallest with two letter abbreviation used for states
Event: obit, birth-cert, etc.
I separate the parts with an underscore, and use a dash to separate words in each part. The names are short and consistent, with all lowercase characters. Here's an example:
smith-john_19240315_co-pueblo_theater-edit.jpg
Whatever file-naming scheme you adopt, your files will be easier to organize and access if it's simple and consistent for all your digital images.
Last updated: Nov 2020
Denise Levenick is author of the book How To Archive Family Photos as well as the website The Family Curator, where she shares tips and tricks for how to preserve, share and organize your family history.
Related Reads: