Sign up for the Family Tree Newsletter Plus, you'll receive our 10 Essential Genealogy Research Forms PDF as a special thank you!
Get Your Free Genealogy Forms
"*" indicates required fields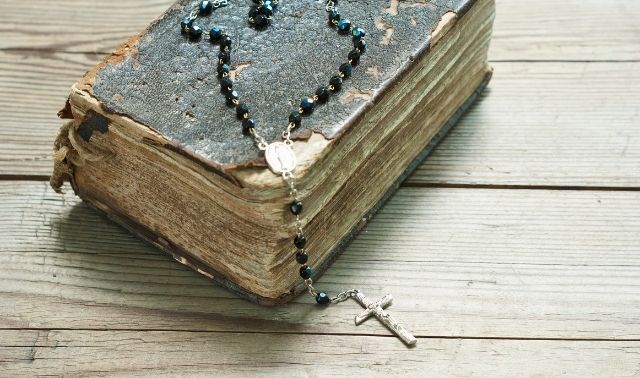 Consider yourself fortunate indeed if you inherited the family Bible, for it's often a genealogical Good Book with family record pages that list births, marriages and deaths for decades. This may be the only record of these events in years before official vital record-keeping. Preserve your treasure with these tips.
1. Wash your hands before handling
Take time to wash your hands with soap and water (or don cotton or latex gloves) before handling your family Bible. Dust and body oils can leave permanent fingerprints on it. Carry the book with both hands.
2. Keep it supported
Rest an open book on a cushioned surface, such as a clean pillow set on a sturdy table, to support the covers.
3. Cover with dark cloth when not in use
If you're taking a break from viewing the Bible but you're not ready to return it to storage, close it and cover it with a dark cloth or place it inside an archival box.
4. Work in a cool, low-light space
Work with the book inside your home in a cool room, away from windows, heaters and pets. Shield the book from prolonged periods of harsh light. LED lighting is less damaging than incandescent bulbs.
5. Look for surprises tucked in the pages
Carefully turn the Bible's pages to look for any newspaper clippings, notes or other artifacts your ancestor may have tucked into the book long ago. I discovered an envelope holding locks of hair between the pages of our family Bible. Because newsprint and other memorabilia can leach acid onto adjacent pages and abrade the paper, place the artifact inside an archival plastic sleeve or envelope before returning it to its place. Another option, especially for bulky items, is to photograph the artifact on the page, print two copies onto archival-quality paper, and put one copy in the Bible and store the other separately with the artifact.
6. Compare the dates listed to the publication date
Many family Bibles didn't survive to the present generation, or the family record pages were removed. If yours is intact, compare the birth, marriage and death listings to the Bible's publication date. Entries dated before the Bible was published couldn't have been recorded at the time of the event. It must have been recorded from other knowledge, which affects the reliability of the information.
7. Correctly preserve loose pages
Preserve loose Bible pages as you would any historical document, in an acid-free, lignin-free archival folder, envelope or sleeve. You'll be able to view the pages easily if you choose archival-quality plastic sleeves made from polyethylene (PE), polyester (mylar) or polypropylene (PP). Avoid using plastics made from polyvinylchloride (vinyl or PVC). Store pages inside an archival box or metal filing cabinet.
8. Scan with care
A Bible's size and weight makes it a challenge to digitize. Even loose pages should never be sent through a sheet-fed scanner. Instead, use your smartphone or a digital camera to take digital images, making sure the resolution is set to at least 300 dpi. A mobile scanning app will automatically crop the image and enhance lighting.
9. Digitize the Good Book's cover
When digitizing a family Bible, remember to include the front and back covers and spine. In your notes, record details of any decoration and cover materials. Is it leather, fabric (such as velvet), celluloid (a type of plastic invented in the 1800s) or ivory? Expensive materials can indicate the owners' wealth. Note evidence of fading or damage, too: If the back cover is considerably darker than the front, it's a sign the book was exposed to light for lengthy periods.
10. Digitize pages selectively
No need to scan every page of your Bible unless you want to. But do scan the cover, title page with the publication date, any pages with inserted material or handwritten annotations, and of course, the family record pages.
11. Write a provenance of you family Bible
Compose a history of the Bible that includes a description of it, who owned it before you, and a transcription of the record pages. Keep this with the digital images in your genealogy files and share it with relatives.
12. Don't store in a wooden box
Old-fashioned Bible boxes were typically wooden affairs—not the best protection for your treasure. Wood contains acids that will actually speed up the deterioration of your book. Instead, store your Bible in an archival box, available from suppliers such as Gaylord Archival, or make your own!
13. Store in a cool, dry location
Extremes in temperature and humidity are the biggest hazards for your keepsake, so avoid storing your family Bible in a basement, garage or attic. If your Bible is in good condition with a strong cover and spine, place the boxed book upright on a shelf, as you would any book, to relieve the weight on the back pages and cover. Damaged or fragile books are best stored flat in their boxes, inside a clean closet or drawer inside your home.
Related Reads