Sign up for the Family Tree Newsletter Plus, you'll receive our 10 Essential Genealogy Research Forms PDF as a special thank you!
Get Your Free Genealogy Forms
"*" indicates required fields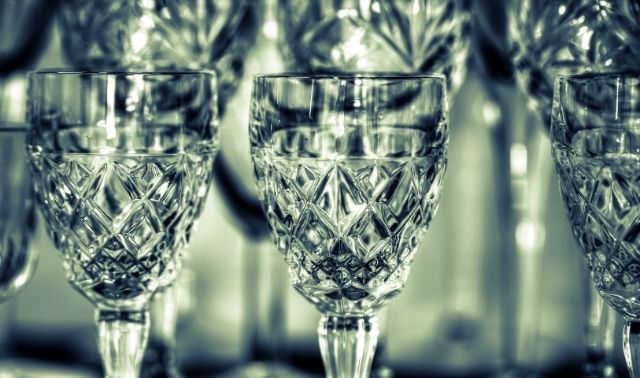 Don't be afraid to use and enjoy Grandma's crystal at your family gatherings. Many pieces of antique cut crystal and pressed glass are more sturdy than they look and need only a little extra care to maintain their sparkling beauty.
1. Determine if it's crystal or glass
Crystal is heavier, and often thinner than glass. Tap a crystal glass and you will hear a melodic ring; tap glass and you will hear a clunk. The edges of cut crystal may be sharp or polished and smooth; molded crystal or glass may have similar edges but will often show a join or seam from the mold. Glass is typically thicker than crystal. The clarity and sparkle of crystal can't be rivaled by glass; hold a piece of crystal to the light and watch the rainbows dance.
2. Wash crystal with care
Take care when washing and drying crystal. The delicate rims of glasses can break from finger pressure. Avoid twisting the bowl of your stemware in the opposite direction of the stem—the stem could snap off. To remove hard water spots from crystal, fill glasses with white vinegar; let it sit for a few minutes, and rinse.
3. Do not use crystal or glass dishes for hot food
Grandma knew that salt and vinegar would damage silver serving dishes. She was careful to use glass and crystal dishes for pickles, relishes, salted nuts, and other condiments, but never for anything heated such as gravy or hot vegetables that might cause the dish to crack from heat.
4. Be aware of how you are storing your crystal and glass
Always store crystal and glass upright. Do not rest glassware on the delicate glass rim or crowd dishes in the china cupboard. Minor chips can often be ground off by a china and glass repair service. Check your local listings for a glass shop or service specializing in fine china repair.
5. Avoid using the dishwasher to clean crystal
Harsh modern detergents, high heat, and the risk of jiggling and chipping are good reasons to hand wash your antique and vintage crystal. Wash heirloom crystal separately from other dishes and flatware using fresh warm water. Remove any jewelry from your hands to avoid scratching the surface, and pad the sink with a thick kitchen towel or mat. Use a small amount of liquid dishwashing soap with a sponge or soft cloth. Rinse in warm water and place on a padded countertop to be hand dried with a soft cotton towel. Avoid rubbing any metallic edges or painting.
6. Be aware of temperature differences to avoid shattering
Glass and crystal are temperature sensitive and may shatter if hot liquids are poured into cool or cold glass, or if cold liquids are poured into warm glass.
7. Never use antique or vintage glass or crystal in the microwave or conventional oven
Even though it may be convenient, don't risk putting your precious glassware or crystal in the microwave or oven! Better safe than sorry.
8. Don't store alcohol for long periods of time in heirloom crystal decanters
Lead crystal is undoubtedly beautiful, but many people worry about drinking from glassware that may leach the mineral into their favorite vintage. Added minerals of lead, magnesium, and/or zinc are what give crystal its unique properties. Studies have shown that alcohol stored in crystal decanters absorbs lead at levels that should be avoided, but beverages are typically consumed within a short window of time minimizing potential risk. Fortunately, modern lead-free crystal aims to offer the beauty and strength of fine crystal with the advantage of eliminating health concerns, and the bonus of making the crystal dishwasher safe.
9. Repurpose speciality dishes to other areas of your house
Who says pieces should stay in the dining room? Repurpose specialty items to suit your lifestyle by thinking outside the box! A small cut glass sauce bowl makes a beautiful desk tray for paper clips or coins. A crystal wine glass makes a lovely vase for a small bouquet on your nightstand.