Sign up for the Family Tree Newsletter Plus, you'll receive our 10 Essential Genealogy Research Forms PDF as a special thank you!
Get Your Free Genealogy Forms
"*" indicates required fields
This article is sponsored and written by Mylio Photos.
In today's digital world, our personal gadgets nearly burst with countless pictures and videos of fun times, cool places, and everyday stuff. It's like those old boxes of photos in the attic, where there's so much that finding one special memory can be challenging.
Cleaning up your digital photos isn't just about making space; it's about easily finding and enjoying those special memories.
Too Many Photos?
Rise Above Research says people will take over 1.6 trillion photos worldwide in 2023 alone. But how many of those photos will get a second look? How many mean something? And how many just take up storage space? It's like searching for a diamond in a data dump when trying to find one exceptional picture.
Imagine it's the night before a big family event, and you're trying to find a group photo from the last time everyone was together. Instead of quickly finding it, you're swiping past random selfies, repeated shots, and accidental pictures of the ground.
Mylio Photos: Your Digital Photo Helper
Dealing with too many photos is like cleaning a messy room. You need the right tools. That's where Mylio Photos comes in. The free application doesn't just organize your photos; it's like having a personal manager of your favorite digital memories. It's a great way for busy families to bring all their photos, videos, and documents together in one organized library that works perfectly on everyone's devices (iOS, macOS, Android, and Windows).
Mylio Photos's fast, AI-powered tools automatically sort files by dates, important events, visual properties, people, and other parameters. Thinking about that fabulous trip to Greece? All those beach photos and memorable family moments are a click away in Mylio Photos, even if you're offline and your library has over 500,000 images.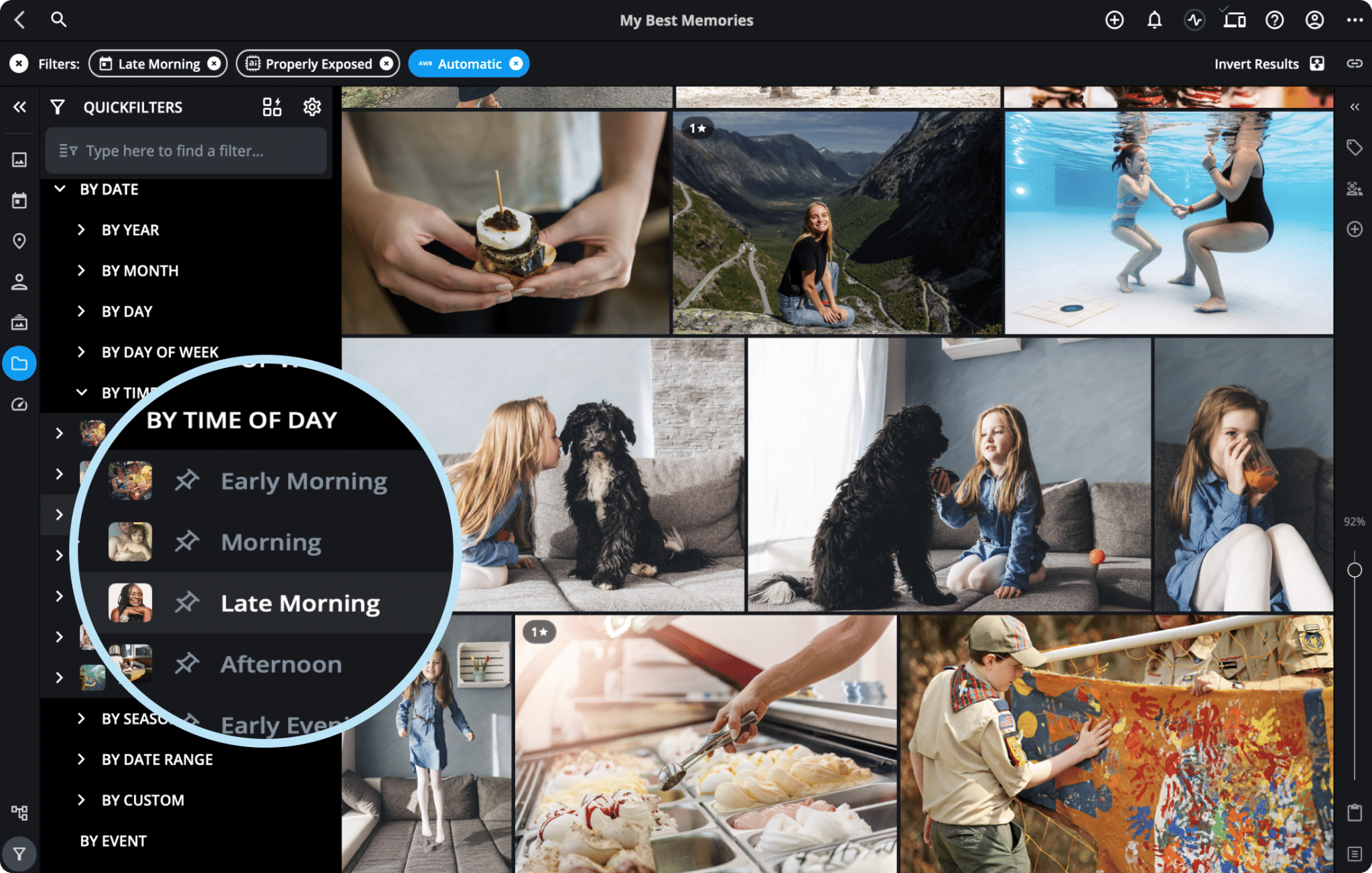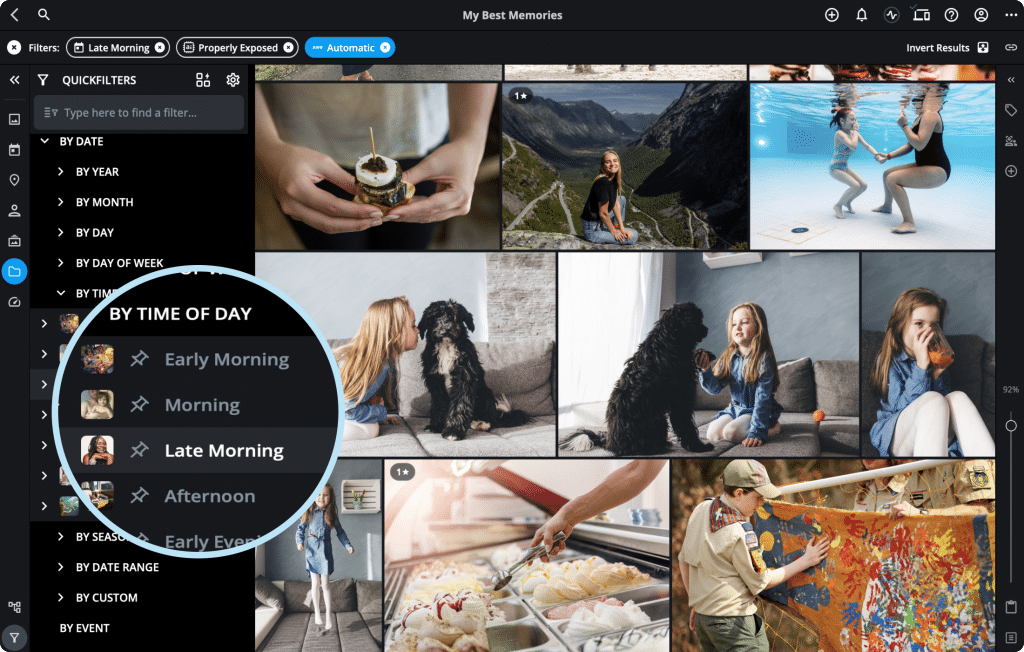 And There's More: Protection, Privacy, and Local Control
One of the biggest problems with digital photos isn't just the mess – it's the risk of losing them. A recent study estimated that 70 million phones get lost or stolen yearly. With Mylio Photos+, your files (yes, it's not just for photos) aren't stuck on just one device. You can always access your entire library on all your computers, smartphones, tablets, and external drives – even offline. Any new images you take (plus edits and organization) update between your devices.

So even if you lose a phone or your laptop breaks, you won't lose your photos. Everything is safe and in your control with Mylio Photos. And you don't have to rely on growing Cloud fees to keep your memories safe.

How does it work? With Mylio Photos, all your pictures (and the sensitive personal data these files contain) are stored privately on your devices. The app's AI tools run exclusively on these local devices without the cost or privacy risks of data transfers to the Cloud. You can add a Cloud service with automatic encryption and use the SafeShare feature to remove personal information before sharing family photos online.
Your Digital Files: Keep or Delete?
Only some photos or documents are worth keeping. It's okay to be picky. Ask yourself, "Will I want to see this picture in a year?" If the answer is no, delete it.
Organize by Themes: Group photos by events or topic, like birthdays, summer trips, or "funny moments." It's like sorting your life into different stories. With Mylio Photos, you can rediscover these "groups" of photos without manually entering keywords. Go to QuickCollections and find all your awesome selfies, pictures of cats, or pictures of smiling people.
Back Up Regularly: Make it a routine. Once a month, back up all your new photos. With Mylio Photos+, your backups happen automatically.
Add Notes: Add short notes to memorable photo files. Like, "The day we missed our flight but had so much fun in the city!" These little stories make enjoying and sharing photos even better.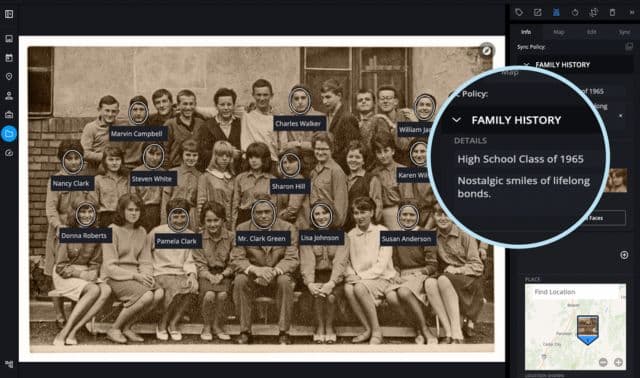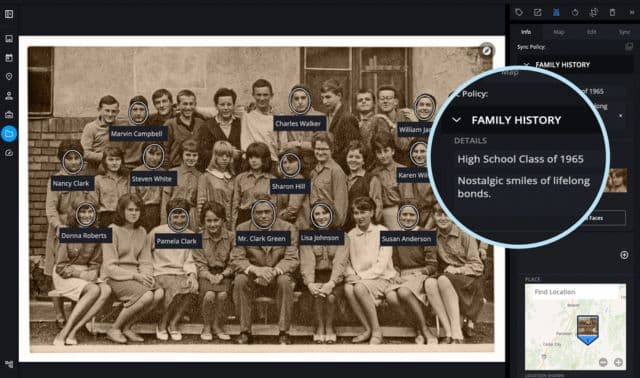 Tag People: Most of our pictures show people we want to remember. With Mylio Photos, tagging people is both fun and valuable. You'll never forget a place you've been to or a meal you had if you remember who was there with you.
Printed Photos in the Digital Age
Even though we're talking about digital photos, most remember (and have) printed ones. Studies show that holding an image can make us feel more than just looking at it on a screen. So, why not pick some pictures every year to print out? With Mylio Photos, you can easily select your best shots each year and get them printed. This way, you have both digital and printed memories.
Find Digital Zen for Your Family's Memories
Memories should be easy to find and enjoy. With tools like Mylio Photos, organizing is fun and not stressful. You can quickly locate each picture or video in several simple ways. Even better, you will enjoy the peace of mind of freeing yourself of digital photo clutter and ensuring every great memory has a place to shine.

Learn more about Mylio Photos and download it for free. If you want to protect your memories (without a Cloud), enjoy a universal library on all your devices, eliminate duplicates and declutter, and always have all your memories at your fingertips, get Mylio Photos+.

Family Tree Magazine readers get an exclusive 50% discount on Mylio Photos+. Enjoy!