Sign up for the Family Tree Newsletter Plus, you'll receive our 10 Essential Genealogy Research Forms PDF as a special thank you!
Get Your Free Genealogy Forms
"*" indicates required fields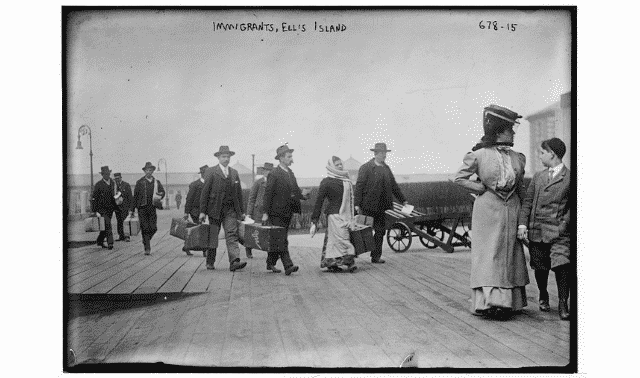 Q: My great-great-grandfather came to the United States through New York in 1849. If Castle Garden didn't open until 1855, where would he have arrived, and are records available?
A: In 1819, customs collectors began working the various docks in the port of New York, collecting information on arriving ships, passengers and ports of origin. The impetus to establish a central processing point, which became Castle Garden and later Ellis Island, came from a state commission's finding in 1847 that arriving passengers frequently fell victim to fraud and crime. Boardinghouses would hire "runners" to steal luggage and even snatch children to force immigrants to go to their lodgings, where they would overcharge them and assess fraudulent fees. In 1848, New York State leased a pier at the end of Hubert Street in lower Manhattan to use as a processing site. Complaints from neighbors forced a move south to Castle Clinton, where Castle Garden was opened in 1855.
Passenger lists and indexes to these early arrivals, regardless of pier, are at the National Archives. These include Index to Passenger Lists of Vessels Arriving at New York, NY, 1820-1846, 103 microfilm rolls (M261); Passenger Lists of Vessels Arriving at New York, NY, 1820-1897, 675 rolls (M237); and, for ship info, Registers of Vessels Arriving at the Port of New York from Foreign Ports, 1789-1919, 27 rolls (M1066). You also can search these on Ancestry.com.
Answer provided by David Fryxell
A version of this article appeared in the May/June 2015 issue of Family Tree Magazine.
Q: Isn't it true that only the steerage passengers landed on Ellis Island and others were let off in New York City? That is what we were told via video when visiting Ellis Island.
Neither of my grandparents from Germany and England ever set foot on Ellis Island. That was in the 1920s. I believe they got off in Brooklyn. I'm not sure of the exact location but Ellis Island only took the passengers that weren't being met by someone or had backing by someone. That is seldom publicized so most people think all immigrants landed on Ellis.
A: It is true that only steerage passengers were processed at Ellis Island. The first and second classes disembarked at the ocean liner's dock, then the steerage class was taken by ferry to Ellis Island, but not just those who weren't being met by someone or had financial backing. The entire steerage class was taken to Ellis Island.
Beginning about 1903, the passenger arrival lists began to include a supplemental section for those detained on Ellis Island. Many immigrants were detained for short periods of time at the port of arrival until relatives came to claim them. These lists of detainees, or Record of Detained Aliens, that have survived were microfilmed with their corresponding passenger lists at the end of the lists of arrivals. These contain the name of each detainee, the cause for the detention, and the date and time of discharge. The number of meals the detainee was fed during detention was also recorded. If the émigré was deported before being released from the immigrant receiving station, these records stated the reason and the date deported.
Be sure to check subsequent passenger lists and indexes for aliens who were deported but may have re-entered the country at a future date when they might have been able to pass inspection. Another common way for aliens to re-immigrate was to save enough money and re-enter as a first or second class passenger, who underwent less stringent exams aboard ship, and as mentioned, did not have to undergo the processing at Ellis Island. For more on the immigrant experience, visit the Ellis Island website.
Answer provided by Sharon DeBartolo Carmack
Q: My parents came to this country from Germany around 1929. I know they came through Ellis Island. Will records for this time frame be made available? If so, when?
A: Even at the Ellis Island Web site for the years 1892 to 1924, you don't get the results of the Ellis Island medical exam, the inspector's name and so on. What you get is a passenger list. If you don't have an exact date of arrival, you can probably get that from naturalization records (US Immigration and Naturalization Service).
If your ancestor came through Bremen, passenger lists exist for 1920 through 1939 (previous years' lists have been destroyed); they can be searched by the Bremen Society for Genealogical Investigation, Die Maus. Its Web site is db.genealogy.net/maus/gate/index_en.html.
If your ancestor came through Hamburg, indexes are available on Family History Library (FHL) microfilm. For the name Spittka in 1929, you will need to check FHL film numbers 0473166 (January through March) and 0473168 (March through December).
Answer provided by Ernest Thode
Q: I have not been able to find my grandparents in the Ellis Island records. My mother's maiden name does not even appear at all in the records. What now?
A: To find ancestors on the Ellis Island passenger lists, you need to know the ancestor's original name in the homeland. The name your ancestor gave when he or she purchased the ticket to America will be the name that will be recorded on the list. But, just like any document, the name could have been accidentally misspelled, or the name could appear to be spelled a different way because of the clerk's handwriting—an a looks like an o or an e, for example. When using the database online, keep in mind that you are at the mercy of the transcriber who looked at the microfilmed copy of the passenger list and tried to interpret the name to enter it into the database. A transcriber unfamiliar with the clerk's script may convolute a name you would find easy to read because you've looked at records with that type of script before. But all isn't lost. You can do it the old-fashioned way by checking the microfilmed indexes and lists, where you have more flexibility to check variant spellings.
Answer provided by Sharon DeBartolo Carmack
Q: My father came through Ellis Island on a cattle ship from Slovakia when he was 12 years old. How were such passengers recorded when they landed at Ellis Island? Or is there no record?
Without knowing the name of the ship, it would be impossible to tell whether your father actually came over on a "cattle ship," or it just felt like the passengers were herded onto the ship like cattle. Some vessels were not originally designed to carry passengers, but cargo, such as iron, anvils, salt, coal, and even cattle. These ships' masters installed temporary rough pine berths for passenger voyages, and dismantled them when it was necessary to carry cargo instead of humans.
If you know the name of the ship, you may be able to find out specific information about it in these reference sources:
Ships of Our Ancestors by Michael J. Anuta (Genealogical Publishing Co.)
Great Passenger Ships of the World (5 volumes) by Arnold Kludas (Stephens)
Passenger Ships of the World Past and Present by Eugene W. Smith (George H. Dean Co.)
Online research
You also can research ships in subscription site Ancestry.com's ship pictures database and using EllisIsland.org's Search by Ship feature. As for the manifest, or passenger list, regardless of what else was transported, all human passengers were to be recorded on immigration passenger lists before a ship left its port of departure. Immigration passenger lists were in use between about 1891 and 1954. Arrivals from 1820 to 1890 would be recorded on less-detailed customs passenger lists.
Ellis Island received and processed newcomers starting in 1892. Upon arrival, the lists were turned over to the authorities on Ellis Island. You can search the free Ellis Island database online. Ancestry.com has digitized surviving lists for both time periods for Ellis Island and other US immigration ports. Remember, spelling doesn't count when searching online immigration databases. If you don't find your father under the spelling you expect, be creative and try several variations.
Answer provided by Sharon DeBartolo Carmack
Q: Can you tell me how I could get info on ancestors who came through Castle Garden in 1861?
A: Castle Garden, located on the southern tip of Manhattan, was the immigrant receiving station that predated Ellis Island. It opened in 1855 and processed immigrants until Ellis Island replaced it in 1892. No special records were created during the processing at Castle Garden. Only Customs Lists, the passenger arrivals from 1820 to about 1891, exist. These lists were usually printed in the United States, completed by ship company personnel at the port of departure and maintained primarily for statistical purposes. Therefore, they contain scanty information: name of ship and its master, port of embarkation, date and port of arrival, each passenger's name, sex, age, occupation and nationality. The lists were then turned over to officials at Castle Garden, who used them for immigrant processing.
Not all of these lists have survived, and the entire time period isn't indexed. For Castle Garden immigrants, port of New York indexes cover 1820 to 1846. (New York indexes also cover Ellis Island arrivals from 1897 to 1902, 1902 to 1943 and 1944 to 1948.)
You can obtain prints of microfilmed passenger lists by mail from the National Archives for a modest fee, using NATF Form 81. Request forms by e-mail at inquire@nara.gov or write to National Archives and Records Administration, 700 Pennsylvania Ave. NW, Washington, DC 20408. The National Archives will not do research for you, however. The minimum information required for a search of the index is (1) full name of the person, (2) port of arrival and (3) the month and year of arrival. Additional facts such as the passenger's age and names of accompanying passengers are also helpful. If the list isn't indexed, you'll need more specific information, such as the exact date of arrival and the name of the ship.
Ship's arrivals on microfilm are also available at the Family History Library or through its Family History Centers, and you can make prints there as well. Or check with a National Archives regional records services facility that would have films for its corresponding port, such as NARA's Northeast Region in New York City for the Port of New York passenger arrival lists.
Answer provided by Sharon DeBartolo Carmack
A version of this article appeared in the February 2002 issue of Family Tree Magazine.