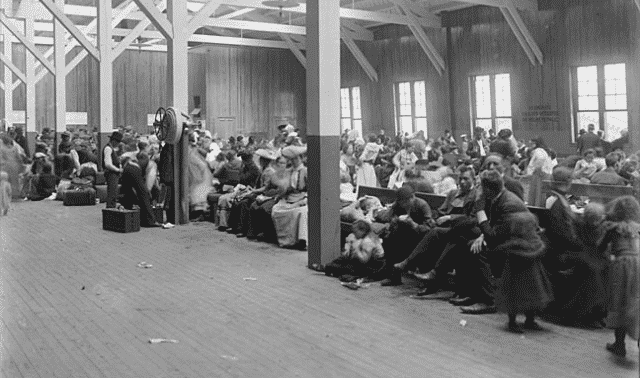 Q: Did Canada have its own immigration port that served as the equivalent to Ellis Island? One of my ancestors went to Canada before going to New Hampshire.
A: Like the United States, where immigrants arrived through many ports, Canada received newcomers through ports on both coasts. No single port dominated Canadian arrivals as strongly as New York's Ellis Island did for the United States, but the most popular ports were Quebec City and Halifax. Passenger records exist for these and other Canadian ports beginning in 1865:
Quebec City and Montreal, Quebec, 1865-1935
Halifax, Nova Scotia, 1881-1935
Saint John, New Brunswick, 1900-1935
North Sydney, Nova Scotia, 1906-1935 (mostly ferry arrivals from within Canada, with a few passengers in transit from other countries)
Vancouver, British Columbia, 1905-1935• Victoria, British Columbia, 1905-1935
The Library and Archives Canada (LAC) website links to several immigration collections. You can search arrivals in Quebec from 1865 to 1900 and view images of original passenger lists showing each person's name, age, country of origin, occupation and destination. LAC also digitized other ports' passenger lists from 1865 to 1922, but that database is searchable only by ship name, and port and date of departure and/or arrival—not by passenger name. On the same LAC page, access unindexed passenger list images for individual ports from 1925 to 1935, as well as declarations of arriving passengers (called Ocean Arrivals, Form 30A, 1919-1924).
FamilySearch has microfilmed passenger lists for Quebec, 1865 to 1900, and Halifax, 1881 to 1899. Ancestry.com subscribers can search Canadian passenger lists from 1865 to 1935 by name, as well as the individual declarations. You also might find Canadian immigrants through local records. The Archives of Ontario has a database of more than 29,000 entries spanning 1865 to 1883 of government-assisted immigrants in Toronto, searchable by surname. The archives also has records Ontario kept on the provincial level, independently of the dominion government, from 1869 to 1897; some of these are available from FamilySearch.
Only Canadian citizens and other residents can request post-1934 Canadian passenger lists, using an Access to Information Request Form, available at Canadian post offices. Proof of the immigrant's death and the approximate date of arrival are required.
Answer provided by David Fryxell
A version of this article appeared in the July/August 2014 issue of Family Tree Magazine.
Q: How can I find very early New Orleans passenger lists?
A: The National Archives has compiled Passenger lists for arrivals through the port of New Orleans in two microfilm publications. The earliest records, 1820 to 1902, are in publication M259. Records for 1903 to 1945 are in publication T905. You can now search these lists on Family­Search.org. Ancestry.com also has these collections as well as related records. Some of these records may actually predate the 1820 US government requirement that arriving foreign vessels provide passenger lists.
For pre-1820 arrivals, you can try the Passenger and Immigration Lists Index edited by P. William Filby, which lists arrivals at many ports. It's available on Ancestry.com. A book, New World Immigrants, edited by Michael Tepper, includes a list of passengers leaving France for Louisiana, 1718 to 1724, originally published in the Louisiana Historical Society Quarterly. New Orleans passenger lists from 1813 also have been transcribed at GeneSearch.com. Another source that may help identify early arrivals to New Orleans is the CD collection Early Louisiana Settlers, 1600s-1800s (Genealogical Publishing Co.). Though not specifically a collection of passenger records, this CD includes data on early families, military records and French marriages, as well as lists of 500 passengers arriving in 1719 and 1720 and migrants from the Canary Islands, 1778 to 1783.
Answer provided by David Fryxell
A version of this article appeared in the September 2013 issue of Family Tree Magazine.
Q: Where do I find records of immigrants who entered the United States through New Orleans?
A: New Orleans was one of the busiest US ports. Many immigrants who landed there would then travel by riverboat up the Mississippi River and settle in states bordering the river. Arrival records for passengers who ended up in Galveston, Texas, may be in New Orleans: Some ships would stop first at New Orleans, delivering their passenger lists and some passengers there, then sail on to Galveston to let off more passengers.
The easiest way to search New Orleans passenger lists is to use Ancestry.com's Immigration and Travel collection, which contains digitized National Archives and Records Administration (NARA) passenger list microfilms for New Orleans covering 1820 to 1902 and 1900 to 1952. Enter New Orleans as the arrival location. (The same records are searchable through Ancestry Library Edition, which is free at many libraries.)
You can view those NARA microfilms at NARA research facilities, or you can view the copies available at many large public libraries or through your local FamilySearch Center. To use the microfilms, you'll want to have an idea of when your ancestors immigrated.
You also can find some pre-1820 lists of New Orleans passengers in various publications, such as Passenger and Immigration Lists Index edited by P. William Filby (this publication—also searchable on Ancestry.com, but not in Ancestry Library Edition—contains arrivals at other US ports, too). Two sites that list available resources for pre-1820 and post-1820 passenger lists are Resources for Finding Passenger Arrival Records at the Port of New Orleans, Louisiana and the New Orleans Public Library Immigration Records Guide.
Q: Are any of the early ship manifests originally held at the Baltimore City Archives still in existence?
A: An 1833 Maryland state law required masters of vessels arriving at Baltimore's port to submit lists of passengers to the mayor. These "city lists," covering September 1833 to October 1866, include the age and occupation of each passenger. They can help fill in gaps in the passenger lists submitted to the customs office in Baltimore, which have been microfilmed by the National Archives (as Passenger Lists of Vessels Arriving at Baltimore, 1820-91) and are available on Ancestry.com. The Records Management Office of the Department of Legislative Reference in Baltimore now holds the city lists. From 1935 to 1937, the Works Progress Administration compiled an index to these Baltimore city passenger lists, using the Soundex system in which names are encoded to consolidate most spelling variations. The National Archives received this card index in 1954 and subsequently microfilmed it on 22 rolls (called Index to Passenger Lists of Vessels Arriving at Baltimore, 1833-1866). You can purchase this microfilm from the archives or view it at the main Washington, DC, facility or at these NARA regional offices: Pacific Region, Rocky Mountain Region, Northeast Region and the Mid-Atlantic Region.
Answer provided by David Fryxell
A version of this article appeared in the July 2010 issue of Family Tree Magazine.
Q: By what routes or under what conditions, other than via Ellis Island, might immigrants have entered the United States between 1880 (before Ellis Island opened) and 1892 (after it was activated)?
A: In the 19th century, the five major ports of arrival receiving significant numbers of newcomers were Baltimore, Boston, New Orleans, New York and Philadelphia, with New York receiving three-fourths of all arrivals by the 1880s. Also in use throughout the 19th and well into the 20th century were about 96 other ports on the Atlantic, Pacific, Gulf Coast and Great Lakes. Some of these records survive.
Prior to the mid-19th century, no immigrant inspection stations existed. Then in 1855, Castle Garden, located on an island off the southern tip of Manhattan, opened. Here, short inspections and medical examinations of arriving passengers took place. Castle Garden gave way to Ellis Island in 1892. The two most famous inspection stations were New York's Ellis Island (1892 to 1957) and San Francisco's Angel Island (1910 to 1940). New York was the busiest port, receiving up to 5 million immigrants in a single year.
Keep in mind that some arriving vessels docked at more than one port, stopping first in Boston, for example, and then making a final arrival in New York. Check indexes for all ports if you're having trouble finding your ancestors.
Many immigrant families arrived through Canadian ports, some settling for a time in Canada before coming to the United States. The US government kept no records of border crossing until 1895. By then, the US government realized that about 40 percent of those who arrived in Canada had the United States as their final destination.
Most original passenger arrival lists, recorded from 1820 to 1957, and the Canadian border crossings have been microfilmed and are available through the National Archives, the Family History Library in Salt Lake City and its Family History Centers. The National Archives' regional records services facilities have films for the ports in their jurisdiction. Immigrant and Passenger Arrivals: A Select Catalog of National Archives Microfilm Publications details the availability of records and indexes for each port. This catalog is available on the National Archives' website, or you should be able to locate a copy at most genealogical libraries.
Answer provided by Sharon DeBartolo Carmack
A version of this article appeared in the April 2003 issue of Family Tree Magazine.
Q: My grandfather Anthony Borges was an immigrant from the island Sao Jorge in the Azores [Portugal], and I'm looking for records of his arrival in America. I've tried EllisIsland.org and found nothing.
A: Ellis Island is the best-known US immigration port, so many people assume their ancestors arrived there.
Don't stop your search at Ellis Island. Boston, Baltimore, New Orleans and San Francisco also were major immigration ports, but immigrants could arrive in just about any coastal city.
You didn't say what year your grandfather came to America. Ellis Island opened in 1892 and closed in 1954. And the passenger database you searched covers only arrivals from 1892 to 1924 (you can find this information in the site's search tips).
Sometimes database creators had a hard time reading the original records, so passengers' names might be misspelled. If you're sure your grandfather arrived at Ellis Island, search for alternate spellings, or use Stephen P. Morse's Ellis Island One-Step search form.
If you know your ancestor's port, you can find his passenger record on microfilm at the National Archives and Records Administration, the Family History Library and most large public libraries.
What if you don't know the port? You can narrow the possibilities by researching his life in the United States. You also may get lucky with a searchable immigration database. The subscription site Ancestry.com has one; a version called Ancestry Library Edition is free at many libraries.
My quick Ancestry.com search returned a Canadian border-crossing record (below) for an Anthony Borges born in 1904 in St. Marie in the Azores. This man arrived first in Canada and traveled to Niagara Fall, NY, on Sept. 7, 1933.
This was the first of many matches for people named Antonio Borges, so if the man in this record isn't your grandfather, try an Ancestry.com search.
Answer provided by Allison Dolan