Sign up for the Family Tree Newsletter Plus, you'll receive our 10 Essential Genealogy Research Forms PDF as a special thank you!
Get Your Free Genealogy Forms
"*" indicates required fields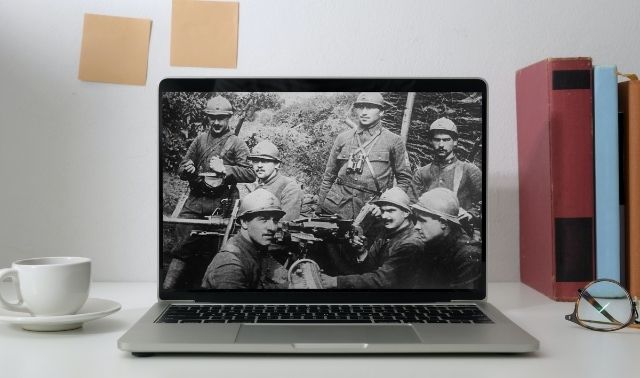 By the time an armistice halted the fighting on "the 11th hour of the 11th day of the 11th month" of World War I in 1918, more than 65 million had been drawn into the war. World War I claimed more than 16 million military and civilian lives and left some 21 million others wounded.
If your ancestor fought in World War I, or even just registered for the draft, you may fear that the records of his service have vanished over the century since the "Guns of August" first sounded. Even as the last WWI soldiers have passed away, however, technology unimaginable in the era they served has made their surviving records more accessible than ever before.
But with so much information out there, where should you start to piece together the story of your WWI ancestor? These 10 WWI websites will make your life easier. They're useful and powerful, and all great places to start researching your military family.
While we've given preference to sites strongest on US records, with a century having passed, it's possible your ancestors weren't yet on this side of the Atlantic when the Great War was fought, so we've also spotlighted some places to look for British, Irish, French, German and other soldiers.
The American Battle Monuments Commission, established by Congress in 1923, commemorates the service, achievements and sacrifice of US armed forces. It manages 24 overseas military cemeteries, as well as 26 memorials, monuments and markers. Nearly all the cemeteries and memorials honor those who served in World War I or World War II. Its WWI database searches the names of 33,717 casualties buried in overseas cemeteries and listed on the Walls of the Missing.
For WWI veterans buried in stateside cemeteries, turn to the Veterans Affairs' (VA) Nationwide Gravesite Locator. Here you can search for burials of veterans and their family in VA National Cemeteries, state veterans cemeteries, other military and Department of Interior cemeteries, and private cemeteries where the grave has a government marker.
A World Explorer membership to this subscription site lets you take advantage of its UK sibling site, making this arguably the single largest concentration of WWI data online anywhere. US records include draft registrations (also available free on FamilySearch.org and on the subscription-site Archives.com), casualties and selected state collections (California, Colorado, Ohio and Kansas). British databases include 1.9 million service records (1914-1920), 5.3 million medal rolls index cards from that same span and military memorial books. You also can explore more than 300,000 New Zealand records from the war. If an ancestor fought on the other side, Ancestry.com has you covered, too, with a database of 8.4 million German personnel rosters.
This British website commemorates the 1.7 million men and women from Commonwealth forces, including England, Canada, India, Australia and New Zealand, who died in the two world wars. They're buried in cemeteries and burial plots, and memorialized in 153 countries across the globe. Search either by name, service and war, or find a cemetery. An advanced search page lets you search on a single term or any combination, including a range for date of death and even military honors and awards. You can now register as a member for free, which lets you save searches and return to them at a later date, sign up for the commission's newsletters and receive information about other new features when they're added to the site.
This lesser-known UK family history site, available on a pay-per-view basis or by subscription, is especially strong on the Great War, including Anzac (Australia and New Zealand) records. Collections include Army and Navy deaths, rolls of honor, the Royal Army medical corps, histories such as the e-book Mr. Punch's History of the Great War, Royal Air Force lists, Navy lists and an unusual 14-volume series titled The National Roll of the Great War, 1914-1918. Each regional volume contains a brief biography of "men and women who largely survived the Great War as well as the less fortunate who did not." It even includes nurses, drivers and civilian war workers—more than 100,000 Britons in all. Typical entries provide the individual's surname, initial, rank or position and regiment or unit, postwar street address and a paragraph-length narrative of service. Here's one example:
LEE W. S. Corporal (Signaller). R. E. He volunteered in September 1914, and in the following March was sent to Egypt, where he took part in the fighting on the Suez Canal. Later he took part in the Landing at Gallipoli, the three Battles of Krithia and other engagements until invalided home suffering from dysentery. On his recovery he was transferred to Mesopotamia and during his service in this seat of war, was in engagements at Amara and the capture of Baghdad. He was demobilised in August 1919, and holds the 1914-1915 Star and the General Service and Victory Medals. 6, Nancy Street, Chester Road Manchester Z10669.
Though richer in resources for other conflicts, this free website stands out here for its access to US WWI draft registration cards—more than 24 million record images, mostly searchable (indexes are not yet complete for nine states). Congress passed the Selective Service Act May 18, 1917, and 4,648 local draft boards in 52 states and territories began registering young men. Even if your ancestor was never drafted, if he was between 18 and 45 during the United States' brief involvement in the war, he would've participated in one of three registrations:
June 5, 1917, for all men between the ages of 21 and 31
June 5, 1918, for those who had turned 21 in the past year (a supplemental registration, filed with this second batch, covered men turning 21 by Aug. 24, 1918)
Sept. 12, 1918, for men ages 18 through 45 not previously registered
The information collected on draft cards varies, but includes some genealogical gold. The first round of registration used what's sometimes called the "12-question card," which asked about name, age, address, birth date and place, citizenship status, employer, nearest relative, race, physical appearance, occupation and any exemption from the draft that was claimed. The second registration, using the "10-question card," removed questions on occupation and draft exemption. The third go-round increased the number of questions to 20, including several for a more detailed physical description.
Besides these draft cards, FamilySearch has excellent research guides to WWI records, including links to state sites.
This British-born subscription site includes US records, but for the Great War it's strongest on the UK and Commonwealth. The National Roll of the Great War is here, too, along with databases of 1914 to 1919 soldiers' deaths, ships lost at sea, Distinguished Conduct Medal citations, the 1918 Royal Air Force Muster Roll, Royal Navy casualties and service records, and Royal Navy officers and volunteer reserve medals. Collections that span longer periods include databases on British Army service records (to 1915), London volunteer soldiers and military nurses. You can find Irish ancestors in the National Roll of Honour and Ireland's Memorial Record: World War I collections, and coverage of Anzac records is extensive.
Belgium was a primary battlefield of the war, as captured in the poem "In Flanders Fields" by John McCrae. The In Flanders Fields Museum in Ypres commemorates the more than 600,000 dead who fell here, the more than 425,000 graves and names on memorials, and the hundreds of traces and relics in West Flanders front region. Links on this site provide virtual tours of museum exhibits such as "War & Trauma: Medical Care in WWI" and let you search an online catalog of books, newspapers, personal and theme folders, and audiovisuals. A newly launched List of Names project displays, day by day, the names of people who died exactly 100 years ago.
Of particular interest to genealogists is the online casualty database in the museums' Research Centre. Links here lead to separate databases for casualties among Belgian, French, British Commonwealth, German and American soldiers; Belgian civilians; other casualties; and the latest collection, Ireland's Memorial Records. This new Irish database draws on an original copy of eight leather-bound volumes, published in 1923 and containing 49,000 names. The Research Centre has corrected details about the Irish soldiers' deaths and burials (more than 10,000 of the men listed as having died in France actually fell in Belgium), and made the contents searchable. All the Irish records, including those of soldiers who died elsewhere than in Belgium, will be online by the end of 2014.
Only about 1,000 American soldiers are linked to a death on Belgium soil; the 400-some buried in Flanders Field Cemetery are listed with additional detail, including date and place of birth. The British Commonwealth database, on the other hand, commemorates nearly 200,000 who fell in Belgium. Relatively few French soldiers are buried in Belgium, but the project is currently screening data on 1.4 million files to identify those who died there.
More than 130,000 German war dead are represented. Note that the Flanders site draws upon the National German Military Grave Registration Service, a database of more than 4.7 million names of missing and dead German soldiers from both world wars. The search form is in German and requires a free registration.
If you have relatives from the United Kingdom who fought in World War I, this site is a must for its helpful record-by-record guides, online catalog and service records and papers. You can search WWI army medal cards for soldiers who received a campaign medal or gallantry award; search and download a selection of service records for the Royal Navy and the Royal Air Force; search the Cabinet Papers website for documents concerning decisions and discussions before, during and after the war; and download a selection of British Army unit war diaries. You'll also find a complete guide to records kept at the archives in Kew. To explore UK pension records from the war, see the guide here.
This unofficial but exhaustive site includes "Trenches on the Web," an online history and library of the war with sections on weapons, maps, photos, timelines, biographies and more. Or focus on the American military experience in the war by clicking on the "Doughboy Center," with information on land, air and naval operations, personalities and veterans, weapons, uniforms, logistics and traditions. You also can read the free monthly online magazine, The St. Mihiel Trip-Wire, which covers "the battles, weapons, personalities, literature, art, diplomacy and politics of the war," along with news of centennial commemorations. Or subscribe to Over the Top, a monthly full-color, printable e-magazine produced in association with Military History Press; it "gives fresh looks at the significant personalities and events of the war—both the well-known and forgotten."
Learn all about the war at this Brigham Young University site, an archive of primary documents assembled by volunteers of the World War I Military History List (WWI-L). International in focus, the archive includes soldiers' diaries, a biographical dictionary, official documents, images, collections on the maritime war and medical aspects of the war, and links to other sites. You can browse the documents by year or by category.
Diaries archived here range from those of statesmen like French Prime Minister Georges Clemenceau to everyday soldiers on both sides. You'll find "Marine Flyer in France: The Diary of Capt. Alfred A. Cunningham," Gerhard Friedrich Dose's diary of service in German Infantry Regiment 187 in the Romanian campaign of 1916 to 1917, German verses from the trenches, even deserters' accounts. Images include zeppelins, gas masks, nurses' gear, cemeteries and weapons.
Canadian WWI Records
As part of the British Commonwealth, Canada entered the war in 1914, long before the United States. An index to 600,000 Canadian Expeditionary Force (CEF) soldiers, nurses and chaplains is available online. Library and Archives Canada has undertaken the digitization of all service files of CEF members. These will be accessible as the project progresses, with completion expected in 2015.
More WWI Websites
We've highlighted a few of the best history and background sites where you can learn more about the war, but the web has many more. Here are others worth checking out:
A version of this article appeared in the the July/August 2014 issue of Family Tree Magazine.