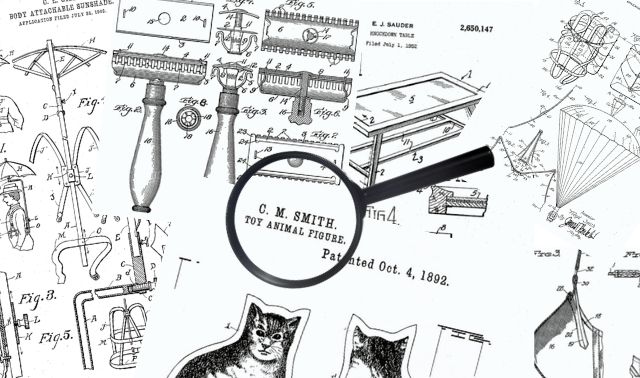 Several years ago, genealogist Midge Frazel began investigating family stories that her late father-in-law, Wilbur H. Frazel, was an inventor. Her husband Steve "had observed his father working in his home office on a patent," Midge says. "Steve's brothers knew little about their father's work. He took work-related things to work on at home and then took them back." The details of what he was working on—and what credit he received for his creativity—were a mystery to his own children.
Frazel recognized a sleuthing opportunity when she saw one. A veteran genealogist who's been researching since grade school, she turned to online patent databases to flesh out the vague family memory. Then she widened her investigation to learn more about the man behind the machines. Eventually she was able to share details of Wilbur's career with his children, including the breakthrough design that likely earned him the moniker of "inventor."
If you're curious about the creative juices that flow through your family tree—or you feel inspired by an ancestor's ingenuity—you can make some amazing discoveries of your own. Follow this basic formula to trace an ancestor's career through the patent process and beyond.
Clues to a creative past?
Genealogists are typically cautioned against putting too much stock in family lore. But hearing a story about how "crazy Uncle Charlie used to tinker around in the garage building things" or being told that an ancestor was "creative" or "handy" could be clues to the innovators or inventors in your past. You also might find clues to an ancestor's inventiveness in a letter, newspaper story or local history.
Businesses that produced goods often improved upon them, too. Did your family run a lumber mill, cannery, dress shop or the like? Or did an inventive relative work for such a business, especially as a carpenter, mechanic, wheelwright or other skilled tradesman? An employee might've been required to assign his patent to an employer, but patent records will still exist, and the patent likely includes your relative's name.
Farming ancestors may have invented implements to improve their work output. Keep an eye out for old cast iron objects, machines or "spare parts" hiding in a family basement or shed, especially if they seem to have been passed down through the generations. Look for labels or markings on the items. A stamped six- or seven-digit number, perhaps accompanied by "PAT" and/or a date, indicates a patent number.
How to locate a patent
In the United States, the US Patent and Trademark Office (USPTO) issues patent numbers. You don't need to know the patent number for an invention in order to find the patent documentation, but it can be useful. Start researching an ancestor's inventions in these three major online resources:
Genealogists will want to start with Google's free patent search tool,, launched in 2006, which lets you search the full text—including the name of the inventor or invention—of US patents back to 1790. It indexes not only patents from the USPTO, but also from the European Patent Office, World Intellectual Property Organization and other such offices worldwide. (You can see the number of documents from each patent office by clicking on "around the world" on the main search screen.) When you search in English, Google Patents will translate non-English text to include in your search results.
You can read the full text of all US patents and view documents with the creator's illustrations. This is how Frazel learned about Wilbur's inventions. Typing Frazel into Google Patents turned up a chlorine residual controlling system, a gravimetric feeder and more. The most meaningful invention to Frazel and her husband was "Apparatus for determining weight of material on conveyers." The patent was assigned to Wilbur's employer, Builders Iron Foundry in Providence, RI. "It is probably the one where he started being considered an inventor after having been with the company since 1938," says Frazel.
The Google Patents interface recently experienced some tinkering itself. Now on the home page, you can check Include Non-Patent Literature. Searches will tap into Google Scholar <scholar.google.com> for additional documentation, which could include other patents of the same inventor, other inventors' patents that refer to this one, and evidence that the invention already existed at the time of the patent application. This is called "prior art."
Once you have a patent number, you can order a copy of the file wrapper from the USPTO for a fee. This is a folder of all the application papers for that patent and includes any documentation between the patent examiner and the applicant or his or her attorney. You may even find documentation about the commercial
success of the invention. Read ordering information here.
This site has a patent search but it's more limited than Google Patents. Full-text searching is available only for patents issued since 1976. You can search pre-1976 patents only by patent number, date and the classification category of the item at the time of application. First, select Quick Search under PatFT Patents; enter search terms and the specific field in which to search for them. Then indicate whether to search patents since 1976 or the entire database, and execute the search. If you wanted to find the patent for "Flying Machine" by O. and W. Wright, for example, you could search by patent date (May 22, 1906) or number (821393). You'd be able to view and download the entire document or each section individually: front page, drawings, specifications and claims.
Ancestry.com subscribers can search a database of US patents through 1909. Search with a name, date, place and keywords. Search results link to any available images of patent documentation. While it won't capture patents after 1909, this database gives you an easy way to attach evidence of inventive ancestors' patents to individual profiles on your tree.
Remember that optical character recognition, the technology used to carry out keyword searches of scanned documents, isn't 100 percent reliable for older print materials. If you're pretty sure a patent exists, try searching by different parameters until you find it.
Genealogy Information from Patent Records
A patent may or may not have landed your ancestor on Easy Street, but the documentation may prove a gold mine of genealogical information for you. Many patents contain standard details plus additional clues that can help you flesh out a family story. Some files may include a page of corrections at the end, but it cost the inventor an additional fee to file corrections, so not every error was corrected. Watch for data such as:
Name and address of each inventor: You may discover a maiden name or evidence of name changes. Remember to search for your relative's name under various spellings. If your ancestor held several patents and moved over time, you may be able to map out a timeline of his or her movements between cities or states
Picture of the invention and signature: In some cases an attorney may have signed on the inventor's behalf.
Citizenship status: If your ancestor submitted several patents over time, you may see a change in citizenship and its approximate timeframe.
Assignee: Inventors sometimes transferred ("assigned") their legal rights to the patent to another person or an
organization, such as the inventor's employer. This could provide you with clues about your ancestor's occupation and place of work.
Executors: In the case of the inventor's death, a relative may be listed on the patent as the executor or administrator. Watch for the relationship between the inventor and the executor (widow, child etc.), the executor's occupation, citizenship, a list of heirs and other useful information.
Discover More Information
Once you've located a patent, use what you've learned to seek out more information in newspapers, yearbooks, directories, local histories and books.
Newspaper articles may have celebrated your ancestor's achievement in a news article, profile or obituary. Search millions of newspaper pages for free at Chronicling America, Google News Archive or Old Fulton New York Postcards (which actually has a huge collection of newspapers from New York and nearby states); or use Elephind to search multiple digitized newspaper websites at once.
Subscription sites GenealogyBank and Newspapers.com also have additional coverage not included in the free sites. The Online Historical Newspapers Website is a free directory of online papers for the US, with some resources for Australia, Canada, Ireland and Mexico.
School yearbooks may contain a relative's photo and point toward additional school records. Frazel found a yearbook photo for her father-in-law, a 1935 graduate of Brown University in Providence, RI, stored away at home. Pushing her discovery a step further, Frazel added "Brown University" to her father-in-law's name in an online search and discovered a short obituary from the Brown Alumni Magazine, which includes mention of several of his patents.
That yearbook is in Ancestry.com's collection of US School Yearbooks, 1880-1999. Also look for yearbooks on MyHeritage, Internet Archive, Classmates.com, in public and school libraries, and on eBay.
Annual city directories can also help you learn more about a relative's work history in addition to his residence from year to year. Look for that person's residential listing to see whether an occupation or employer is listed. If you know the name of an employer, look for a business listing or advertisement to learn more about the company, too. Ancestry.com has an enormous collection of online city directories, and MyHeritage has directories along with local histories in its Compilation of Published Sources Collection. Offline, look for directories in local libraries.
If your ancestor's town or county has a published history, see if the book credits its hometown inventors. You may also find a description of the business or industry with which your ancestor was affiliated. Check Google Books or with the library, genealogical or historical society in your ancestor's hometown.
Even if your grandfather didn't invent tools he used in his job as a millwright, you can still learn to appreciate the apparatuses and innovations that improved his quality of life. Read about them in books such as Stories of Useful Invention by S.E. Forman, available on Internet Archive, or Inventors & Inventions by Henry Robinson, available at HathiTrust Digital Library. Or learn more about the creative environments that surrounded your forebears in The Geography of Genius: A Search for the World's Most Creative Places from Ancient Athens to Silicon Valley by Eric Weiner (Simon & Schuster).
Finally, don't let your new finds sit idle. Channel your innovative ancestors by creating a fitting tribute to their work. Tell their stories in a photo book or turn their illustrations into wall art. Then share it with your relatives, who may know as little about your family's creative legacy as the Frazel boys initially did about their father's.
Trademarks and Copyrights of Ancestors
Trademarks
If the old family business carries a company logo, distinctive name or labeled products (maybe Great-uncle Luigi's wines?), trademarked genealogy may be waiting for you. The Official Gazette of the United States Patent and Trademark Office chronicles business marks such as the familiar Coca-Cola symbol—others may be from your past. To access the Trademark Electronic Search System (TESS), go to www.uspto.gov/trademarks and choose Trademarks from the Select a Search Collection pull-down menu.
Copyrights
Your pastor-ancestor's solemn church hymns or the drawing-room comedy of your distant cousin's stage plays might still exist among the 120 million-plus books, periodicals, broadsides and other literary works at the Library of Congress.
Though copyright may conjure up thoughts of best sellers, even budding authors who were never formally published would routinely submit deposit copies of their work to secure copyright protection. Today, the records of the US Copyright Office catalog the only extant copies of countless obscure books, pamphlets, song sheets and other Americana dating back to 1790. The Copyright Card Catalog contains more than 41 million cards covering the period from 1870 to 1977 alone. Imagine how many descendants those authors have today!
Unlike patents, most copyright records aren't available via the Internet. Getting them requires either a visit to the Library of Congress or the purchase of search services directly through the Copyright Office. Either way, if you've heard tales about a family author, or suspect that cousin Wilberforce once created a board game, your first step should be to visit the US Copyright Office Web site and click Search Copyright Records. You can search by author, title, registration number or keyword term, or do a combined search of all categories. The office's Certification and Documents Section can provide you with copies of an original work.
This information was written by Nick D'Alto and appeared in the April 2004 issue of Family Tree Magazine.
Patent Research Resources
Organizations
Library of Congress Copyright Office
Patent and Trademark Depository Libraries: Find the repository nearest you in this state-by-state list.
US Patent and Trademark Office
Books
The Evolution of Useful Things by Henry Petroski (Vintage Books)
A History of the Early Patent Offices: The Patent Office Pony by Kenneth W. Dobyns (Sergeant Kirkland's)
Patently Female by Ethlie Ann Vare and Greg Ptacek (John Wiley &, Sons)
Peculiar Patents: A Collection of Unusual and Interesting Inventions from the Files of the U.S. Patent Office by Rick Feinberg (Citadel Press)
Websites
American Society of Appraisers: Search for an appraiser to evaluate your antique device or locate an ancestor's invention.
National Inventors Hall of Fame: Look at inventors and inventions through the ages.
Rothschild/Petersen Patent Model Museum: Get a taste of patent-model history and peek at some of the museum's 4,000 patent models.
Smithsonian Institution Patent Models: You can peruse more early patent models here.
This resource information was written by Nick D'Alto and appeared in the April 2004 issue of Family Tree Magazine.
Related Reads