Sign up for the Family Tree Newsletter Plus, you'll receive our 10 Essential Genealogy Research Forms PDF as a special thank you!
Get Your Free Genealogy Forms
"*" indicates required fields
Most genealogists begin using Evernote because they want to better organize their research. Indeed, there are so many ways of taking advantage of Evernote organization tools to keep track of and record your family history. Evernote can also help you create and manage to-do lists and reminders, and cross-reference items to make them easier to find. Join our 4-week online course to learn all of the ways Evernote can keep your research organized so you can concentrate on your next search.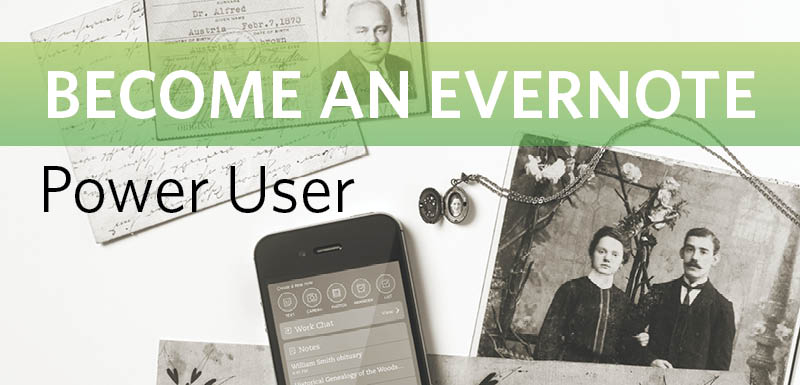 Gather the Evidence
While Evernote excels at organizing your research results, you can also use it to record and create sources. There are all kinds of note types, from text files and checklists to audio recordings, videos, PDFs and photographs. You can take a photo right into Evernote using your smartphone or tablet or record an interview with your oldest living relatives straight into the note.
Try it: If you have an older relative or two that you'd like to interview but they're a bit camera shy, record an audio interview. They may be more comfortable without seeing a camera in their face. Just open a new note, choose Record Audio or click on the microphone, and set the phone down between you, and start asking questions to get them warmed up.
Make the Evernote Organization Structure Work for You
Here's one type of Evernote organization structure: Create a note for each research log, record, to-do list, etc. concerning your ancestors. Then, create a notebook for that person or for a surname. That notebook can house all the notes for their records – including a table of contents. Finally, build a stack with the notebooks of all the people or surnames in that branch. For example, I have stacks for each grandparent, with notebooks for each surname containing notes on each person – and each person has their own table of contents.
Of course, there are plenty of other ways you can use notes, notebooks and stacks to work best with you. Create notebooks for different types of records and stacks to organize them into vital records, immigration, census, land records, etc. while tagging the notes with the names of your ancestors.
Use Tags to Cross-Reference Your Research
Tags are handy little labels you can add to each note. For example, if you have a census record with seven names on it, tag the record with each name – that way, you can have one record for seven people. You can also tag by the record type, date, occupation, location… all handy ways to cross-reference. Then, if you're searching for a specific record, you can look either by tag, or use the search to pull up everything with that word or name. You can read five different ways instructor Kerry Scott uses tags in this article.
Set up a Genealogy To-Do List
Probably the Evernote organization tool I use most is the checklist function to create To-Do lists for my ancestors (though it's great for grocery lists and setting up courses, too!). I have checklists that I use for searching for records when I'm at a repository or online, and a To-Do list that functions as a research log for each person I'm researching. It's a great way to tell at-a-glance if I've already found something I'm looking for and determining my next step. And because Evernote syncs between devices, I can use the same checklist whether I'm on my laptop or out with my phone.
Bonus tip: You can easily create a template for a records list or research log, then duplicate it for each ancestor.
Clip and Save
The feature I probably use second-most: Web clipper. This handy extension lets me take a screenshot of a website and article and grabs the URL. Just purchased a record from a repository? Use web clipper to capture the receipt screen. You can tag and add it to a notebook right from there. Found an article online about your WW2 ancestor's division or another event that impacted your ancestor? Clip the entire article and save it with their records.