Sign up for the Family Tree Newsletter Plus, you'll receive our 10 Essential Genealogy Research Forms PDF as a special thank you!
Get Your Free Genealogy Forms
"*" indicates required fields
Ease of Use
Family Tree Maker 2017 is generally easy to navigate and use. Its layout, combining pedigree, family and individual views, plus a name index on one screen, hasn't changed much since the 2010 version. Click the Help tab for tutorials, a user guide and help files. MacKiev provides email and live chat support.
New color-coding tools let you apply up to eight colors to a person. You could apply a different color to ancestors in each grandparent's branch, or assign a color to all of a person's descendants. You can also apply colors based on criteria such as town or year of birth. Colors appear in tree view and the name index.
File Management
While previous versions often took a long time to launch, Family Tree Maker 2017 starts up reasonably fast, even with a large family file.
MacKiev, Family Tree Maker's new owner, has introduced the FamilySync tool to synchronize the Family Tree Maker family file on your computer with an Ancestry Member Tree on Ancestry.com. This gives you the software's functionality and the online tree's sharing and research hints. Family­Sync replaces the TreeSync technology that was in Ancestry.com's versions of Family Tree Maker. TreeSync no longer works; you need Family Tree Maker 2017 to sync an Ancestry Member Tree.
Optionally, sync Ancestry Citation Media, such as census images attached to your online tree, with Family Tree Maker. This saves the images to your computer, so you'll have access even if your Ancestry.com membership expires.
You might wonder how syncing to Ancestry trees compares with competitor RootsMagic. Family Tree Maker is faster, letting you sync larger chunks of information. RootsMagic requires you to compare and resolve discrepancies one by one. I prefer this more precise, though time-intensive, approach.
Charts and Multimedia
Family Tree Maker creates outstanding, customizable wall charts, including hourglass, bowtie and fan styles. Family tree templates include images, borders and fonts that help you quickly design an attractive chart. The templates can be hard to find: Click on the Use Saved Settings icon (second from the right) and then on Custom Template, and hit OK.
The new Faded Photo Repair Tool easily restores photos by applying a light, moderate or intensive repair. You also can manually adjust brightness, contrast, saturation and sharpness.
Documentation and Publication
Most genealogy software automatically includes all facts in reports, but you have to take extra steps to do this with Family Tree Maker.
Searching
Family Tree Maker now automatically searches the free Family Search Family Tree. (Searching historical records on FamilySearch is coming.) You can save matches to your tree. Family Tree Maker creates source citations to the Family Tree, but they don't usually include all the right information in the proper format and may not be linked to the relevant facts.
In a major change, you now must synchronize your tree with an Ancestry Member Tree to get hints from Ancestry. (RootsMagic users also have to sync with Ancestry to get WebHints.)
The Verdict
Family Tree Maker is a very good all-around genealogy program. If you already use it and want to sync your trees and keep getting hints from Ancestry, 2017 is a worthwhile upgrade. If you're new to genealogy software and charting is a priority, Family Tree Maker is a fine choice. Otherwise, consider other programs, most of which are cheaper.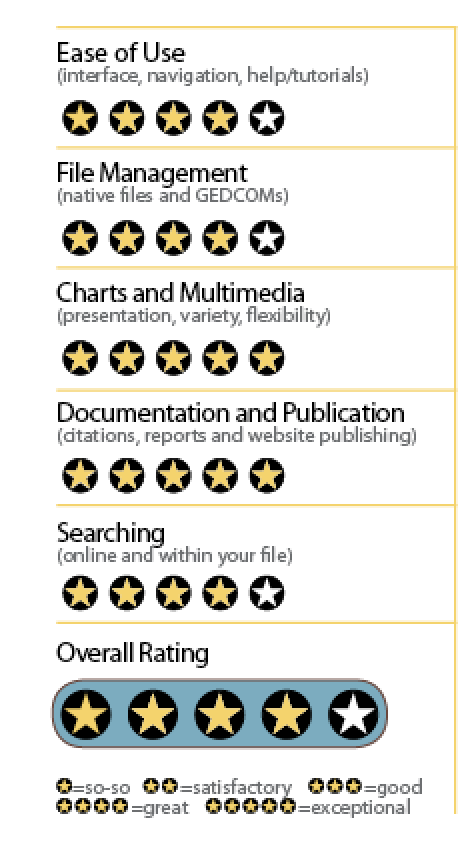 Price: download, $79.95; DVD, $89.95; USB drive, $99.95; upgrade, $39.95
Manufacturer: The Software MacKiev Co.
System requirements: Windows 7 or later, or Mac OS X 10.9 or later Biggest draws: wall charts, syncing with Ancestry, hints for Ancestry and FamilySearch
Drawbacks: price, reports, sharing data with other programs
From the December 2017 issue of Family Tree Magazine.