Sign up for the Family Tree Newsletter Plus, you'll receive our 10 Essential Genealogy Research Forms PDF as a special thank you!
Get Your Free Genealogy Forms
"*" indicates required fields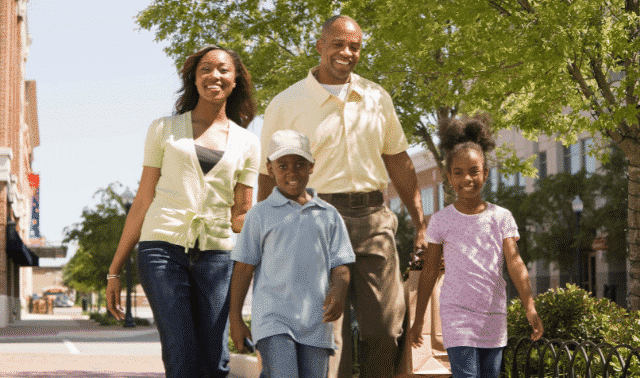 Tired of the same old traditional reunion activities? Had enough of simply talking about your dead relatives? Liven up your clan's next gathering with a family history tour: a guided exploration of the old neighborhood, including visits to family homes or farms, workplaces and houses of worship.
"It's one thing to research family history and look at it abstractly," says Family Tree Magazine contributing editor and professional researcher Maureen A. Taylor: "But when you're standing in front of the house … I think it changes you somehow."
So this year, forgo the sack races and use this guide to research, plan and pull off your own transformative tour. Reunions – and your family – will never be the same.
Choose which relatives to focus on for the trip
Although you can't pick your relatives, the fist step in developing your hometown tour is deciding which relatives to focus your research on. It's best to select just a few people (or a family group) who will be familiar to reunion attendees. To ensure the tour is as entertaining as it is informative, go for the liveliest members of your clan.
Next, begin narrowing down which sites to include on your tour, and compiling stories to tell along the way. Creating a family history outline will help you get started: First, write down everything you remember about your chosen relatives—the city or town they lived in, the church or temple they attended, the businesses they might have owned. Then go through your research files, checking birth certificates, land deeds, old letters, photographs, business files. Jot down relevant information such as birth and death dates, female family members' maiden names, street addresses, names of social groups or organizations your family may have belonged to, and any other interesting facts that might be of interest to tourgoers. And don't stop with yourself. Ask other family members to share any details or stories about these relatives. Once your outline is complete, make a list of the sites you think you'd like to include on the tour.
Not sure which sites to include in your family history tour itinerary? A few ideas for stops along your route:
your ancestors' home, apartment or any other place of residence
family churches or temples
cemeteries where relatives or neighbors were buried
schools relatives attended
the courthouse where they filed their paperwork
train depot your relatives traveled through
buildings where ancestors worked
businesses your family owned
businesses your kin would have frequented (neighborhood grocery, butcher, hardware store, bank)
local library
movie theaters or dance halls
social clubs they belonged to (such as the Elks or the Eagles)
Even if the structures are no longer standing—or they're used for different purposes today—it's still worth visiting the sites: You'll feel a profound connection to your past knowing you're standing in the place your ancestors once did.
Research the locations
Now that you have a list of potential stops, you'll need to place your relatives in a town. To find out more about your ancestral home and other places your relatives may have frequented, family history experts suggest tracing them back in time using a few key resources:
US census records: When it comes to figuring out where your relatives lived or worked, the federal census should be your first stop. Conducted every 10 years since 1790, these enumerations provide a snapshot of a family on a particular day in history. Depending on the census you're looking at, the record will give a variety of information, including the names, ages and occupations of the people who lived in the household, marital status, immigration information and relationships among household members. Because families may have moved, changed jobs or not participated during a particular census year, look at every census during your relative's lifespan to get as complete a picture as possible.
You can search available censuses for free at many public, university and special libraries and at branches of the National Archives and Records Administration (NARA). You also can search records online at HeritageQuest Online (free through subscribing libraries) and Ancestry.com (subscription required).
City directories: "City directories are a great resource," says Lauren Maehrlein, director of education for the New York Genealogical & Biographical Society. Most American cities (and even some rural areas) published directories annually or biannually beginning in the mid-1800s. These alphabetical listings of residents include details such as names, street addresses and occupations.
In addition to resident listings, some — but not all — directories include addresses for businesses and public buildings, maps and advertisements. Maehrlein suggests paying special attention to the ads, which may provide clues about family businesses or reveal details about the surrounding neighborhood. And keep in mind not every locality has city directories. To locate city directories for your family's area, visit uscitydirectories.com.
Telephone directories: If you want to a person or place in more-modern times—say, in the years after the telephone was invented — you might have luck consulting the good ol' telephone book. Try searching the Library of Congress's U.S. Telephone Directory Collection.
Look at old maps of the area to see what has changed over time
Once you've traced your family through time and have compiled a list of addresses, you'll want to look at maps to see how the places your clan lived and frequented evolved over time — and make sure they still exist. Is the old homestead on Shady Lane now a four-lane highway? Was Grandma's one-room schoolhouse spared the wrecking ball and given historic land-mark status?
Arguably the best resource for such plotting is Sanborn insurance maps. Designed to assist fire insurance agents in determining the degree of hazard associated with a particular property, these large-scale (close-up) maps show building footprints and structural details for residential and commercial buildings in 10,000 North American cities and towns. The maps, created in 10- or 12-year intervals, also indicate details such as street names, property boundaries, building use and materials (such as stone or wood), and house and block numbers — even the locations of windows and doors. Each volume includes an index of street addresses and intersections with the corresponding maps for easy navigation.
While Sanborn maps are ideal for tracing a structure's history, many other layers of information can be gleaned from them, says Ed Redmond, a map reference specialist at the Library of Congress in Washington, DC. "You could trace someone's walk from home to the factory or the church and what buildings they passed along the way," he says.
While Sanborn maps aren't the only such reference maps available, Redmond says they are the most comprehensive. You can search the complete collection of more than 700,000 Sanborn sheets at the Library of Congress. Many large libraries in major cities have Sanborn maps for their states, and some university libraries and local historical societies also have limited selections. If your library subscribes to ProQuest's Digital Sanborn Maps 1867-1970, you can view them online. The Library of Congress also has a complete online bibliography for the collection, indicating which repositories house which maps.
Plan your family history tour
You've done your research; now it's time to plan your tour. First, make a list of all the potential tour stops you've identified. Before finalizing your list, contact each site to determine if it's open to the public or if you'll need special permission. Cross any inaccessible sites off your list. Then make a final itinerary of stops, arranged as you plan to visit them — perhaps in chronological order or by categories such as home, work and social life.
While simply visiting these sites will likely be interesting and possibly moving, you can enhance the experience by narrating the tour. Using details from your memories, your research and family stories, create a script. Each stop should include a few interesting facts about the site and its relevance to the family.
Cast yourself as sole narrator or enlist a family member or two to help you. Either way, you'll want to prepare some visual aids to help tourgoers connect to the past: for example, photographs of the neighborhood or relatives at the site, maps of the area or related heirlooms. You also might prepare a program that outlines the tour route and includes select photos and maps (this also serves as a keepsake).
You can get the whole family involved by adding one or more of the following interactive elements:
Have a family member tell a favorite story or memory about a relative or a site.
Create a soundtrack for your tour by playing music your relatives might have listened to at the time.
Stage a re-enactment, complete with period costumes and props, of an event such as Grandpa's wedding proposal to Grandma in front of the giant oak tree, or Aunt Betty the suffragist voting for the first time at the town hall.
Don't just stop at the family church or temple — arrange to attend a service.
Send young children on a fun and informative treasure hunt. At each stop, ask them to find a family history related object, such as a date marker on a schoolhouse or the initials Grandpa carved in a tree. Award a prize to the child who finds the most objects by the end of the tour.
Using tour sights and sounds, as well as their imaginations, older kids can write a skit about children their age who might have lived during a particular time in your family's history. Ask them to perform it for whole family at the end of the tour
In addition, living history museums, working farms, historic houses and other related institutions will greatly enhance your family's experience. If one of these destinations is in the area, consider making it a tour stop.
Before you grab your family and head out, consider a pre-reunion visit. This will help you determine logistics: how you'll get to the neighborhood from the reunion site; whether you can walk to each tour stop or if you'll have to arrange for a van or other group transport; and whether the area is safe. It also will allow you to scope out really important things – such as where to go for lunch. If you or another family member can't make the trip in advance, contact one of the sites on your tour or the local historical society for some guidance.
Then, with the research and planning behind you, it's finally time to stop poring over papers, photos and maps and start experiencing your living history. We bet you won't miss the sack races.
While taking your family on a tour of the past, don't forget to document the present. "When you take people back, it's an experience of the moment," says personal historian Donna Cold.
To capture those moments for posterity, she suggests recording them. But Cold, who uses recorded interviews as the basis for creating family history books, says you needn't go to great lengths to record archival-quality audio. Instead, she advises you make a basic recording, then try one of these memory-making ideas:
Transcribe the recording and make "keepsake" copies for the whole family.
Choose one special moment to transcribe, then put the text in a scrapbook alongside photos from the tour.
Pull out and transcribe the stories family members told and use them to write your own family history mini-book.
From the July 2007 issue of Family Tree Magazine.