Sign up for the Family Tree Newsletter Plus, you'll receive our 10 Essential Genealogy Research Forms PDF as a special thank you!
Get Your Free Genealogy Forms
"*" indicates required fields
Jump to:
How to Find Free Records at Each Site
Free US Genealogy Records
Free State Genealogy Records
Free Military Records
Free Immigration and International Records
Other Free Features on Subscription Sites
Related Reads
Annual costs of membership to Ancestry, MyHeritage and other genealogy websites can add up. But by looking in the right place, you can sneak up on several free collections for non-subscribing visitors. Some include indexed images, and others have indexes that link to images (sometimes free, sometimes fee-based) at other websites.
We've gone undercover and scoured the web to find the paid sites' most useful free collections. Some have a narrow focus—such as a single city—while others contain millions of records. Several are free to search on multiple sites.
In making our selections, we prioritized collections that connect you to digital record images or record transcriptions, but several handy index-only collections are included as well. In most cases, you'll need to register or log in with a free account on the subscription website to access the databases (and especially any associated images).
How to Find Free Records at Each Site
Select Only Free Databases underneath the search bar. This will return just results that you can view without a subscription.
The search form at the top of the page allows you to search all free collections at once.
View a summary of free collections here.
Select the military conflict you're studying (from Browse Military Records on the main menu). You'll see a list of databases in the Publications column; free collections have a green "Free" tag.
Free record collections are marked with a green "Free" tag.
Free US Genealogy Records
1880 US Census
The 1880 US census was the first to include individuals' relationships to the head of household. The census forms also provide each person's name, sex, race, marital status, birthplace, parents' birthplaces, occupation and more. Search results link to record images.
1940 US Census
The most recent extant US census is also searchable for free. Search more than 134 million records by name, as well as location, birth year, family member, keyword, relation to head of household, marital status, occupation and more. Results link to record images.
U.S., Naturalization Records, 1840–1957
This collection links you to images of naturalization records, mostly Declarations of Intention and Petitions for Naturalization from Alaska, Arizona, California, Delaware, Maryland, Pennsylvania, Virginia, Washington and West Virginia.
US Social Security Death Index (SSDI)
If your ancestor had a Social Security number and passed away more than three years ago, he or she may be included in this index. (Most entries are for deaths after 1962.) Indexed entries may include the person's name, birth date, death date, last residence, Social Security number and when/where it was issued.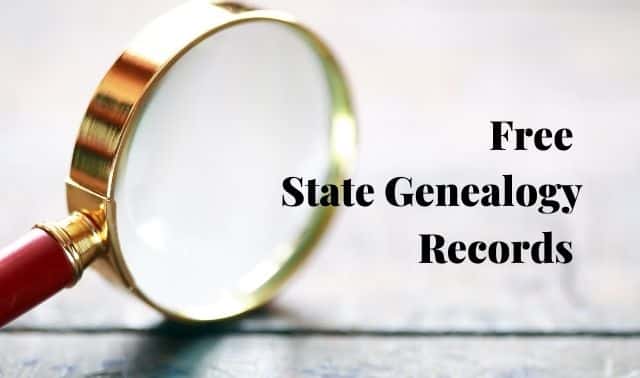 Free State Genealogy Records
Alaska
Search this index to cemetery records by name, birth date, death date and keyword. The database contains 5,600 names of people buried during the 20th century at Fairbanks' Clay Street and Birch Hill Cemeteries.
California
The collection covers nearly 50,000 records from books covering northern California, as well as San Francisco, El Dorado and Tehama County cemeteries. Content varies by card, but typically includes the deceased's name, birthplace, age, birth date, death date, location of death and location of burial.
Louisiana
Search more than 4,000 records of slaves from Louisiana who were legally emancipated. Results may include the document date, slave's name, slaveholder's name, who freed the slave, reasons for manumission, if payment was made to free the slave, and more.
Massachusetts
Search results link to record images from many Massachusetts towns and cities. Search options allow you to select a Record Type to search (e.g., birth, death or deed record).
Access more than 2,200 records from 1720 to 2003 from Gloucester, Mass., cemeteries. Search results provide a transcript of the record, including at least the person's name and cemetery location.
This database isn't about the city in Ohio. Rather, membership in the Society of the Cincinnati was open to military officers of the Revolutionary War. Massachusetts officers eligible to join the society are included in this collection.
Nevada
Most records in this index come from county courthouse records and four Episcopal churches. If your ancestor's county is included (not all are), you can use the information—bride and groom names, marriage date, marriage location and source of the indexed information—to locate or request an original copy of the source listed.
New York
Search more than 24,000 names in New York wills. Results include images of original book pages. Listings typically include the deceased person's name, his wife and/or heir's name, and the names of children and the executor of (or witnesses to) the will.
Ohio and Florida
This unlikely combination includes city directories from both the Buckeye (Lorain County) and Sunshine (Jacksonville and St. Augustine) States. Inside each, you'll find names, addresses and occupations.
Pennsylvania
Search nearly 118,000 records from a variety of documents published in the 1800s. The volumes include colonial records, military rolls, tax lists, church records, land boundary disputes and more.
This collection, provided in partnership with JewishGen, has more than 125,000 records of immigrants who received assistance paying for their passage to America.
Rhode Island
Each issue of this newsletter-turned-quarterly journal from the Rhode Island Genealogical Society contains at least one compiled genealogy, as well as transcriptions of original sources and indexes to various genealogical records. Search by name to find specific ancestors or surnames, or use the Keywords field to search article titles.
Texas
This index contains the name of the deceased, death date, age at death, obituary date and section and page of the obituary. To see the actual obituary, use the index information to locate a copy of the newspaper in print or on microfilm.
Utah
Search more than 350,000 burial records of Utah residents, including early Mormon pioneers.
Virginia
Taken from four publications, this index of vital records information is free—but you'll need an Ancestry.com subscription to view record images.
Washington
This database has grown to more than 13 million marriage records with record images.
Free Military Records
General
More than 242,000 records cover individuals with ties to 24 overseas military cemeteries and 25 other memorials. Results take you to individual memorial pages. You can also search the original American Battle Monuments Commission database.
If your ancestor received this prestigious award, he may be in this database of more than 3,400 individuals. You may find the recipient's name, rank, organization and, perhaps, personal data.
Records here include the officer's name, service dates, rank and death date. The records were compiled by the Navy Department and published in 1901. Results include record images.
Revolutionary War
Provided in collaboration with Fold3, this index includes approximately 80,000 pension and bounty-land warrant application files for soldiers and sailors of the Revolutionary War. Search results provide a Fold3 ID number, pension number, names of individuals, and state.
Search pension and bounty-land warrant application files for men who fought in the Revolutionary War. The database covers 81,000-plus records from 1800 to 1900. Search results provide a basic transcription.
Civil War
Search this index for information on 1.6 million ancestors who served in the Confederate army during the Civil War.
War of 1812
This index includes more than 360,000 bounty-land warrant applications for soldiers who served in the War of 1812, Indian Wars and the Mexican War. You may find information about the soldier's rank, military unit, year(s) of service, state, warrant number and application approval status.
The more than 1.2 million records here include full pension application files for soldiers and sailors, widows and children. Among these records, you can find the serviceman's rank, residence, age or date of birth, and time of service. And a widow's application may include her residence, maiden name, date and place of marriage, names of children, and circumstances of her husband's death.
World War I
True, the United States Navy didn't participate in many battles during the Great War. But this collection is a valuable resource for those researching the 7,200 sailors who died during the conflict.
World War II
Search 1.2 million draft registration cards. Coverage is complete for registrants from Alaska, Delaware, Florida, Idaho, Mississippi and Nevada, and has "good representation" from 19 other states.
Korean War
These records now include 27,000 Army personnel who died and more than 82,000 Army personnel who were injured during the Korean War. Records include prisoners of war and soldiers missing in action.
Free Immigration and International Records
Worldwide
More than a million records in this collection contain information on burial records and specific cemeteries. The free data is provided courtesy of a partnership with JewishGen.
Africa
This society was established in 1817 for free people of color living in the United States, and it sent free African Americans to Africa, often to Liberia. This database has more than 347,000 records from the society.
After Britain outlawed the transport of African slaves to its colonies in 1807, many colonies began to register the "lawfully enslaved" (i.e., those who arrived before the trade became illegal). This collection holds information on nearly 3 million slaves. You may learn the slave's given name, age, gender and nationality, as well as the slaveholder's name and place of residence.
Australia
More than 160,000 people were forcibly transported to Australia from the British Isles and colonies after being convicted of crimes. This index includes the convict's name, age or birth year, birthplace or place of trial, occupation, marital status, ship and arrival year.
Canada
Results from this collection of more than 951,000 records include headstone photos, burial information and birth and death dates.
England and Wales
Here you'll find three free, separate indexes to English and Welsh civil registration records for births, marriages and deaths, covering records from 1837 to 1915.
Germany
This databases indexes more than 65,000 death certificates from July 29, 1941, to December 31, 1943. Search results provide the person's birth and death dates and locations, and their last residence.
Search this index of 28,000 people who left Baden between 1886 and 1911. Results include the emigrant's name, residence or place of birth, and year of departure.
This index to more than 61,000 names is a great collection to search if your ancestors emigrated from Germany to the United States in the 1800s and early 1900s. Search results show the emigrant's name, age, estimated birth year, place of origin, destination and year of emigration.
Search this collection to find more than 150,000 prisoners of Nazi concentration camps in Dachau and Flossenburg, as well as records in Mauthausen Death Books. Records may include prisoner names, serial numbers and other details.
Ireland
The Boston Pilot newspaper published more than 45,000 advertisements, placed by friends or family in search of "missing friends." They may include name, place of origin, ship and immigration route, family relationships or "missing person's" circumstances.
Lithuania
This index to about 20,000 birth records from 20 Lithuanian towns contains the child's name, parents' names (including mother's maiden name), date of birth, Hebrew date of birth, place of birth, place registered and comments.
Mexico
Search the 12.8 million names to find a person's age, birthplace, marital status, religion, occupation, address and more. View record images (in Spanish) from your search results for free. Note that records for the Distrito Federal (Mexico City) aren't included.
The Netherlands
Covering more than 1.6 million photographed and indexed gravestones from the Netherlands, your search results here provide the deceased's birth, death and burial information, along with a link to the full record on the Graftombe.nl.
These 1.1 million death announcements from national newspapers, prayer cards and funeral cards include the deceased's name, birth date, death date and location, and age at time of death. You'll also find links to the free full information (which may include burial and spouse data) on Online Familieberichten.
Poland
Access more than 27,000 Jewish birth records from this city in Poland. (According to MyHeritage, alternate names for this location are Petrokov, Petrikau and Piotrkow.) Search results include the person's name, gender, birth year and parents' names.
Find birth information such as year of birth registration, town, parents' names and more in this index to birth records on microfilm at the Family History Library.
Scotland
The record transcriptions here include the person's name, age, birth and death information, names of individuals who lived in the household, marital status and source information. Similar free indexes exist for Scotland's 1841 and 1861 censuses.
The information in this index includes more than 19,000 records, which come largely from parish registers in the 17th through 19th centuries.
Other Free Features on Subscription Sites
In addition to free indexes and records, subscription sites may offer complimentary family history tools, though subscriptions may be required to get the most out of them:
Access to online catalogs
Through AmericanAncestors, you can access the New England Historic Genealogical Society's online catalog of its library collections. At Ancestry.com, you can search a catalog of NARA collections that are now available on that site.
Online education
Learn from online how-to articles and resources. Archives.com's Expert Series, though no longer adding new content, has dozens of how-to articles. Ancestry.com's Learning Center offers free tips and advice. You'll find free Research Guides on topics such as major US immigration ports, German civil registrations, Ancestry.com search strategies and more.
Genealogy books
The site has two more key resources on its wiki: The Source: A Guidebook to American Genealogy (3rd edition), edited by Loretto Dennis Szucs and Sandra Hargraves Luebking, and Red Book: American State, County and Town Sources (3rd edition), edited by Alice Eichholz. FamilySearch has its own digital library, which you can find here.
Teasers to related records
As you search free indexes at Ancestry.com, MyHeritage and other websites, additional databases with related content will be suggested along with your results (often on the right side of the web page). Subscriptions are required to fully access these.
Family tree-building tools
Build your family tree for free online at Ancestry.com, Findmypast or MyHeritage. The latter also offers a free downloadable version of its Family Tree Builder software. Use it to keep your master family tree on your own computer and sync it regularly to your online tree.
Versions of this article appeared in the March/April 2016 and 2020 issues of Family Tree Magazine.
Related Reads