Sign up for the Family Tree Newsletter Plus, you'll receive our 10 Essential Genealogy Research Forms PDF as a special thank you!
Get Your Free Genealogy Forms
"*" indicates required fields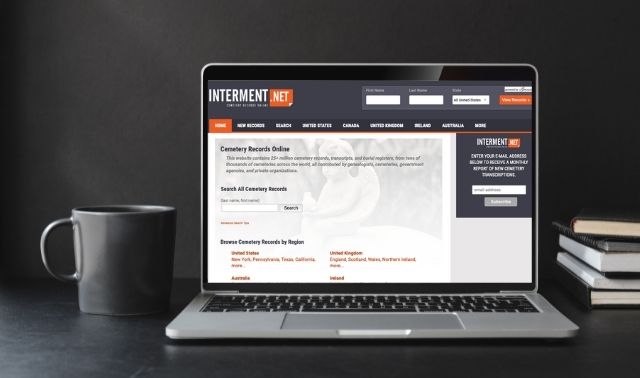 Nearly 25 years ago, genealogy buff Steve Johnson posted a directory of online cemetery records on his personal website. Soon, people began sending him lists of tombstone transcriptions (not just links to them). That webpage grew into Interment.net, a free online resource for transcriptions and other burial-related records.
Today, Interment.net is still owned and run by Johnson. It isn't as well-known or large as Find a Grave or BillionGraves, nor is it crowd-sourced in the same way as those platforms. (Anyone can submit transcriptions, but only the original contributor can edit them.) But it's home to over 25 million burials from the United States, Canada, United Kingdom, Ireland, Australia and beyond. The site documents many burial grounds that no longer exist or stones that are no longer legible.
Here's what you need to know about Interment.net, and how to find your ancestor's tombstone listing on it.
What's On Interment.net
Rather than individual webpages for each burial, as you'd see on Find a Grave or BillionGraves, Interment.net publishes collections (lists) of transcribed burials. So you'll find information on multiple people (often, families or those within a certain part of the cemetery) all on one page.
Transcriptions begin with the name and location of the cemetery; the latter may be in the form of an address, driving directions or GPS coordinates. You'll also find:
the transcription date
source(s) of data
whether the list represents some or all known burials
notes about any updates
the names (and sometimes contact information) of the compilers
Compilers may also add other information you may find helpful. Look for notes on the cemetery's history, owners and current contact information, if it's still open. Some entries include maps or photographs of the cemetery (though not of individual gravestones). You may find comments on the condition of the graves or original records.
Individual burial entries appear as line items in a list. Most often, the lists are in alphabetical order or in the order in which the gravestones appear. The information—taken from the tombstone—includes the deceased's name, death date, and any names and relationships for relatives with whom they're buried. You may also find birth information, descriptive inscriptions (such as "Wife, Mother"), and indicators of military service, fraternal orders or religion.
Sometimes compilers add information from sexton's or cemetery records. Occasionally, a compiler has looked even further afield to document the deceased. For example, contributor Anne Donaldson, who transcribed the British Military Graveyard in Ballincollig, Ireland, also consulted previous inscriptions, church records, death certificates, military resources and local newspapers.
Overall, your Interment.net discovery experience may seem primitive compared to sophisticated, full-service genealogy research websites. But consider the site from the perspective of those who are contributing content. Interment.net can accept transcripts that have already been created (even as out-of-print publications) for an entire burial ground. It's a simple way for cemetery enthusiasts, historical preservationists, historical or genealogical society members, and cemetery offices themselves to share their resources.
How to Search Interment.net
Go to the home page at Interment.net. (The site no longer has a mobile version.) Note that the three-field search box at the upper right will redirect you to subscription site GenealogyBank, a sponsor. To stay on Interment.net, which is free, use one of the site's single-field search boxes. There's one on the home page, though its instructions are outdated. (You don't have to enter your search in the form of last name, first name.)
For a better search experience, click the Search tab. You'll still have just one search box, but the Search Help area presents several sample search formats and the kinds of results they will deliver. Enter any combination of a relative's name, place and cemetery name.
When you run a search, the first several results may be sponsored ads that lead to third-party websites. Stay focused on Interment.net collections by scrolling down to the first entry attributed to Interment.net.
Choosing an Interment.net result leads to that cemetery's transcription, such as this one of Hershberger Cemetery in Bedford County, Penn. You may see more sponsored searches at the top of the page, which lead offsite. Focus instead on the cemetery description and the entries below, which here are listed alphabetically by surname. Ida Dunkle's entry includes a prior surname (Stone), plus dates and places of birth and death. You'll notice several other Dunkles in this cemetery, any of whom could be relatives.
After searching for specific burials, consider returning to the home page for more exploration. You can browse record collections for specific places under the various country tabs, or scroll down to see several Special Collections; the veteran burials are the most populated of these. But you'll also find a few scattered lists from train wreck or airship disasters, or cemeteries that have been flooded when dams were built.
A version of this article appeared in the September/October 2021 issue of Family Tree Magazine.
Related Reads