Sign up for the Family Tree Newsletter Plus, you'll receive our 10 Essential Genealogy Research Forms PDF as a special thank you!
Get Your Free Genealogy Forms
"*" indicates required fields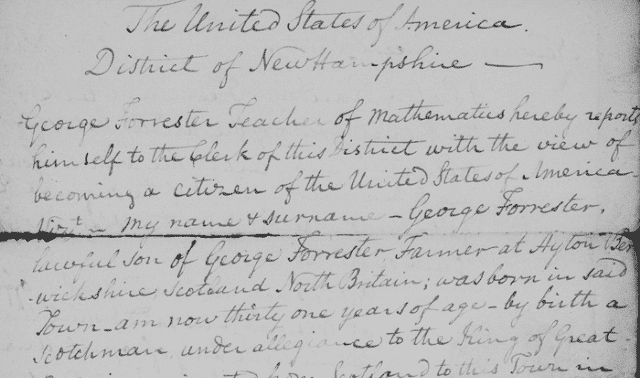 Many researchers will be surprised to learn that alien registration is almost as old as the United States itself. The first alien registration laws were passed in 1798—just a few years after the nation's birth. And with a little luck and the right timing, you can find these early alien registration records for your ancestor.
The Alien and Sedition Acts
As tensions with France flared towards the end of the 1700s, Congress passed the Alien and Sedition Acts. These allowed for the imprisonment and deportation of enemy aliens, as well as the registration of all white aliens living or arriving in the United States (1 Stat. 570, 1 Stat. 577, 1 Stat. 566). The Acts required aliens to provide their "place of birth, age, nation, place of allegiance or citizenship, condition or occupation, and place of actual or intended residence." The government lifted this requirement in 1828 (4 Stat. 310).
Unfortunately, most of these early alien registrations don't survive, likely because of the requirement's short lifespan. However, if you have an ancestor who naturalized between 1816 and 1828, you might find a workaround to this record loss.
Searching for Forresters
Let's take a look at an example to see what these records can tell us. George Forrester was a Scottish schoolmaster and mathematics teacher. He married a woman named Agnes before 1811 and immigrated to Portsmouth, New Hampshire. There, he declared his intent to become a citizen. By 1817, he had moved to Pittsburgh, Allegheny County, Pennsylvania. He naturalized 23 November 1818 at the Common Pleas Court of Allegheny County. The 1820 census specified he lived in the east ward of Pittsburgh with two males under age 10 (presumably his sons), a female age 16–25 (presumably his wife), and two male slaves under 14. While several records (including his petition for naturalization) specified his birthplace as Scotland, none pinpointed the exact town of origin.
An 1816 law (3 Stat. 259) specified that information regarding an alien's registry must be included in his naturalization paperwork. As a result, some naturalization records in March 1816 (in counties with meticulous clerks) became richer with detail.
Fortunately, these records include George Forrester. George's Allegheny County naturalization paperwork included a copy of his 1813 alien registration from Portsmouth. Not only did it specify he was born in Ayton, Berwickshire, Scotland, about 1782. But it also clarified that he arrived in Portsmouth in November 1810. It also named his father (George Forrester) and occupation (farmer).
Accessing early alien registration records
Congress also repealed the 1816 law requiring naturalization paperwork to include registry information in 1828. As such, these unique copies of alien registration are only included in naturalization records from 22 March 1816 to 24 May 1828.
One separate set of these early alien registration records does survive. It relates to aliens arriving into or residing within the jurisdiction of the Eastern District of Pennsylvania (i.e., Philadelphia and the surrounding areas). You can find them on National Archives microfilm (M1639) and also on FamilySearch.
In addition, enemy aliens (British nationals) registered with the government during the War of 1812. Those records are also available as National Archives microfilm (M588), as well as on Ancestry.com.