Sign up for the Family Tree Newsletter Plus, you'll receive our 10 Essential Genealogy Research Forms PDF as a special thank you!
Get Your Free Genealogy Forms
"*" indicates required fields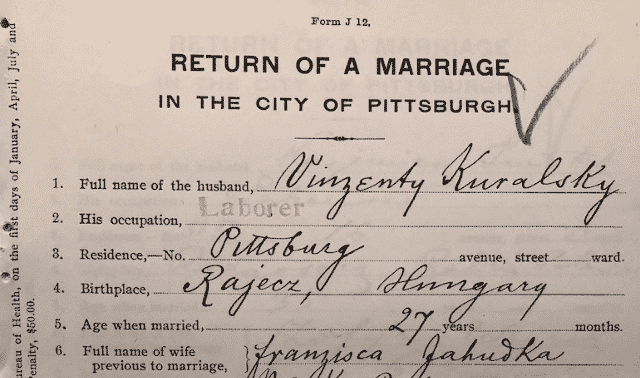 As all genealogists know, we sometimes need to be creative in our searches when seeking information about our ancestors. One of the biggest questions for immigrant ancestors often involves their place of origin, and that answer isn't always easily found on a ship manifest or naturalization record.
Over the next several months, I'll be introducing you to several immigrant families and how I found their places of origin using some unusual, and often underutilized, record sets.
A case of an unspecific origin
Vincent Kuralsky and Franzisca (Frances) Jahudka married August 10, 1903 at St. Elisabeth's Roman Catholic Church in Pittsburgh. Both had recently arrived in the United States. Vincent worked as a laborer with Jones & Laughlin Steel Company in Pittsburgh. He and Frances bought a house at 5015 Ladora Street in the Pittsburgh neighborhood of Hazelwood in 1909. They had one daughter, Agnes.
Vincent's naturalization paperwork specified where he was born (Rayec, Hungary; now Rajec, Slovakia). However, I was interested in determining the place of origin in Eastern Europe of Frances. Their marriage record and Vincent's naturalization paperwork only specified "Hungary", which during this period was likely referred to the Austro-Hungarian Empire. The 1910 census specified "Austria," and the 1920 census specified "Bohemia." So – where was Frances from?
Answers within city marriage returns
An oft-overlooked fact is that multiple copies of the same record were created – or, that multiple records of the same event were filed. While there is a county marriage license and marriage license docket for the Kuralsky-Jahudka marriage, there are also Pittsburgh city marriage returns from 1875-1909. These records were created separately, and sometimes include additional or different information than the others created contemporaneously – it all depends on who was filling out the record and the information requested.
In this case, I was in luck! The Pittsburgh city marriage return specified Franzisca's place of origin as Zeravice, Moravia (now Žeravice, Czech Republic).
Utilizing the information from Vincent's naturalization record and the marriage record, I now have enough information to begin to look for records for both of these individuals overseas.
Always look for another source
The lesson here is to always keep in mind that different records often exist documenting the same event. If you find that there are several copies of the same document – for example, a town copy and a state-level copy sent to the state by the town – it is worth examining all of the records, as there could be different information in each one. Also, look for the additional records that might exist for short timeframes, like the city marriage records mentioned above or non-resident marriage license applications. Even if only a decade's worth of those additional records exist, you certainly want to know about them if your research falls into that timeframe.