Sign up for the Family Tree Newsletter Plus, you'll receive our 10 Essential Genealogy Research Forms PDF as a special thank you!
Get Your Free Genealogy Forms
"*" indicates required fields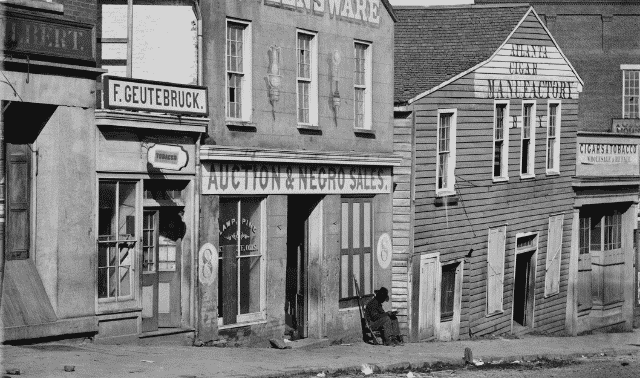 Have you ever searched for ancestors who seemed to leave no paper trail? You know the ones: The nomads who elude the census. The relatives who didn't own property. The women (darn those surname changes!). The quiet folks who never made a ripple—let alone a splash—across the page of a newspaper.
Now imagine searching for ancestors who were not only poor and landless, but weren't even considered people by their government. They came in ships without passenger lists. They would never become naturalized or vote. They weren't named in censuses. They appear in tax records, but only as objects being taxed.
This is the documentary darkness of American slavery. To find an ancestor's name in that darkness can be a long and difficult task. You start by researching more recent kin, but all the while you're looking over their shoulders for evidence of slaveowners who held past generations in bondage. Once you've crossed over into the slave era, you reverse your focus. Now you search for the slaveholders—and look over their shoulders for glimpses of your ancestors.
Of course, not every ancestor of African origin was enslaved. But about 90 percent were. If you have at least one African American branch on your family tree, chances are you'll eventually be doing slave research. Let's get started.
Your Unique History
In 1619, Dutch slave traders sold 20 African captives to the settlers of Jamestown, Va. For Americans with roots in Africa, this marked the beginning of your ancestors' arrival in America. By 1808, when the importation of slaves was constitutionally prohibited, the United States was home to some 1 million slaves.
Your African ancestors were among the nation's original settlers. For nearly 240 years, slave labor helped build America, yet most of these invisible souls have yet to be identified or acknowledged. As their descendant, you can reconstruct the stories of their lives.
After the Civil War, descendants of both slaves and slaveholders suffered collective amnesia. Former slaves rarely spoke of their lives in bondage — most just wanted to forget. Today, however, many African Americans embrace this heritage. African American family reunions have become annual events, bringing together far-flung relatives, renewing interest in often forgotten ancestors and leading many to actively research their family history. Even the millions of Americans with mixed-racial ancestry — estimates of the white population with some black ancestry range from 10 to 24 percent — are digging into their heritage, exploring this lost part of their past.
Because of your African ancestors' unique history in this country, your search for them may pose special challenges. You can use standard genealogical techniques, as presented in every issue of Family Tree Magazine, to trace back to 1870, the year of the first post-Civil War census. But when you hit the pre-Civil War years, the records are no longer in the name of your ancestors but in the names of those who owned them. Even those African Americans freed prior to the Civil War were at some point slaves or the descendants of slaves. Identifying the slaveholding families and locating their records will be the keys to your quest.
These seven steps can help you get started:
1. Start with basic genealogy
Gather trustworthy resources
First, do your homework. Read a good African American genealogy guidebook, such as Dee Parmer Woodtor's Finding A Place Called Home: A Guide to African-American Genealogy and Historical Identity (Random House). Also look for a guide that covers basic techniques of research in American genealogy, such as First Steps in Genealogy by Desmond Walls Allen (Betterway Books) or Un-puzzling Your Past: A Basic Guide to Genealogy 3rd edition by Emily Croom (Betterway Books). Woodtor's interactive guide for beginners on AfriGeneas provides tips on how and where to get started, along with suggested books and links.
Reach out to relatives
Try interviewing older family members. Start by chatting with elderly relatives, along with kin who are family "storykeepers" or who have old pictures or mementos. But don't view these lives as mere stepping stones to the past. Ask folks about their own experiences, families, friendships and accomplishments. Ask what life was like during the Civil Rights and Jim Crow eras. Record the conversation if you can, so you can return to clues in it that may only later seem important.
When the memories are flowing freely, ask what your relative knows about slavery in the family's past. Were any stories passed down? What about slaveholders connected to your family? Don't be discouraged if the person doesn't offer answers or doesn't want to talk about it. Instead, ask questions that will guide your research in the right direction.
Fill out a family tree chart
Try filling out as much as you can on a pedigree chart. This will help determine just how much or how little you know about your ancestors. Collect copies of all family papers, funeral programs, photographs and other memorabilia. Visit the family cemetery, if possible, to check ancestors' names and dates. Use the information you find in all these sources to fill in gaps on your chart.
Now decide which ancestral line to search. Consider starting with the ancestors you have the most information about or whose history is easiest to access. When you've done as much as you can on paper, find and interview the family, beginning with older family members. Failing memories and death claimed much of our history, especially from the slavery years — capture this living heritage while you can.
2. Find post-Civil War records
Census records
As for most Americans, government records are the primary source of genealogical information for African Americans — especially federal census records. Make sure to check the 1870 and 1880 agricultural censuses, too. And don't stop at 1870: Perhaps your ancestors were freed before the Civil War.
Federal censuses can take you back in 10-year intervals to the Civil War era. The 1940 census is only 75 years removed from slavery. So with each census moving backward from there, you'll find increasing numbers of former slaves and their families. The clues will help you reconstruct families: relationships (1880 on); birthplaces (1860 on) and age (1850 on); the number of children a woman had borne (1900 and 1910); how many years a couple was married (1900 and 1910) and more.
Be especially alert when you reach the 1870 census, the first taken after slavery ended and the first to enumerate former slaves by name. Every household member is named, but relationships aren't specified. You may be looking at "families" who banded together after emancipation left them stranded in hostile environments far from blood relatives. A couple or single parent may have taken in—not necessarily given birth to—the children listed in the household.
Finally, look for your relatives in the 1860 and 1850 censuses. If you find them named, it means they were free at the time. If they're absent, they were likely enslaved.
Race identifiers in the census can be helpful if, for example, a relative is consistently identified as "mulatto" (of mixed black and white ancestry) versus "colored." But remember that it's quite common to see a person's race appear different ways over time. Census-takers often guessed based on skin tone, and people may have self-identified their race differently, especially after moving to a new place.
Freedmen's Bureau records
The US Bureau of Refugees, Freedmen and Abandoned Lands, aka the Freedmen's Bureau, was created after the Civil War to deal with the needs of the emancipated slave population. In Freedmen's Bureau records, kept from 1865 to 1872, you may find:
hospital records or registers
labor contracts between freedmen and planters
enrollments for local freedmen schools
marriage registers
lists of food rations
reports of outrages, disputes and court cases brought by freedmen against whites
lists of freedmen and their families
correspondence of local field agents describing the conditions in a particular area.
You may discover other information as well. You can search most Freedman's Bureau Records at FamilySearch.org.
Freedman's Bank records
Entirely separate from the Freedmen's Bureau, the Freedman's Bank was organized after the war to help African American wage-earners manage their money. Bank branches opened in 37 cities, mostly in the South. Signature registers of depositors survive for 29 bank branches. These requested a great deal of genealogical information, such as names of parents, siblings and children; place of birth; age; marital status; and residence. Search these registers for ancestors, other relatives, in-laws, and your known relatives' black neighbors in the 1870 census (you may later discover they had the same slaveowner as your family). You'll find this collection indexed and digitized on Ancestry.com, FamilySearch.org, and HeritageQuest (available through many public libraries).
The Freedmen's Bureau Online has information about related records. You also can use these records on microfilm at the National Archives and Records Administration and major research libraries. Learn more at Archives.org.
Civil war veterans' pensions
Civil War veterans' pension records may also hold clues. (To see if your ancestor was among the more than 250,000 slaves and free blacks who fought for the Union, search the Civil War Soldiers and Sailors System.) As part of the pension process, applicants were required to prove their identity. In most instances, you will find their date and place of birth — which may tell you the city, county or plantation where they were born — as well as marriage records and names and ages of parents and children.
Relatives, neighbors and friends submitted affidavits that may contain information about their relationships to the applicant, perhaps naming a plantation, owner or family connection. Widows had to provide proof of marriage in the form of affidavits or marriage certificates, as well as previous names they may have used. Applicants had to name where they enlisted and their service history, as well as residences and occupations following the war. While some records are more helpful than others, you're sure to find some new or confirming facts here.
Vital records
Gather vital records for all family members (not just direct ancestors) as you work your way back in time. These will help you reconstruct the timelines of relatives' lives and their family relationships. They also may contain clues to the more distant past. Don't settle for indexed versions of a record unless you can't legally access the original. Indexes often contain mistakes and may not include everything in the actual record.
Search first for government vital records kept at the city, county and state levels. Note that recent records might be subject to privacy restrictions. Old marriage records, unless they were lost, are generally available back to the date a county was formed. Many counties and cities began recording deaths and later, births in the decades following the Civil War. State governments eventually took over birth and death registration, generally by the early 20th century.
Our Vital Records chart tells you when statewide registration began for each state. If you don't find your ancestor in vital records, ask local experts whether a separate "colored" register was kept and where to find it. Similarly, be aware that older indexes may be "whites-only."
Other sources of information on births, marriages and deaths can fill in gaps where vital records are missing. They also may give you new or different information. For example, obituaries often include birth information, relatives' names, residences and more. Old newspapers may sketch out the lives of the formerly enslaved and mention relatives from whom they were separated.
Those who applied for Social Security benefits beginning in the mid 1930s filled out SS-5 forms with their birth dates and places, and parents' full names. First, search the Social Security Death Index (SSDI, free at FamilySearch.org) to locate a Social Security number, which confirms that an SS-5 should exist. Note that records for people born less than 100 years ago may be subject to privacy restrictions.
Land Records
If your ancestor was identified as a landowner in the 1870 census, look for the deed(s) to their property. A former slave who owned land soon after the end of slavery may have gotten it from a slaveholder or someone connected with the slaveholder's family. Deeds are usually among county court records.
3. Zero in on 1870
Finding your ancestors in the 1870 census is the first step toward solving the mystery of their years in bondage. After the Civil War, most recently freed slaves remained at or near the place they'd lived before the war. Many who did relocate were reuniting with family they'd been separated from.
This search will probably take you back to a county or parish somewhere in the South. From 1790 until 1900, 90 percent of African Americans lived in the South, mostly in rural areas. For many ex-slaves, the migration northeast, north and west didn't begin until after 1900.
If your ancestors were in the North in 1870, it's possible they were freed prior to the war. Even so, you'll probably have to search for a slaveholder since most free blacks were slaves at some point. Records documenting their freedom were usually recorded in county courthouses in probate or deed records.
If you can't find your ancestors in the 1870 census, it's likely they lived in the same state, county and community in 1880. So make 1880 your focus instead.
The 1870 censuses will help you lay the foundation for your research in other records:
You will learn which ancestors probably were children in 1870 and perhaps the names of one or both of their parents.
You might identify the ancestral heads of household in 1870 and relatives who lived with them.
You might discover other related families living in the ancestral neighborhood in 1870.
You might identify white families of the same surname as your family in censuses from 1870 forward.
You might notice certain white families consistently enumerated near your family in censuses from 1870 forward.
All of these discoveries are important, but the last two will be particularly important in arriving at the name of your ancestor's slaveholder — either through the same-surname approach or by location.
Look carefully at the community where your ancestors lived in 1870. Ask:
Who were your ancestors' neighbors?
How old were your ancestors and their neighbors?
Where were they born?
Are there others in the neighborhood with the same surname as your ancestors?
Do neighboring families have any surnames in common with your ancestors?
Do the ages of your ancestor's children indicate they were a family before the Civil War?
Your answers will help determine if those living in the neighborhood are related or connected in other ways.
4. Determine the given and surname of the ancestor and his or her slaveholder
Unlike other ethnic groups arriving in America, enslaved Africans were systematically stripped of their cultural traditions and social customs when brought to this country. As part of this process, recently arrived Africans were routinely renamed soon after being removed from the slave ship. Until the end of the Civil War, most slaves were identified by first name only. Slaves on the same plantation with the same given names were distinguished by their size, age or color. After the Civil War, newly freed slaves had to choose surnames for official identification. Their reasons for choosing a surname varied and many would change surnames a number of times before settling on a final choice.
Genealogical lineages depend on linking names into family relationships. Researchers use other tools, such as dates and places, to confirm the names in each family in each generation. Successful genealogists, therefore, pay close attention to both given names and surnames within the family and the community, to variant spellings of names and to evaluation of names in documents.
Given names
Though your ancestors' surnames were crucial in recent records, the key to identifying them in your pre-Civil War search will be their first names. Pay close attention to the given names of your ancestors' family as well as those of their neighbors. Compare the names of suspected ancestors you find in any slave documents with those living in the neighborhood in 1870. This may be the only way to establish that they are one and the same.
Slaveholders rarely identified slaves by their formal given names in records; instead they used nicknames. So consider the possible variations of names that may have been used to identify an ancestor. My ancestor James Humphreys, for example, would always be listed as "Jim," Jane Green as "Jenny," Jesse Humphreys as "Jess," Martill as "Till" and Elizabeth Weathersby as "Betsy." Such a thorough and complete review of the 1870 census may reveal the identity of several new and previously unknown generations.
Until the end of the Civil War, most slaves were identified publicly by only a given name. Slaves on the same plantation with the same given names were distinguished by age, size or color ("old Jim" or "young Jim," "big Moses" or "little Moses"). But slaves followed their own naming practices by using nicknames, a practice still common today.
Because of the restrictions imposed by slavery and the lack of documentation on slave culture, naming practices are difficult to verify. Scholars have speculated that naming patterns existed to the extent possible to identify kinship or maintain family ties. If your research has taken you back several generations into slavery, watch for the repeated use of given names, especially if they are unique. As always, compare those names with names of post-Civil War family members.
Surnames
Family historians often assume, mistakenly, that most freed slaves took the surname of their most recent slaveholder. In reality, the surname might have belonged to a prior slaveholder — the first, the favorite or the longest — or the slaveholder of a parent or grandparent. Historian Eugene Genovese observed that former slaves had a "significant reason for going back in time to take the name of the first master they had ever had, or perhaps of the first whom they could remember as having been a decent man: by so doing, they recaptured, as best they could, their own history."
Of course, some families chose surnames with no apparent connection to former slaveholders. Some individuals or families chose:
The surname of a locally prominent family or a famous American.
A name with an occupational link to the bearer — Mason or Carpenter.
A name identifying a personal characteristic — Strong, Brown, Freeman or African.
Perhaps a given name of choice combined with a given name by which the person was known or the name of a parent — James Caesar or John Caleb.
A surname with a possible geographic connection to the family.
A name with a religious or symbolic significance.
As author Joel Williamson put it, a name "for no apparent reason other than the pleasure of the author," including such names as Prince, Captain or Governor.
Different surnames. For example, Will Oats of Mercer County, Ky., told an interviewer that his brothers were Jim and Lige (Elijah) Coffey. Their masters had been Lewis Oats and his sister. Apparently, one brother chose the Oats name, but the other two did not.
Different surnames at different times.
The ancestor's surname might be the clue that opens the door to your family's pre-Civil War history. For some families, the reason behind the choice of a surname is already known, for others the reason may be discovered during their research, and for the majority the reason may never be known. If you already know the history behind your family's choice of a surname, you can eliminate years of tedious and often frustrating research.
In my research, only twice did I discover why my ancestors took their surname, and both took the name of a slaveholder. My great-great-grandfather took the name of his slaveholder-father — my family has always known this. In fact, we have his slaveholder-father's portrait painted in the late 1840s or early 1850s. My 3rd great-grandmother also took the name of an owner, and it was her surname that led to the identification of her owner. Though I've discovered the owners of a number of ancestors, I've still not been able to determine why they chose their surnames.
The slaveholder's surname
Knowing the name of the slaveholding family is essential to move your research to the next level. Those who already know this can skip ahead to step 6. If this information was lost with your ancestors, start with the presumption that they took their former slaveholder's surname. First look at the neighborhood in which your ancestors lived in 1870, then broaden your search countywide, or even statewide if your ancestors' surname was unique, until you've collected a list of candidates. Be sure to include any possible spelling variations of the surname your ancestor was using. Consider going back as far as the 1850 census.
If you don't find the same or similar surnames in records from 1850 or later, proceed to the next step. Otherwise, you may narrow the pool of candidates by checking the slave censuses of 1850 and 1860 to determine if they owned slaves prior to the war. Cross-reference the ages of your ancestors with the ages of the slaves listed in the schedules. (Only age, gender and skin color of slaves were listed in these schedules.) This will either strengthen any possible connection or eliminate unlikely candidates. When checking the 1860 and 1870 censuses, note how much real estate each slaveholder candidate owned, and compare their places of birth with your ancestors'.
5. Study your family's location
If the same-surname approach fails, studying where your ancestors lived in 1870 may hold the key to identifying a former slave-holder. Neither the newly freed slaves nor their former owners ventured far from their pre-Civil War homes immediately after the war. The black population remained heavily rural. In the economic wasteland of the South after the war, former slaves and slaveholders alike faced desperate conditions. Partly out of allegiance and partly from necessity, many former slaves and slaveholders continued their relationships. So even in 1870 your ancestors were probably still living on land owned by their former masters.
Find out who owned the land on which your ancestors lived in 1870 and you're likely to find the identity of their slaveholder as well. (If your search of Freedmen's Bureau records turns up labor contracts for your ancestors, consider yourself fortunate. The contractor and former slave owner are usually the same. In this case, proceed to step 6 and start searching that family's records.) The quickest way to find out who owned the property where your ancestors may have lived is searching pre-1870 county land tax records. Land plat books also may help identify local landowners. (Check the courthouse in the county you're researching, the Family History Library, or the state archives to see if these records exist.)
Many census pages name the township, town, district or nearest post office at the top of the page. Usually, residents enumerated with the same page heading lived in the same general area. As you read the 1870 census, copy down the names of white families living in the neighborhood for five or more pages on either side of your ancestors. Note the value of these families' real estate. If they owned no real estate in 1870, it's possible they didn't own land before the war and are less likely to have had slaves.
Look for other clues to connect your family to a former slaveholder:
If your adult ancestors were middle-aged or elderly and were born in another state, look for white neighbors who were born in that state.
Look at the migration pattern of your family as shown in the birthplaces reported in the 1870 census for family members. If different birthplaces were reported for different individuals, make a timeline showing where the family was when each person was born. Does a neighboring white family mirror that migration pattern?
If your ancestors lived in a Southern town or city in 1870, they also might have been there before the war. In this case, begin with the same process described above, but realize that urban slaveholders generally had few slaves.
1860 and 1850 slave schedules and census records
Next, cross-reference all potential slaveholder candidates with the 1850 and 1860 slave schedules to help narrow the list. If you're unable to locate or access these records, closely examine all the white families living near your ancestors in 1870. At first, consider only those white families with property. Determine if they owned land before the war, were slave owners, and lived in the same place. Your answers will help determine which families will be the focus of your search.
Look also at the names of several neighboring slaveholders on either side of a possible slaveholder candidate in the slave schedule. Since only the slaveholding population is listed in these schedules, you get a fairly detailed view of the slave community as it might have existed before the Civil War. If your ancestors and their family members weren't with the suspected candidate(s), they might have been held by a neighboring slaveholder.
The 1850 and 1860 free schedules asked questions similar to the 1870 census, and none showed the relationship of household members to the head of the household — wife, son, daughter. As you look for slaveholder candidates, these censuses can provide such information as:
the name, age, sex, color, birthplace and occupation of each free person in each free household
the value of real estate a person owned — helpful because most slaveholders owned land
the value of personal estate a person owned in 1860 — helpful because a high value of personal property could indicate slaves in the household
Look at the 1860 free population census to determine what the community looked like prior to the war. If your search reveals that much of the free population in 1870 was there in 1860, the community might not have changed significantly after the war.
6. Research "the other family"
Now that you've determined which slaveholding families warrant further investigation, start researching records left by them. Focus on records that either name slaves or indicate slave ownership. The number of records available will depend on whether the family was a large or small slaveholder. The most thorough and complete records were the business records of large slaveholding families. But these families made up only a small part of the slave-owning population, and finding such private records — if they still exist — could be a challenge.
Probate records
When a slaveholder died, his or her slaves were inventoried and disposed of along with the rest of the estate through the probate process. Owners often willed slaves to children or other family. Enslaved individuals are often identified in wills, estate inventories and other probate records by a first name, gender, approximate age and sometimes market value. Search probate files for members of the slaveholding family (including in-laws) before 1865 to trace ownership back in time and perhaps link to other relatives.
Inventories
Also often part of estate papers, inventories itemized all the deceased's property at the time of death. Slaves would be listed with sex and age.
Account books
The executor of the estate kept account books, which may record when the deceased's slaves were sold—and to whom. You might find them in probate file collections or on their own at historical societies, state archives and in collections of family papers.
Also look for the will of the last known or suspected slaveholder even if it was long after the Civil War, because former slaves occasionally appear as heirs.
Note that not every white Southerner owned slaves, and whites weren't the only slave owners. Little has been written about African Americans who owned slaves, but it appears the practice was common in Louisiana, South Carolina, Maryland and Virginia. Anthony Johnson, a free African and former indentured servant, won a court case in 1654 that, ironically, declared his servant a slave for life. You can learn more about this phenomenon in Black Slaveowners: Free Black Slave Masters in South Carolina, 1790-1860 by Larry Koger (University of South Carolina Press).
Mortgages
A slaveholder could use his slave as collateral for another purchase. The mortgage recording the transaction should include the slaveholder's name, terms of the mortgage, description of the enslaved (first name, gender, age, market value). Look for follow-up paperwork showing the mortgage was paid, or for evidence the slave was sold. In many places, that would appear in deed books and whatever court handled foreclosures.
Estate records
Estate records are a matter of public record and were required for large and small slaveholder alike. Other sources likely to name your ancestor are property records, such as deeds, mortgages and bill of sale records. Personal property tax records, state and federal census records as well as the 1850 and 1860 slave schedules can be used to help track slave ownership over time, but are not likely to name your ancestors.
Estate records of slaveholding families may provide the most comprehensive picture of your ancestors' lives. It could take as little as a few months or as long as 10 years to settle an estate. If you locate an estate document naming an ancestor, research the estate records to see if other ancestors are named. The quantity and quality of information found in these records also will depend on the person making the record. A meticulous record keeper may provide a wealth of information, such as entire family units, ages, births, deaths and skin color, whereas others may provide only generic information.
These records may also provide insight into your ancestors' diet, the clothing they wore, how often they got clothing, their health, and any special skills or trade they may have had. Carefully study all related documents, not just the one on which your ancestor is named.
Manuscript collections
Typically, larger plantations kept meticulous records regarding expenses for clothing or medical care. For these slaveholders, manuscript collections of account books, business and personal papers can prove valuable resources. Manuscript collections can be in various locations: city, county or state historical or genealogical societies; state archives; and public or university libraries. Most societies and libraries publish manuscript collection guides on their websites, so search Google on the slave owning family's name.
Deeds
These papers record the transfer of property on the basis of a sale, gift or trust. Slaves were sometimes transferred via deeds. Deeds are usually in county courthouses, but might have been transferred to state archives. You'll also find some on FHL microfilm—run a search on your ancestor's county and look for the deed records heading.
Because the lives of the slaveholder and slave families are so intertwined, you need to study the owner family's history and genealogy to fully explore your own. Slaves contributed not only to a family's financial worth but also to their status in the community. In many instances, slaves remained in the same family for generations. As valuable "property," they were transferred by inheritance, gift or deed to sons, daughters, sisters, brothers and grandchildren.
Once you find a slaveholder, tracking that slaveholder's genealogy back may help lead to the identity of your ancestors' parents or even grandparents, who may have been in that family for generations. Fortunately, many of these families' histories and genealogies have already been published and can be found in genealogy libraries, archives and on the internet.
7. Slave documents tell a story
Finding a document naming a slave ancestor or ancestors can be a cause for celebration. But your greatest reward may come from the secrets that these documents reveal about your ancestors' lives.
Once you've got a strong lead on a potential slaveholder, it's time to switch the focus of your research to that person and his or her family. Slaves are unlikely to have left records in their own names; any mention of them will most likely appear among the records and stories of the slaveholders.
Several records at the county courthouse may mention a slaveholding family's enslaved "assets." These aren't consistently available on microfilm or online, nor are they always indexed. The records may have been kept in different ways from place to place. So chances are you'll need to go dig for the following types of records in person:
Bills of sale or deeds of gift
Slaves were substantial pieces of property. When a slaveholder transferred them to someone else, a transfer was usually recorded at the county courthouse. Bills of sale included the names of the buyer and seller, their counties of residence, the date of sale and the purchase price. You'll also usually find the first name, gender and approximate age of the slave. Sometimes, especially for deeds of gifts, the deed states relationship between buyer and seller.
Hiring out
Sometimes slaveholders hired out their slaves to work for others, often when a slaveholder needed the money, had no work for that person or couldn't adequately supervise the slave. The two contracting parties were the slaveholder and the person hiring the work; the slave often was described by first name, gender and age. The contract also details the length of the work term, financial terms and often, the nature of the work to be done. Look for contracts like these in deed books or Freedmen's Bureau records. If you don't see them, ask a local expert where they're filed.
Manumissions
A slaveholder filed a manumission (emancipation) with the court when freeing a slave. Search for them in deed books. Oct. 4, 1841, Benjamin Prall filed manumission papers in Mercer County, Ky., "in consideration of the faithful service of my yellow woman Gabriella about twenty seven years old do hereby emancipate and set free said woman and her two children one by the name of James Walls about six years old and the other by the name of Harriett about two years old." The person being freed was identified by name, gender and age. You also may find stipulations on that person's freedom and the motives of the slaveholder. Note that manumissions don't exist for those freed as a natural result of the Civil War.
Court orders
A manumission wasn't always the final document required for freedom: a court order also may have been necessary. A bondsman—often the slaveholder, former slaveholder, relative or friend—may have posted a bond certifying the freed person's good future behavior.
A research strategy alone is no guarantee that your search will be successful. But with good research skills, patience, persistence, good instincts and lots of luck, you can go a long way toward reconstructing the lives of these invisible souls — your forgotten African American ancestors.
Information provided in this article was written by Franklin Carter Smith, Emily Anne Croom, Kenyatta D. Berry, Deborah A. Abbott and Sunny Jane Morton
Information in this article appeared in the February 2001 (Smith), December 2002 (Smith and Croom), January 2010 (Berry) and January/February 2015 (Abbott and Morton) issues of Family Tree Magazine.
---
FamilyTreeMagazine.com is a participant in affiliate programs through Amazon and Genealogical Publishing Co. It provides a means for this site to earn advertising fees, by advertising and linking to affiliated websites.
Related Reads