Sign up for the Family Tree Newsletter Plus, you'll receive our 10 Essential Genealogy Research Forms PDF as a special thank you!
Get Your Free Genealogy Forms
"*" indicates required fields

O.k. I can't avoid it any longer. That big locomotive in the photo is the reason for the picture. On the side of the engine is a letter number combination. NEW-11-18-25. If that last number is a year then we have a likely date for the image. Everyone is in cold weather attire of wool coats and hats.
On the front part of the engine is written "Texas & Pacific." I love when history falls into place. An 1871 Federal charter established the Texas and Pacific Railway Company to link Marshall, Texas and San Diego, California.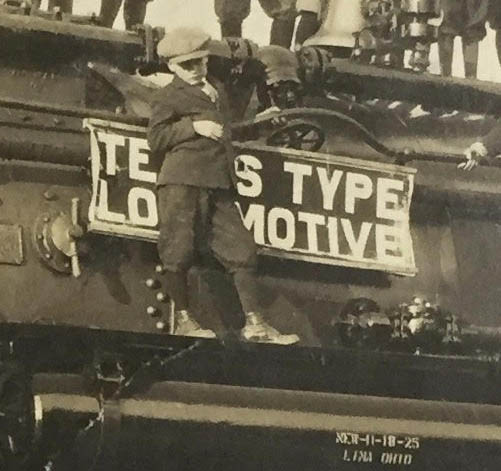 Guess what happened in 1925? The Lima Locomotive Works delivered ten locomotives to the T&P, which classified them Texas-type. That's what written on a sign on the left hand side of the engine. "Texas Type Locomotives." You can read more here. A local newspaper may have more information on this event.
I need a locomotive expert. I know you are out there. Train history is a very popular hobby. So let's crowd-source the numbers.
Case closed?
Not quite. The big question for Clay Nunley is why this picture is in his collection. There could be a family connection to the railroad or Marshall, Texas. Only deep research into his family tree will solve that question.
The photo is in pretty rough shape. It's on thin paper. The best thing to do with this image is to support it on a heavy piece of acid and lignin free card stock larger than the image. I'd also create a special size folder as extra protection.
The best, but expensive, course of action would be to hire a conservator to stabilize this pictorial piece of Texas history.
---
UPDATE: Our Family Tree reader Diana W. shared, "The T&P Depot shown behind the locomotive is in Marshall, TX. It was built in 1912 and is the only surviving structure of 57 buildings on 66 acres. It has been restored and holds a museum, tourist center, shops, etc. and is an Amtrak station. There are several pictures on the internet. Picture owner might be able to learn more from the museum.".
Thank you so much for the helpful information, Diana!
---
If you missed the previous two blogs in this three-part series, be sure to check them out:
A Locomotive Mystery: The Clues are in the Hats