Sign up for the Family Tree Newsletter Plus, you'll receive our 10 Essential Genealogy Research Forms PDF as a special thank you!
Get Your Free Genealogy Forms
"*" indicates required fields

Last week I wrote about the photographer that took a stunning picture of a crowd surrounding a locomotive. This week the focus is on the clothing.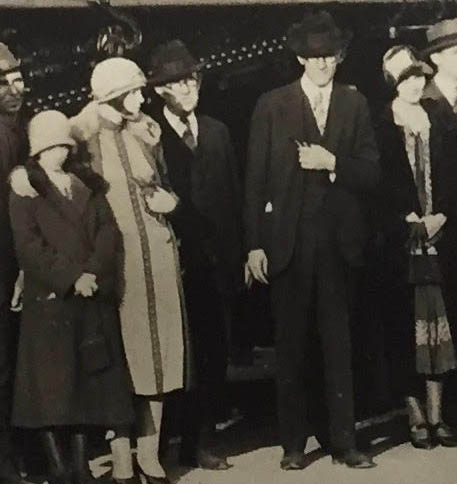 The hats are the key. Starting in circa 1924, women began wearing brimless cloche style hats that hugged the head. In 1924, The Sears Roebuck And Co. catalog called them "Bob" hats especially "for women with bobbed hair or those that wanted a smaller head-sizes." A few of the women are still in hats with narrow brims so that only the most stylish young women have the new style.
The men are in standard attire for the period—jackets, ties, vests, and hats. A few of them wear work shirts rather than vests and ties. Look closely and you'll see a few bowties as well. Boys wear typical headgear for the time frame—caps.
It's important when looking at large crowds to consider what all aged individuals. Young women generally dressed in the latest fashion. By the 1920s, there were distinct styles for children. There were a wide variety of clothing styles in every decade so when studying costume, look for the sometimes-minor variations that occurred year to year.
A good source for twentieth century fashion is the Historic Catalogs of the Sears, Roebuck and Co. on Ancestry.com.
Part I of this blog series can be viewed here. Join us next week for the Part III.