Sign up for the Family Tree Newsletter Plus, you'll receive our 10 Essential Genealogy Research Forms PDF as a special thank you!
Get Your Free Genealogy Forms
"*" indicates required fields
A couple of weeks ago we shared a group of partially identified images sent in by contributor Sunny McClellan Morton. The challenge was to see how this crowdsourcing experiment would work.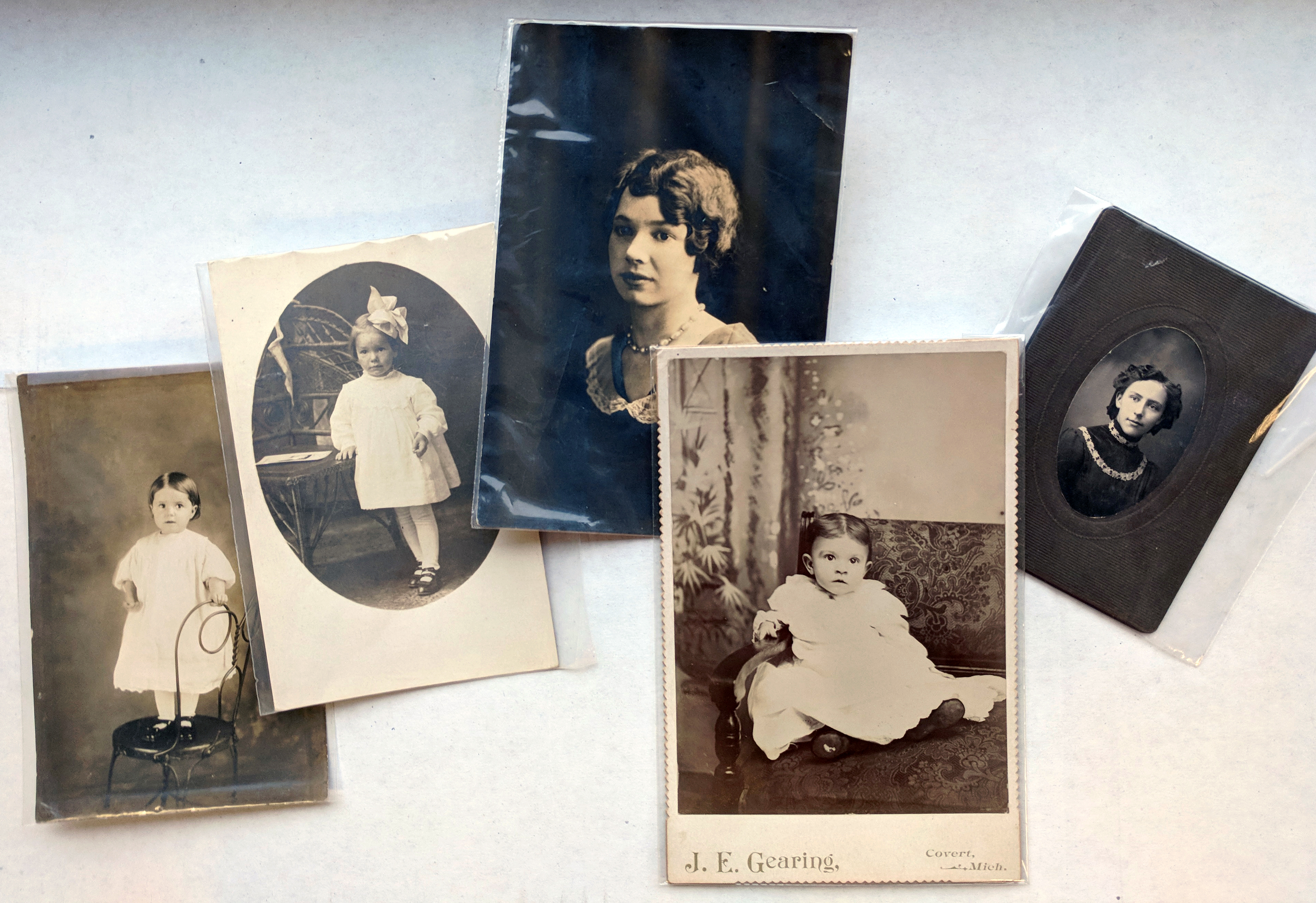 Last week, I discussed the crowdsourcing project, and what clues I use when identifying photos. This week, I'm sharing what we've learned about these pictures.
The three photos with names gave us a head start in trying to identify the right family.
Bernie Lang who posed for a picture in Covert Michigan.
Bernice Lang 3 years old in a postcard pic.
A card photo of a woman named Lenna Lang.
But who are they really? Before I jump into researching the possible names on an image, I like to establish a general time. The stamp box on the image of 3 year old Bernice and the next one given to Bernie from Beatrice by a woman named Etta provide a time frame. According to Playle.com, the stamp boxes on both of these postcards were popular between 1904 and 1918. Study the back of your postcards for additional clues.
Our Facebook Followers Chimed in with Their Findings
Lesley Trotter looked at the US Federal census 1910 and 1920. She thinks a good match is the Lang family of Grand Rapids, Kent, Michigan. Parents Joseph and Theresia Lang with children including daughters Leona J (born c.1896) and Beatrice C (born c.1905). In the 1900 census a Bernice Lang (born 1894) can be found as step-daughter to Ella and Thomas Morgan living in Covert, Van Buren, Michigan.
Mike McPharlin also researched the family. He went further than the census. "I believe Bernice Lang was the daughter of Joseph Lang and Ella Teachout, born in July 1894, Van Buren County, Michigan. She married Virgil Sink in 1911 and died in 1969 in Benton Harbor, Michigan. I base this upon the 1900 Census that shows Bernice with her mother and her step father in Covert, Van Buren, Michigan, the same location indicated on the photograph of Bernice taken by J. E. Gearing."
Photos only tell part of the story. Mike's research continued to tell the tale of the family. "Bernice's father, Joseph, died in a fire on the steamer, City of Kalamazoo at South Haven, Van Buren County, Michigan on 30 November 1897. Bernice's mother remarried Thomas Morgan and lived in Covert, Van Buren, Michigan."
He believes Lenna Lang is Bernice's cousin, the daughter of Andrew Lang and Laura Lang. Andrew was Bernice's uncle and Joseph's brother.
Sarah Miller Lewis agreed with Mike.
He wrote: "I think Beatrice Lang is the daughter of William Lang and Minnie Burg Lang. She was born on 25 June 1910, probably in Covert, Van Buren, Michigan, since the 1910 US Census taken in April 1910 puts the family in Covert."
You know the feeling when you can't stop researching. He dug deeper and found out what happened to Beatrice.
"I believe Beatrice married Walter George McDonald in 1937. The record for her marriage to Walter also indicates that she was born in Covert. I think Beatrice was probably married to a George Cook for about six months in 1935. That marriage ended in divorce. "
How They Ended Up Abandoned
Thank you to Mike for solving how Sunny stumbled across these pictures.
"Beatrice died on 11 December 1997 in Kirtland, Lake, Ohio which just happens to be in northeastern Ohio, the same location where Sunny Morton found these photographs in an antique store.
Beatrice's mother was Minnie Burg. She married William Lang in 1901 in Keeler Township, Van Buren, Michigan, only six or seven miles from Covert Michigan. One of the witnesses to Minnie's marriage was her brother, Lewis Burg. It appears that Minnie was also briefly married to Grant Green. They were married in 1898 in Keeler Township. They had one son, Maxwell Green, who died at the age of 18 months from pneumonia. Minnie and Grant were probably divorced. Maybe the grief of losing an eighteen month old son was too much for their marriage.
Minnie was the daughter of Mary Frazer and Henry Burg, the same Henry Burg whose name appears on the back of photo #4. Henry Burg was Beatrice's maternal grandfather. "
So these three photo sleuths were able to solve the mystery batch of Sunny's. Let's see if they can help with a harder photo mystery.
I have heaps of unidentified images, but this set of snapshots of girls at an unknown location is driving me nuts. It seems like it should be a recognizable place, but I've discovered that a lot of women's schools and colleges are no longer in operation. It could depict a defunct educational institution. A piece of lost history that remains to be identified.