Sign up for the Family Tree Newsletter Plus, you'll receive our 10 Essential Genealogy Research Forms PDF as a special thank you!
Get Your Free Genealogy Forms
"*" indicates required fields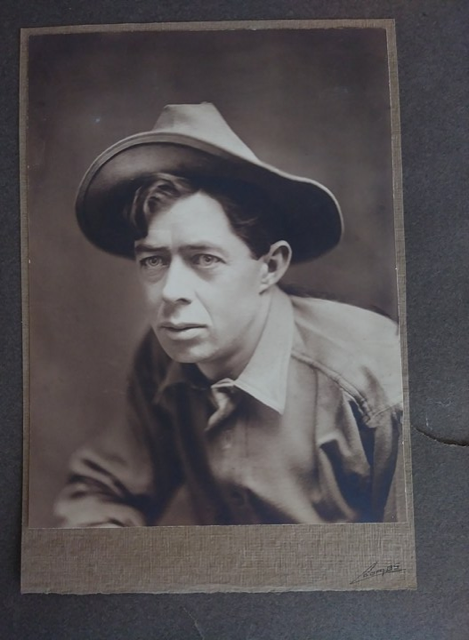 There are family photographs that transcend a historical document to become a work of art. That's this photo. It's a gorgeous depiction of a man. He has beautiful light colored eyes. It's not a typical studio portrait. This photographer had talent and knew how to pose his subjects.
If it's in this space then you already know that he's unknown.
A bit of backstory
Janice Grew Brockman's cousin found this photo his mother's belongings. Her name was Jessie Brightman born in New Bedford, Massachusetts in 1927. She married a local man, Phillip Noyes in 1948 and they moved to the state of Washington.
Neither Janice nor Jessie's son ever knew Jessie's father, and they wonder if this could be him. George C. Brightman (1898-1950) lived in New Bedford, Massachusetts. He spent three years in the United States Naval Reserve Force from 1918 to 1921.
On the lower right hand side of the picture is the name Coombs. It's the photographer's name. Janice was unable to find a photographer with that name in New Bedford.
Some clues that stand out
I had a couple of clues to work with. Jessie and Phillip lived in Washington and the photographer was Coombs.
Treating photographers like family has advantages. A quick search on Ancestry.com turned up a Harry F. Coombs in city directories. He was in the 1910 and 1911 city directories for Yakima, Washington and in 1904 he was in Tacoma. By 1930 he's in Seattle.
While Janice mentioned that Phillip and Jessie only moved to Washington in 1948 I wonder if either of them had family in the area before that. There were individuals with the Noyes surname living in Yakima at the same time that Coombs had his studio.
There was another photographer named Coombs living in the U.S. in 1910. Harry E. and his wife Winifred were a husband and wife team of photographers in Whitewater Wisconsin. There is no Wisconsin connection so right now it's safe to eliminate them.
Whoever this man was, his eyes made him stand out. He's dressed in a work shirt and soft hat made for outside labor. Brown toned images like this were common in the late 1910s and the 1920s.
The needed information is out there
I think we're missing a key piece of information. It could be Brightman, but I need other pictures of family for comparison to his distinctive features. I'm also hoping that this column will trigger new family information in Janice's cousin. Fingers crossed.