Sign up for the Family Tree Newsletter Plus, you'll receive our 10 Essential Genealogy Research Forms PDF as a special thank you!
Get Your Free Genealogy Forms
"*" indicates required fields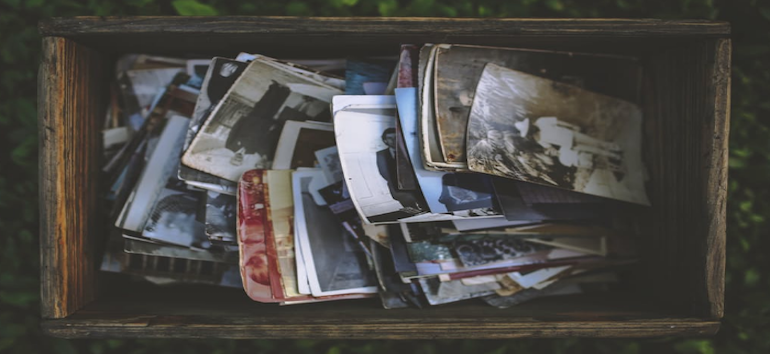 Back Up Your Photo Files
This morning I opened my digital photo organizer of choice, Picasa, and discovered that the new upgrade will automatically back up my photos and keep them private until the user changes the settings. Here's the good news about Picasa. It's free. Love it or hate it, Picasa is a pretty easy way to organize your digital images. The added back-up feature is a nice addition.
Collaborate with Cousins
This year brought new ways to share and collaborate on family photos. I've been playing with the features on these three sites. LOVE how easy it is to upload, share and collaborate.
Are you familiar with Flickr.com? Users get one terabyte of free online storage and the ability to either share images online or keep them completely private. Post a photo on Flickr, create a set and then share it via email with specific individuals. They can comment on the images.
You can also collaborate using MyHeritage.com. It's a private site that has what I call a "photo dashboard" for each uploaded image that includes file properties and names of individuals you've tagged. You can share those pictures with family and see their comments on your picture.
FamilySearch.com's new emphasis on adding photographs to family trees is good news for genealogists. All posted photos are publicly searchable, not private. It's free to sign-up and set up a tree.
Review Your Family History with a Relative
In November I spent an afternoon with a cousin going through boxes of material she'd received from a deceased relative. She's a genealogical newbie and didn't know our shared family history.
In this new collection were photos, documents and personal papers that cleared up some of the things I didn't know about her immediate family. It was so much fun to sit with her and explain who was who in the photographs.
I can't wait to do it again! My fingers are crossed that I finally have a cousin that's going to be a genealogical research partner.
Identify One Photo At a Time
Look at your box of photos and pull one out. What do you know about the photo and the people depicted? If it's a mystery photo then follow the chain of clues–photographic method, photographer's work dates, fashion clues and props to set it in a time frame and tell it's story.
It's overwhelming to work on a whole box of photos in one sitting. Start with one and see where it leads.
Don't forget if you need help you can submit the image to this column. Just click the How to Submit Your Photo Link on the left. Every week I tackle a photo mystery.
---
Solve your family photo mysteries with these books and blogs by Maureen A. Taylor:
  Free Web Content
  Premium Members
  ShopFamilyTree.com