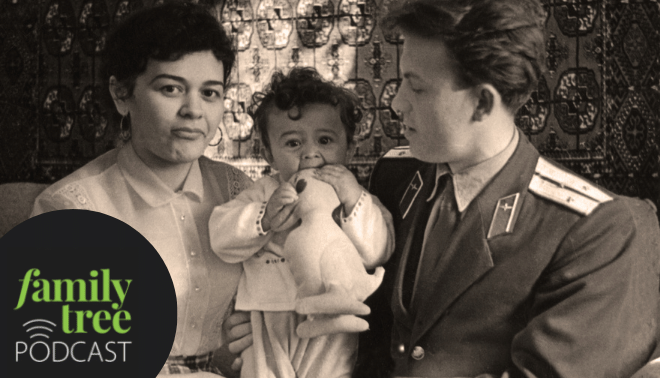 Photo Detective Maureen A. Taylor talks with host Lisa Louise Cooke about historical hairstyles and what they can tell us about our ancestors.
Ep. 11: April 2009
In this episode:
---
The Editor's Desk with Allison Stacy
Lisa and Allison discuss ways that listeners and readers can get involved with Family Tree Magazine.
Lisa and Allison talk about tracing roots "across the pond" and the magazine's newest CD, the Family Tree Passport to Europe. In this segment, you'll learn more about the how-to advice on this CD—and our contest for a chance to win a copy!
---
News from the Blogosphere with Diane Haddad
Genealogy Insider and managing editor Diane Haddad gives you the scoop on new records coming online.
---
Top Tips: Clues in Old Hairstyles
You've probably inspected your old family photographs for genealogy information, but have you ever paid attention to the hairstyles of the people pictured? Contributing editor Maureen A. Taylor describes some of the photo-dating and social history clues you can glean from your ancestors' coiffures. Her visual guide to hairstyle history from 1840 to 1930 appears in the May 2009 Family Tree Magazine.
---
Best Websites: Findmypast
Lisa chats with Debra Chatfield, marketing manager of UK-focused records site Findmypast, about the site's content and resources.
---
Best of Family Tree Magazine: Economic History
Now that you've turned in your taxes, consider what your ancestors' tax and financial records can tell you about your genealogy. Lisa catches up with Jim Beidler, author of the April 2006 article "Financial Aid," to discuss how economic history helped shape our ancestors' lives.
---
Your Host: Lisa Louise Cooke
Listen to Lisa Louise Cooke's Genealogy Gems and Genealogy: Family History Made Easy podcasts in iTunes and visit her website for great research ideas, podcast episodes and videos.
Have fun climbing your family tree!