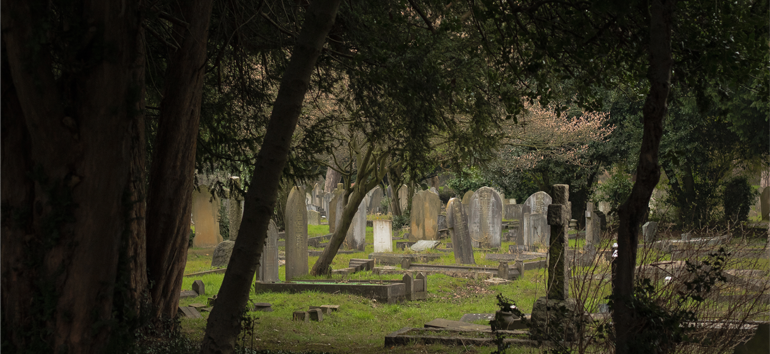 This month, celebrate Halloween by learning how to navigate a cemetery, tips and tricks for tombstones and the benefits of Find a Grave.
Ep. 53: October 2012
In this episode:
---
News from the Blogosphere with Diane Haddad
Diane shares what's new in the world of genealogy, including some big-time acquisitions.
---
Top Tips: Crack the Tombstone Code
Lisa dips into the Family Tree Magazine Podcast archive. In a 2009 interview with Sharon Debartolo Carmack, Sharon explains how to crack the tombstone code and glean more than just names and dates.
---
Best Websites: Preserving Genealogy in Historic Cemeteries
FTU instructor and active Find a Grave volunteer Diana Crisman Smith explains how you can help preserve the genealogy in historic cemeteries and make it accessible to fellow genealogists.
---
Family Tree University: Cemetery Research 101
Family Tree University Instructor Midge Frazel shares a few tips from her Cemetery 101 class: Cemetery Research 101: Dig Up Your Family History. The course is designed for the beginner cemetery researcher with some knowledge of genealogy, and uses cemeteries in the student's home area to prepare them for finding their own ancestors.
Tip #1: The Dead Live At Find-a-Grave. Look here first before leaving home. Use maps to find the location (street/GPS).
Tip #2: The Dead Can Move. Cemetery names change over time, people can be disinterred and move to a new cemetery (the death record/book, family notes lists the wrong location).
Tip #3: The Dead Can Talk.
Find the cemetery office/superintendent by phone, email or before setting out to the cemetery get from them the cemetery map, plot # card, date of burial, burials without stones
Ask for help
Remember your manners
Bring them treats or a check
Find out where the Town/City Hall is located
Use the bathroom
Take as many photos as you can of the stone (front, back, all sides/angles), and a photo of you with your ancestor as a separate shot
Take photos of the surrounding stones (or write down the surnames)
Tip #4: Visit the Dead with a Boneyard Buddy. When you get to the cemetery or burial location, pretend you are going to have to direct another person to the location. Take photos or videos of the entrance, the sign, the parking or a surrounding landmark and write down how to get to the section you located. I can guarantee that if you don't do this, you will have to go back.
---
The Publisher's Desk with Allison Dolan
In this episode, Allison shares Tombstone Rubbings Dos and Don'ts.
---
Your Host: Lisa Louise Cooke
Listen to Lisa Louise Cooke's Genealogy Gems and Genealogy: Family History Made Easy podcasts in iTunes and visit her website for great research ideas, podcast episodes and videos.
Have fun climbing your family tree!