Sign up for the Family Tree Newsletter Plus, you'll receive our 10 Essential Genealogy Research Forms PDF as a special thank you!
Get Your Free Genealogy Forms
"*" indicates required fields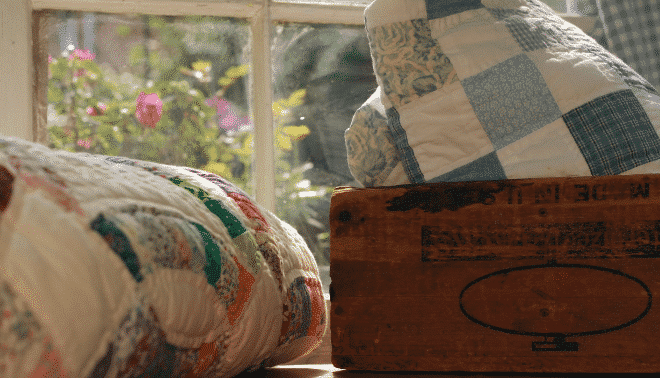 They've been keeping Americans warm for centuries, and you likely have at least one or two in your own home. Whether they're prize-winning showpieces or well-loved comforters, quilts serve as records of our lives—and those of our ancestors. If you're lucky enough to have an old quilt, keep your heirloom in tiptop shape—and save its history—by following this sew-savvy guide.
Document Your Quilt's History
The first step in your preservation project is to document what you know about the quilt's history. Interview older family members: Does anyone know who made or bought it, when and why? Where did the fabric come from (such as old clothing)?
Research the patterns in your quilt and see what they can tell you about its origins. The National Park Service's online Quilt Discovery Experience is a good resource, as is Michigan State University's Quilt Index. To research your quilt based on the fabrics used, consult a guide such as Clues in the Calico: A Guide to Identifying and Dating Antique Quilts by Barbara Brackman (EPM Publications). See "Estimating Your Quilt's Age" below for more information.
Write down your findings with an archival pen on archival paper and slip the paper into a polypropylene sheet protector. Keep this document with the quilt (or if you display the quilt, keep it with your photos of the quilt). Alternatively, you can copy the information onto an archival cardstock tag and attach it to the quilt with a loop of white thread.
Be sure to take plenty of pictures of the quilt, both overall and detail shots. Also inspect the fabric and seams for rips, moisture damage and insect infestation and photograph any damaged areas.
How to Clean Old Quilts
If your quilt is more than 50 years old, it should be cleaned only by a professional conservator, if at all. Wash your quilt only if all dyes are colorfast and it doesn't have any inked signatures. Never launder silk, wool, velvet or hand-painted quilts and do not machine wash or dry clean your quilts.
You can easily clean a newer quilt with a vacuum cleaner. Lay the quilt out on a flat surface, and put a nylon stocking over the end of the nozzle or use a soft brush attachment before vacuuming. You also can air the quilt outside on an overcast day to remove dirt and odors. If you're certain it won't bleed, run, tear, fray or fall apart, you can wash it passively in a tub and lay it flat to dry. But beware: You may do irreversible damage.
To kill insects and larvae, vacuum carefully and wrap the quilt tightly in heavy-duty plastic zipper bags or plastic sealed with duct tape. Freeze it at -10 degrees for 10 days. Thaw at room temperature to avoid condensation, then open and re-vacuum.
How to Store Old Quilts
The best way to store — and display — a quilt is on an unused bed. Select a location that's protected from direct sunlight, heat sources and windows. Keeping pets and sun off the quilt will extend the lifetime of the fabric.
If you want to display your quilt vertically, there are a few options. The Michigan State University Museum Quilt Project's recommended options including mounting in a sealed frame or hanging from a rod. The latter is the easiest way to display a quilt in most homes. Add a 4-inch-wide tube of unbleached muslin along the top edge of the quilt by stitching through all layers of the quilt with large, secure stitches. Seal a wooden dowel with polyurethane and insert the dowel through the sleeve to hang the quilt from the wall or ceiling.
Make sure your quilt is in a low-humidity, constant-temperature area. Periodically rest hanging quilts to reduce stress on the fabric. Never nail or tack a quilt to the wall, and remember not to pin anything to your heirloom as the pins can leave rust marks.
You can store your quilt in an acid-free box, wrap it in a piece of washed, unbleached muslin or fold it in a pillowcase. Never keep it in a cardboard box or plastic bag. If you want to store it in a wooden drawer, first paint the inside with polyurethane varnish and after it's dried, line the drawer with acid-free paper, cotton sheets or muslin. Refold the quilts a few times a year to avoid permanent creases. Smaller quilts can be rolled around a cardboard tube wrapped in acid-free paper.
Specialty quilt boxes will accommodate bulky quilts and protect them from dust and light. These economical, lightweight, corrugated polypropylene boxes also are moisture-resistant. Purchase a box large enough for your quilt with lightly crumpled acid-free tissue padding the folds.
Estimating Your Vintage Quilt's Age
A quilt's fabric can tell you a lot about its age. The earliest quilts were made of homespun cloth; print materials became common after 1820. Nineteenth-century quilts used cotton—calico, gingham, muslin and solids—along with wool and challis. Frontier women employed muslin, sacking and sample swatches. Victorian-era quilters incorporated expensive fabrics such as silk, taffeta, velvet and satin. By the mid-1800s, women were buying fabric specifically for quilting. During the crazy-quilt mania of the 1880s, manufacturers started selling bundled scraps. Some turn-of-the-century quilts incorporate feed or sugar sacks and even silk swatches that were put in cigarette packs to encourage women to smoke.
Since certain patterns were common to specific groups, eras and regions, a quilt's design might give you clues about its creator. All Pennsylvania Amish quilts, for example, feature straight-edge geometric shapes. Tiny patchwork pieces demonstrate frugality and patience—quilting was an early form of recycling, after all. When using design motifs to estimate a quilt's age, keep in mind that the fabrics might be a decade or two older than the quilt itself.
Family History Q&A: Expert Advice on Preserving Heirloom Quilts
Got a cover quilted by Grandma or Great-grandma? Textile conservationist Julia M. Brennan shares tips on caring for and displaying old (or new) family quilts.
Q: What makes heirloom quilts so special?
A: Quilts are a unique form of textile, made of fabrics reflecting a certain time in history and a certain wealth or status. Women often made quilts to mark events or anniversaries; they might have monograms, names or dates. Passed down from generation to generation, quilts become intimate parts of a family's history.
Q: Why do quilts require special care?
A: Quilts are complicated. They're constructed in multiple layers, usually with batting or padding inside, and fabrics of varying type, strength and color fastness. Outer layers may have delicate embroidery, stitching, ribbons or other embellishments. Quilts are also usually large, making them tricky to manage.
Q: How can you safely clean a quilt?
A: Examine it for condition problems. Vacuum the front and back with a soft brush attachment and low suction, if you can, to remove surface soil, dirt and insect debris. If the quilt is delicate, frayed, split, has a lot of surface embellishments or is a crazy quilt, I recommend holding a piece of nylon mesh—such as a window screen—over the quilt as a protective screen while you vacuum.
Most dry cleaners don't have experience with heirloom textiles, and their cleaning process isn't gentle enough. Don't put a quilt in a washer or dryer. If you're certain it won't bleed, run, tear, fray or fall apart, you can wash it passively in a tub and lay it flat to dry. But beware: You may do irreversible damage.
Q: What's the best way to store quilts?
A: Fan-fold the quilt and put crushed archival tissue between layers. Wrap it in tissue or clean cotton sheets. Don't use plastic, which traps moisture. Periodically refold the quilt in a different way to avoid permanent creases. Store it in an acid-free box. If you're using a cedar chest or dresser drawer, line it with a clean cotton sheet as a buffer between the quilt and the acidic wood. There's an instructional video on my website. Display a valuable quilt only on a limited basis and make sure it's not exposed to a lot of light (natural or artificial).
Q: How can you preserve the story behind an heirloom quilt?
A: Interview older family members: Does anyone know who made or bought it, when and why? Where did the fabric come from (such as old clothing)? Copy the information onto an archival cardstock tag and attach it to the quilt with a loop of white thread—not a safety pin, which may rust. Take pictures of the quilt, both overall and detail shots, so you have another record of it.
Sunny Morton
A version of this article appeared in the May/June 2013 issue of Family Tree Magazine.
Quilt Preservation Projects and Museums
Learn more about dating and preserving old quilts from these museums.
American Folk Art Museum
45 W. 53rd St., New York, NY 10019
(212) 265-1040
Museum of the American Quilter's Society
215 Jefferson St., Paducah, KY 42001
(270) 442-8856
New England Quilt Museum
18 Shattuck St., Lowell, MA 01852
(978) 452-4207
www.nequiltmuseum.org
Rocky Mountain Quilt Museum
1111 Washington Ave., Golden, CO 80401
(303) 277-0377
San Jose Museum of Quilts and Textiles
520 S. First St., San Jose, CA 95113
(408) 971-0323
Shelburne Museum
US Route 7, Shelburne, VT 05482
(802) 985-3346
Virginia Quilt Museum
301 S. Main St., Harrisonburg, VA 22801
(540) 433-3818
Wisconsin Museum of Quilts and Fiber Arts
N50 W5050 Portland Road, Cedarburg, WI 53012
(262) 546-0300
Last Updated: January 2021
FamilyTreeMagazine.com is a participant in the Amazon Services LLC Associates Program, an affiliate advertising program designed to provide a means for sites to earn advertising fees by advertising and linking to Amazon.com and affiliated websites.
Related Reads
Pin It!