Sign up for the Family Tree Newsletter Plus, you'll receive our 10 Essential Genealogy Research Forms PDF as a special thank you!
Get Your Free Genealogy Forms
"*" indicates required fields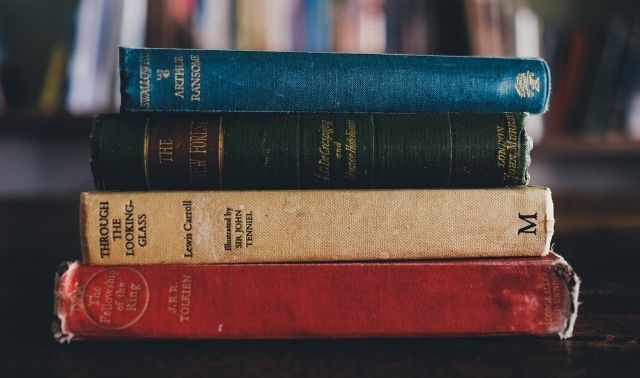 Photos and papers dominate most genealogy collections, and we usually think of expensive items like jewelry or watches when imagining precious heirlooms. But your family history collection might well include your ancestors' books, magazines and other bound, made-for-the-public materials.
Here's how to preserve old books and magazines, be they your grandfather's copy of War and Peace or your aunt's collection of Time magazines. The advice below also applies to publications like city directories, or keepsakes like family Bibles.
1. Keep Books and Magazines Off the Ground
A quote attributed to Dr. Seuss advises, "Fill your house with stacks of books/In all the crannies and all the nooks. Seuss knew a thing or two about storing books—cool, dark crannies and nooks (including bookshelves, closets, cupboards, and cabinets) are all good places to preserve a precious personal library. Don't pile—elevate.
Keep books off the floor, where dust, pet hair, or flooding can cause damage, and be mindful of light from lamps or windows that can cause irreversible damage to covers and pages. Books in good condition can be stored vertically or flat on sturdy shelves. If you must stack, avoid tall piles that exert extreme pressure on the bottom volumes, potentially weakening the binding or spine.
2. Handle the Publications with Care
Wash your hands before working with your collection. Don't grab a book by the spine when removing it from a shelf; fabric bindings fade, and leather bindings become dry and cracked. Instead, move the books on either side of it to create some space, then lightly pinch the covers of the book with your thumb and forefinger.
To view the inside pages, cradle the book on a soft pillow to avoid cracking and damaging the binding.
3. Lightly Clean Books, but Hire Professionals for Repairs
You can clean dusty books with a vacuum's brush attachment or an artist's brush. Never try to repair a book's bind or pages with adhesive tape. Consult a book conservator for help with foxing, broken spines, and torn pages; find one through the American Institute for Conservation.
4. Get the Right Storage Supplies
Use dust covers or slipcases to protect special books from light and dust damage, or cover them with acid-free archival paper or polyester book jackets. Store each book individually, in a fitted acid-free box. If the box is too large, add a bit of crumbled acid-free tissue so the book fits snugly.
For magazines, remove any staples and stack the issues (perhaps each encased in a polyester-archival magazine sleeve, to prevent handling damage) in a same-size acid-free archival box.
Place book and magazine boxes flat in a dark closet, cabinet or drawer. Look for archival supplies at sites like Gaylord Archival.
5. Avoid Pests and Humid Places
Take extra precaution. Modern magazines, with their photo-heavy glossy pages that tend to stick together when damp, should especially be stored in locations with consistent humidity and temperature.
"Bookworms" might be people who loves books, but literal pests like booklice pose a threat to your old volumes. Place insect traps near book and magazine storage, and check regularly for any pests who love to eat up pages.
6. Do Not Laminate Pages
If you or your ancestor was featured in a magazine or book, don't be tempted to preserve the event by laminating the page or encasing it in resin on a wooden block. Instead, scan the page, print in full color, and frame for display. It's a simple and inexpensive solution that protects the original and shares the news with your entire family.
Related Reads
A version of this article appeared in the May/June 2022 issue of Family Tree Magazine.