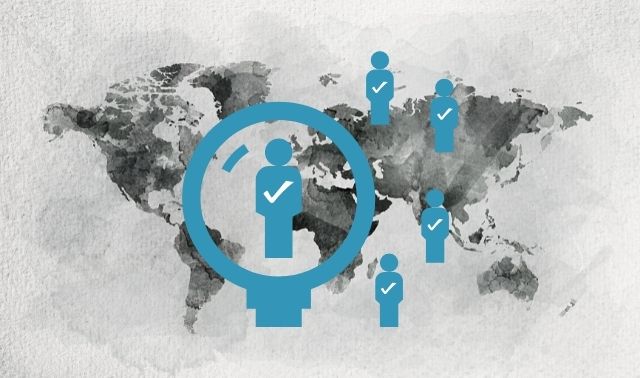 UK and Ireland
Western Europe
The United States may boast the world's oldest continuous census, but the idea of enumerating a population didn't originate here. Servius Tullius, the sixth king of Rome, ordered history's first recorded census before 500 BC. After the fall of the Roman Empire, William the Conqueror revived the idea of a census in 1085 to help determine the tax base in England. The result became known as the Domesday or Doomsday Book, as people likened the enumeration to the Biblical final reckoning in the Book of Life. (This historic early census is available online.)
In subsequent centuries, some countries have embraced the notion of enumerating their populace more enthusiastically than others. Lacking the United States' constitutional requirement of a decennial census to apportion governmental representation, other countries have chronologically spotty censuses. Some records have succumbed to wars or (like the 1890 US census) fires. And not every nation asked questions essential to genealogists—some were statistical, and didn't record any names.
Still, international censuses can be brick wall-busting tools for tracing ancestors abroad. The Family History Library (FHL) has microfilmed many, and surprising number at FamilySearch and other websites. Here's a, well, census of the census resources available for researching the most common foreign origins.
UK and Ireland Censuses
England and Wales
It took awhile for the English to follow up on the Domesday Book, but once they got going, the results were worth the wait. English censuses have occurred every 10 years since 1801, except for war-torn 1941; the first nationwide census to contain genealogically useful information was 1841. The Public Record Office (part of Britain's national archives), which has the originals, historically has kept census records less than 100 years old private. The 1911 files, though, were released three years early (except for sensitive data, such as children of women prisoners), in January 2009.
The 1841 tally names everyone in a household, listing the person's gender, address, occupation and whether born in England. Enumerators typically rounded down ages of anyone over 15 to a multiple of five, so your kin may appear younger than they actually were. This census was organized by "hundreds" (an administrative division of land). Censuses from 1851 on list each person's name, age, occupation, relationship to the head of household, and the parish and county of birth. Foreign births may list only the country. These censuses are organized by enumeration district.
The FHL has microforms of English censuses and indexes from 1841 through 1891, and a full transcription and index for 1881, also on CD.
You can click on census records at a variety of websites. Try your luck for free in the volunteer-submitted transcriptions at FreeCEN, which cover parts of the 1841 through 1891 enumerations. A chart lets you check the coverage for your ancestors' county. FamilySearch has a complete index for the 1841-1911 censuses.
Other sites are free to search but require a fee to access the records: Findmypast offers indexes and images for the 1841 through 1911 censuses. Ancestry.com offer indexes for the 1841 through 1911 censuses, with a free index to the 1881 enumeration.
Scotland
Scottish censuses largely match those for England and Wales, with genealogically valuable enumerations available for every decade from 1841 through 1911. The FHL has microfilm of 1841 through 1891, with a complete 1881 surname index.
The pay-per-view ScotlandsPeople site offers searchable access to all available censuses, linked to digitized images of the original records. You also can search all Scottish censuses, except 1911, on Ancestry.com.
Ireland
Although the Irish government first took a census in 1813 and continued every 10 years from 1821 to 1911, most of those early enumerations have been lost to fire or to bureaucrats who destroyed them after compiling statistics. The 1901 and 1911 censuses are the only complete counts open to the public. Both list every household member, with age, sex, relationship, religion, occupation, marital status, county of birth (country only for foreign births), literacy and whether the person spoke Irish. The 1911 count also asked each married women the length of time she'd been married to her current husband, number of children and number of living children.
The FHL has microfilmed extant early census fragments plus the 1901 and 1911 censuses. Search the digitized 1911 census at the National Archives of Ireland site, which has 1901 in the works. Records of some 60,000 heads of household in the 1851 Dublin City Census survived a 1922 Public Record Office fire and are on the subscription FindmyPast site.
Irish researchers also can turn to various church tallies and taxation records, such as Griffith's Valuation (1847 to 1864).
Western Europe Censuses
Spain
Church records are much more important than censuses for finding Spanish ancestors, but the FHL does have a 1591 census for Castile, and much of the 1750-1754 census known as the Catastro de Ensenada.
France
Although France first took a national census in 1772, most counts gathered only statistical data. Censuses every five years from 1836 through 1936 did generally collect genealogical data, but these aren't on microfilm. Surviving records (many were destroyed under an 1887 decree) are at departmental archives (link to archives départementales websites from Le portail de FranceGenWeb-Archives.
Italy
As in most Catholic countries, church records and civil registrations will prove more fruitful than censuses. But the Italian census, taken every 10 years beginning in 1871, may help fill in some gaps. Those through 1901 usually listed only the head of household, his or her occupation, and the number of persons in the house. From 1911 on, censuses list the name, age, occupation, relationship to head of household and birthplace of each person. The records are in the state archive of each province, and except for some from the province of Parma, generally aren't microfilmed. For archives' contact information, go to Italy GenWeb and click a region, then a province.
Germany
Church records and civil registrations are generally the best records for finding German ancestors, but the FHL does have microfilm of some censuses. Most important are the 1819 census of Mecklenburg-Schwein, indexed on FHL microfilm, and censuses for the Danish-held area of Schleswig-Holstein taken in 1769, 1801, 1803, 1834, 1835, 1840, 1845, 1850, 1855 and 1860. These Danish censuses can be searched online at the Danish Demographic Database.
Netherlands
Dutch national censuses began in 1829 and continued every 10 years until 1929, followed by tallies in 1947, 1960 and 1971. The records are kept locally, in municipal archives (stadsarchief), and only some are on FHL microfilm (run a place search on the town name). A few local censuses also are on FHL film for the provinces of Friesland (1689, 1714, 1744, 1796) and Overijssel (1748, 1795).
Central and Eastern Europe Censuses
Greece
Various rulers of Greece have enumerated the population many times, beginning in the 17th century. The most useful censuses for tracing Greek ancestry are available from the FHL, including 1840 to 1844, 1848, 1851, 1879 and other census records from Nauplion; 1835, 1838 to 1839 census and 1857 to 1881 and 1889 town registers from Argolidos; and 1923, 1948 and 1953 censuses of the Armenian minority in Greece. To find these films, run a keyword search of the FHL catalog on Greece census, or a place search on the region.
Poland
Although the various governments of what is now Poland took numerous censuses for taxation, statistics and other purposes, few of these records have survived. Extant censuses are in local parishes, the Main Archives of Ancient Documents in Warsaw or district and municipal archives, where they may not be readily accessible by researchers. See Poland GenWeb for more information. The FHL has microfilmed a handful of Polish census records, cataloged by town. You can search the Bedzin Jewish Census of 1939 at JewishGen and Ancestry.com.
Hungary
Although Hungary has a long history of enumerations dating back to 1696, many have been destroyed, and others—kept in county archives under direction of the National Archives of Hungary—are difficult to access. Most useful are those from 1857 and 1869, parts of which are on FHL microfilm. Jewish researchers also will want to check the microfilm for several special Jewish censuses taken from 1725 to 1775 and 1848. JewishGen and Ancestry.com provide access to the 1848 census, as well as Jewish Names in Property Tax Census, 1828, and Assorted Census Records, 1781-1850.
Romania
The Austro-Hungarian Empire conducted censuses in Transylvania, Banat and Bukovina in 1785, 1805, 1828, 1857, 1869, 1880, 1890, 1900 and 1910, and Romania took censuses in 1912, 1930, 1941, 1956 and 1966. Except for FHL microfilm of a few early Austro-Hungarian census records for parts of Transylvania, these records are accessible only at the national archives of Romania and Hungary. A 1942 Jewish census, also covering Moldova and Ukraine, is available on JewishGen and Ancestry.com.
Czech Republic
To determine the religion of the population and prospects for conversion, Catholic Habsburg rulers ordered the first Czech census naming people. Parts of this census survive and are on FHL microfilm, and portions of a 1770 census covering Prague are published in a book (search on the keywords 1770 Prague census). The FHL also has published copies of Jewish censuses in 1783 (search on the keywords Jewish families Bohemia 1783) and 1793 (search on the keywords 1793 Jewish census). Most other Czech enumerations, although numerous, were lost or are in archives where access is limited.
Russia
The only complete population census conducted in Imperial Russia was 1897. Questions included family name, given name, patronymic or nickname, gender, relation to the head of the family or household, age, marital status, social status, birthplace, residence, faith, language spoken, literacy and occupation. The FHL has microfilmed the 1897 records for some areas; run a place search of the FHL catalog for Russia and look under the Census heading for details.
Ancestry.com and JewishGen have indexes to portions of several Russian censuses and census substitutes, including Duma Voter Lists, 1906-1907; Jewish Families in Russian Empire Census, 1897; Grodno Gubernia Voters List, 1912; and Jewish Religious Personnel, 1853-1854.
Scandinavia Censuses
Denmark
The first Danish census useful to genealogists was taken in 1787; it contains the names of everyone in the household with age, sex, occupation, relationship to the head of household, and marital status. Subsequent enumerations in 1801, 1834 and 1840 have the same information. Censuses from 1845 onward also list religious affiliation and the county and parish of birth. The Danish Demographic Database lets you search all the early censuses as well as those for 1845, 1850, 1855, 1860, 1870, 1880, 1885, 1890, 1901, 1906, 1911, 1916 and 1921. Danish census records from 1834 until 1930 are available at FamilySearch and those from 1787 until 1940 are available at MyHeritage.
Norway
Among the earliest Norwegian censuses were the civil and clerical counts taken from 1664 to 1666. They included heads of household, plus males over age 12; they covered only rural areas and some parts have been lost. A 1701 census, also incomplete, enumerated all males age 1 and older, and again covered only rural areas. Both of these early censuses are available to view at a Family History Center.
The first true nationwide nominative census was taken in 1801. It listed all family members, relationships, ages and occupations. Subsequent censuses were mostly statistical until 1865, but the FHL has microfilmed records of genealogical interest. Nominative censuses resumed in 1865, followed by 1875, 1891, 1900 and every 10 years thereafter. These also list birthplace, farm data and religion, if other than the state Lutheran church. The FHL has microfilmed all through 1900; you can search them on the Norwegian national archives free Digitalarkivet site. The Digitalarkivet also includes a number of enumerations for military and tax purposes.
Sweden
Although church records—including registers that amount to annual parish censuses—are the most important tool for tracing Swedes, censuses can be a useful supplement. Coverage varies geographically, with censuses in central Sweden dating to the 1620s; note that the FHL catalogs these records by county through 1860. At the subscription site SVAR, you can search the 1880, 1890 and 1900 censuses, plus a few 1860 and 1870 counties.
As you give Swedish census records a try, keep in mind that enumerators didn't record everyone: Beginning in 1652, censuses listed those between ages 15 and 63; after 1841, between 17 and 63; after 1887, 18 to 63. Soldiers, who were exempt from taxes, were omitted, but their families were listed. Nobles and their families, also exempt, were generally skipped until 1810.
Finland
Finland took a sort of taxation census called henkikirjat/mantalslängder beginning in 1634. From 1634 to 1651, it covered all people older than 12; from 1652 to 1655, those between 15 and 63; from 1655 on, older heads of households were added. As in Sweden, nobles and soldiers were exempt until 1765, when the government also began to use the census for statistical purposes and all had to register. The FHL has these records; they're cataloged by county, with a separate heading for 1810 to 1860 censuses. Finland's National Archives also is placing these records online (click In English).
North America Censuses
Canada
Canada first set out to count its citizens in 1851. That enumeration (some of which has been lost), along with others in 1861 and 1871, covered the four original provinces of Nova Scotia, New Brunswick, Quebec and Ontario (1861 also included Prince Edward Island). Those censuses and coast-to-coast head counts in 1881, 1891, 1901 and 1911 are available to view at a Family History Library. The 1851, 1861, 1871, 1891 and several provincial censuses are also available at FamilySearch.
Library and Archives Canada's online Canadian Genealogy Centre has searchable indexes for 1851, 1881, 1891 and various provincial censuses. By mid-2011, the Centre promises to host indexes and images for all Canadian censuses. Volunteer transcription site Automated Genealogy offers indexes to the 1901 and 1911 censuses, as well as a special 1906 census of Alberta, Saskatchewan and Manitoba.
For most provinces, censuses in 1851, 1861, 1871, 1881, 1891, 1901, 1906, 1911 and 1916 (this last one was taken only in western provinces) name each person, with age, sex, country or province of birth, religion, racial or ethnic origin, occupation and marital status. The 1901 and 1911 returns also include birth date, immigration year, and address or location of the family's land.
Mexico
Pre-independence Mexican censuses include a 1689 enumeration of Spaniards in Mexico City, published in a book, Gente de España en la Ciudad de México, Año de 1689 (available from the FHL) and territorial censuses the Real Ordenanza (royal decree) of 1786 ordered every five years. FamilySearch has 110 volumes of these and some earlier censuses, plus an index, on digital microfilm series called Padrones, 1752-1865. Each census covered a specific group, such as men in the military or in commerce, but enumerating every five years proved an elusive goal.
Post-independence, the Mexican government tried to take censuses in 1868 and 1878, but didn't gain wide cooperation from the populace until 1895. Decennial censuses began in 1900. Many of these original returns have been destroyed; surviving records are in Mexico's national archives. A few are on FHL microfilm, cataloged by locality.
Tip: Censuses of foreign lands naturally are in foreign languages—either the local tongue or that of the ruling authority. Consult FamilySearch's word lists for various languages to help decipher any records you find.
Using FamilySearch for British or Canadian Censuses
1. Looking for ancestors in the Family­Search 1881 British or Canadian census database is simple—and free. To find a British ancestor, for example, fill in as much information as you know, including name, birthplace, birth year (or a range of possible years of birth), and country and county of residence in 1881. Start by leaving the exact spelling box unchecked, then try a second search with this option checked if you get too many hits.
2. Clicking the Search button retrieves a list of results. If your ancestor is listed, just click on the name to bring up details from the 1881 census.
3. The search result should list the entire household, along with links to similar historical records and to view the original image at a Family History or Affiliate Library.
A version of this article appeared in the May 2010 issue of Family Tree Magazine.
Related Reads