Sign up for the Family Tree Newsletter Plus, you'll receive our 10 Essential Genealogy Research Forms PDF as a special thank you!
Get Your Free Genealogy Forms
"*" indicates required fields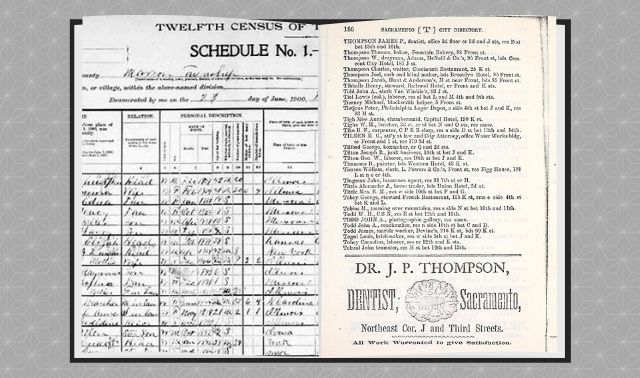 My troubled and troublesome third-great-grandfather Thomas Frost, a carpenter born in England in 1827, left me some interesting records later in his life. But before that, I didn't have much of a genealogy timeline for Thomas.
His unsettled ways make it hard to predict where he'd turn up, and to decide whether this Thomas Frost over here is the same person as that Thomas Frost over there.
His common name certainly doesn't help. And his also-a-word last name gets lots of irrelevant search results in books and newspapers.
Missing in the census
So I took an hour or so of a workday to find out more about Thomas' whereabouts. I'm pretty sure he immigrated to the United States in 1853, arriving in New York.
After that, I had a blank spot until his marriage to my third-great-grandmother in 1865. Where was Thomas during the 1860 census?
My searching returned a promising Thomas Frost in Ancestry.com's database called Ohio, Compiled Census and Census Substitutes Index, 1790-1890. This database, compiled from a variety of resources, includes a published index to the 1860 census.
Ronald V. Jackson, creator of the index, had found this Thomas in the 1860 census. But I still couldn't find him, even searching with the same information.
Browsing the census
So I'd have to browse census schedules, using Mr. Jackson's index as a guide. On Ancestry's 1860 census search page, I selected the state, county and city. Censuses divide larger cities into wards; the 5 W means Thomas was in the fifth ward.
I needed page 938. This wasn't as easy as typing 938 into the little image number box at the bottom—especially since the fifth ward totals only 150 images.
The image number corresponds to page numbers written at the top right or left corner of every census sheet. The page numbers Mr. Jackson used, however, are different ones, written in a top corner of every other sheet. Usually the right corner, but on the left corner of Thomas' page, which was the last page for the fifth ward.
Thomas Frost is the third person listed in the image above.
He was a 33-year-old carpenter born in England, which fits my Thomas. He lived in the boarding house of John and Barbara Wall (named on the previous page). I opened the name index by clicking the people icon next to the image number, and saw that Thomas was indexed with the last name Trost. That's why he didn't turn up in my census searches. A wildcard search like *rost would've found him.
Stalking my ancestor in city directories
I wanted to know exactly where the boarding house was. I found Thomas Frost, draftsman, in an 1861 city directory, boarding at 339 Main.
Under the Wall surname in that directory, a Barbara had a boarding house at 337 Main. In the business listings in the back, under Boarding Houses, "Wall Mrs. Barbara" ran a house at 339 Main.
Today, this location is on Main Street near the intersection with Third. But the city renumbered downtown in the 1890s, so I wanted to find this address during Thomas' life.
On an 1887 Sanborn map, there's nothing at 339—numbering skips from 337 to 341. Perhaps 337 is the correct address. Today, this would be a few doors up from the northwest corner of Eighth and Main streets.